Insights
Subscribe Now
Monthly updates from our team straight to your inbox
Turning Dogs Into Unicorns
MarktoMarket analyses the emergence of a new cohort of specialist pet food startups.
attaboy
The pet industry is making plenty of unlikely fortunes.  The signs are everywhere.  The humble pet shop has emerged from suburban high streets to gleaming Pets at Home superstores occupying prime positions in retail parks.  The local veterinary practice is more likely to be owned by private equity than your friendly vet.  New, and often absurd, combinations of dog breeds captivate children and make breeders rich.  Behind all this has been the super-trend of home-working over the last 18 months which has tempted first-timers into dog ownership for company and entertainment.
Not to be left behind by retailers, vets and breeders, the pet food industry has at long-last cottoned on to our tendency to humanise our domestic animals and our desire to avoid costly vet bills.  Gone are the days of ladling out a scoop of Pedigree Chum for dear Rover's supper.  Dental sticks and chew treats compete for space along the dog food aisle with lamb and rice and turkey stew.  What was once considered a treat for humans is now barely fit for our darling pooches.
hares running
This has not gone unnoticed by the venture industry.  A wave of capital has flooded into emerging brands, with a focus on those with strong direct to consumer e-commerce offerings and nutritional philosophies centred around raw and tailor-made recipes.  Blairgowrie in Perthshire may not be up there with Silicon Valley when it comes to startup creation, but it is the home to Bella & Duke, one of the most exciting of the new wave of pet food brands to emerge.  BGF recently completed a £5 million investment into the business at a £45 million valuation.  More recently, Dogmates, trading as Butternut Box, topped this by raising £36.5 million in a round led by L Catterton, the consumer-focused private equity firm, alongside White Star Capital, Five Seasons Ventures and Passion Capital.  The £206 million pre-money valuation represented an impressive uplift on their 2020 round, which was priced at £97 million.  Founded in 2016, Butternut Box bills itself as a "human-grade, fresh dog food company" with a "personalized dietary offering" driven by its own tech platform.  The London-based startup is led by former Goldman Sachs bankers Kevin Glynn and David Nolan and states that it applies proprietary algorithms to identify how many calories each individual dog needs based on age, weight, breed, activity levels and body condition.  As far as we can tell, Winalot does not make similar statements……..
Dogmates: funding rounds to date (£M)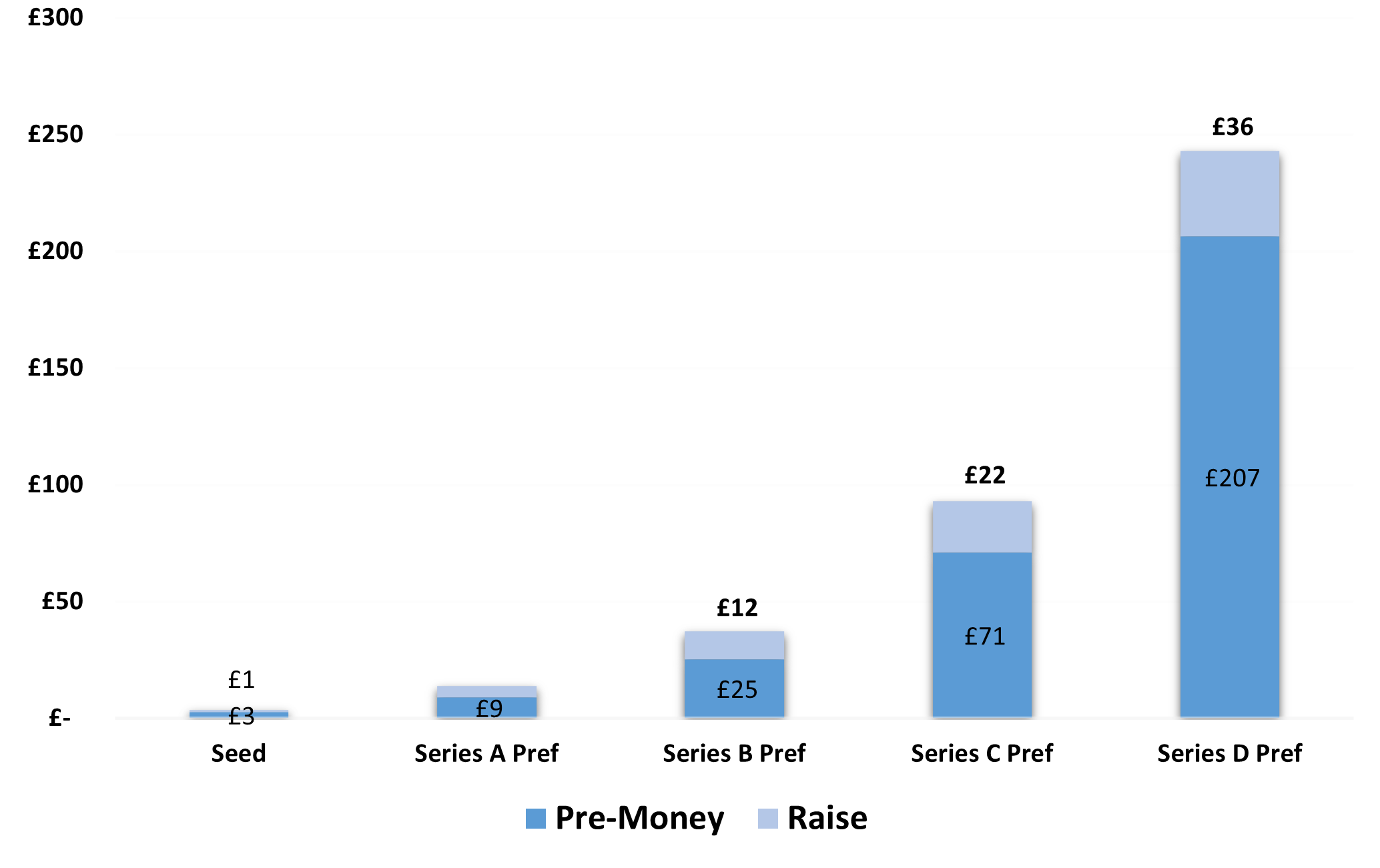 dogs or unicorns
For those businesses that can scale the rewards are attractive.  EBITDA margins at the privately-owned GA Pet Food Partners are nearly 20% and, despite its maturity, revenues have more than doubled over the past five years.  Acquirers are showing interest.  Recent deals include the sale of Lily's Kitchen, a natural food brand for cats and dogs, to Nestle for a rumoured £100 million.  Nestle has form in this market – it previously acquired a majority stake in Tails.com, a subscription-based pet food delivery service.  Private equity is also seeing the attractions – IK Investment Partners, the Nordic buyout house, added Devon pet food manufacturer Forthglade to its portfolio.
Pet food startups: Last valuation event (£M)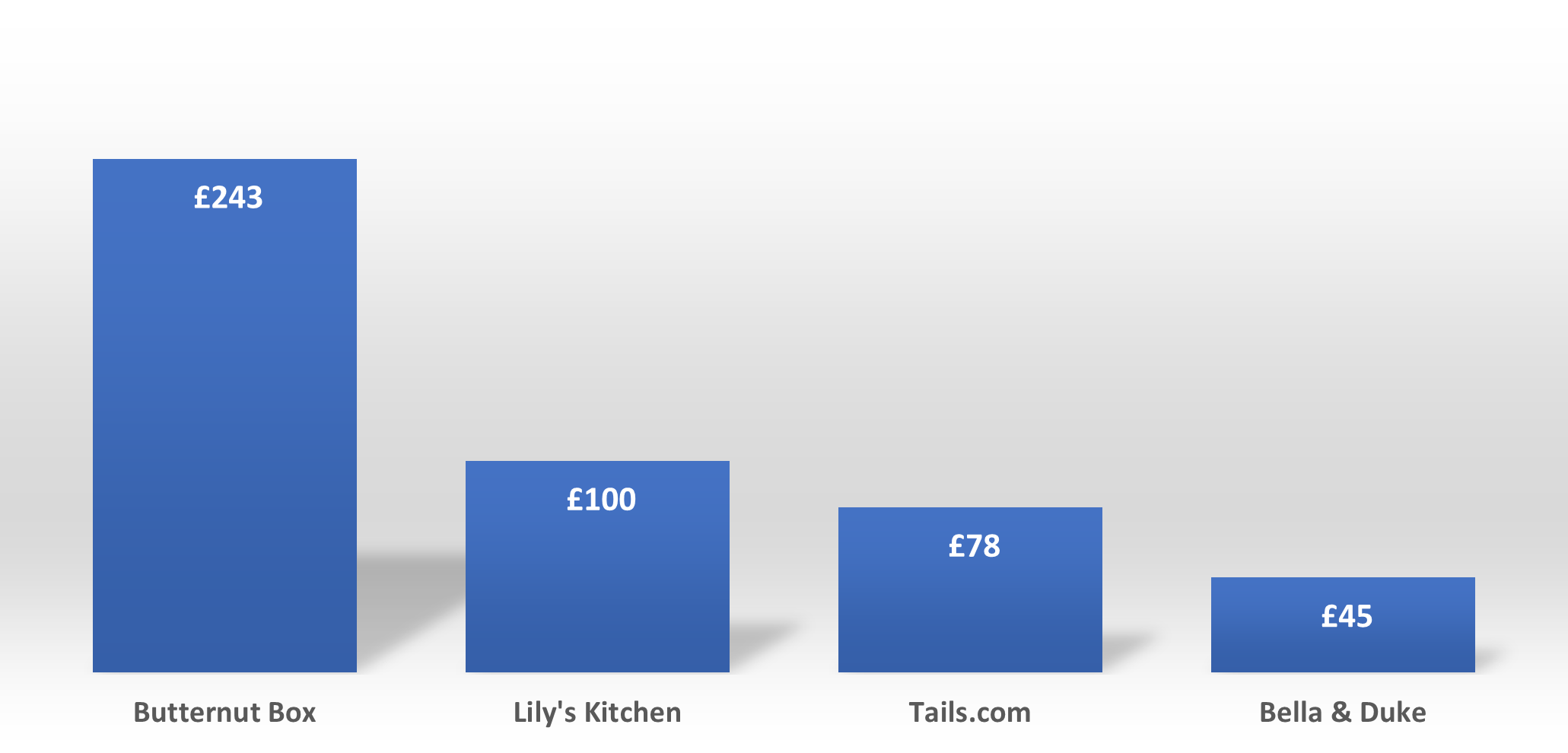 With pet ownership up an astonishing 44% year-on-year, statista.com estimates that 59% of UK households now own at least one pet.  With average dog lifespans of eleven years, the industry looks set fair to enjoy a purple patch and this new "breed" of startups, especially those with subscription-based revenue, will capitalise.
MARKTOMARKET
MarktoMarket is a data platform and marketplace for the private capital markets.
For more details on these deals and MarktoMarket's broader offerings please contact doug@marktomarket.io.