Insights
Subscribe Now
Monthly updates from our team straight to your inbox
What's Driving Car E-Tailer Valuations?
Cazoo's recent listing has certainly raised some eyebrows. Joining the New York Stock Exchange in March this year at a valuation of $7 billion (around £5 billion), the UK-based online used car retailer only launched its e-commerce site in December 2019 after founding in late 2018. The valuation leaves large, more established bricks and mortar dealerships, such as Lookers and Pendragon, trailing far behind – both have a market capitalisation of £262m at the time of writing.
Cazoo's valuation in October 2020, when it raised £240 million, was just over £2 billion and many commentators have suggested that its SPAC listing is part of the reason for such a massive hike. These vehicles have created a lot of heat in public markets. With 349 US SPACs recorded so far this year, accounting for 69% of US IPOs, according to SPAC Analytics, (versus just 59, or 28%, respectively, in the whole of 2019) they have certainly gained traction as a way of listing. One of the attractions has been a belief that SPACs, unlike IPOs, benefit from "safe harbor" protections around growth and financial projections, although the Securities and Exchange Commission is watching the space closely.
Cazoo's listing presentation shows estimated revenues for 2020 were £168 million with a negative EBITDA of £81 million, yet by 2024, it forecasts nearly £6 billion in revenue and £160 million EBITDA, with growth across Europe a big part of its strategy. For comparison, Pendragon's revenues were £2.9 billion in 2020, down from £4.5 billion, partly a reflection of pandemic-induced store closures, with underlying EBITDA of £130.4 million.
Cazoo financial projections 2020-2024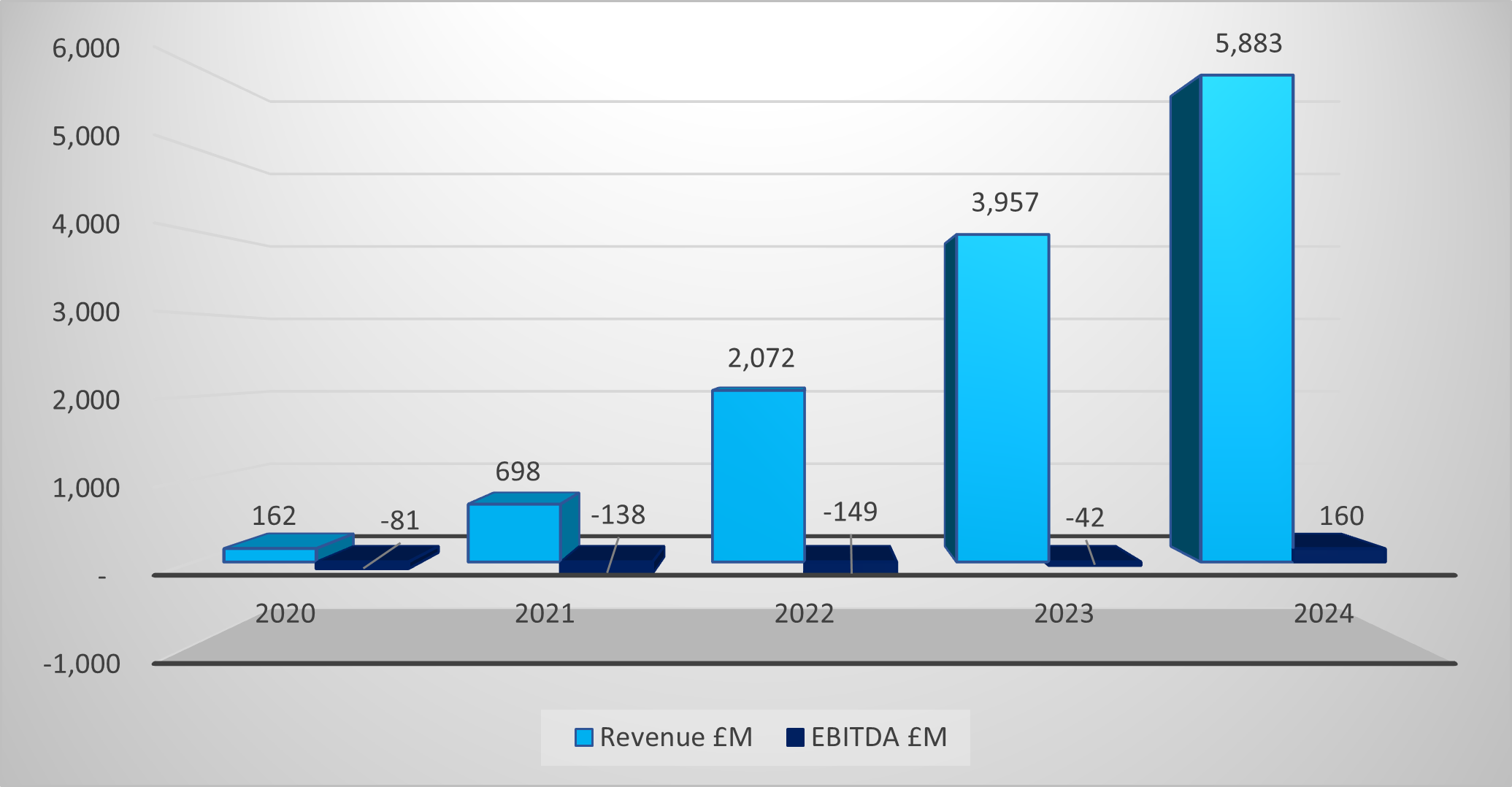 Source: Cazoo Investor Presentation March 2021
an expanding market
It may be among the fastest companies in Europe to reach unicorn status, but Cazoo is not alone in the UK car e-commerce market as investors have rushed to back the sector. Used car e-tailer Cinch, owned by TDR Capital-backed Constellation Automotive Group, launched late last year and raised £1 billion in May 2021 from investors including ADIA, GIC, Neuberger Berman and Soros Fund Management. Accel-backed Carwow is another looking to make waves in the sector, as is Carzam, while players such as Motorway, which raised $67.7m in May 2021 in Series B financing from Index Ventures, BMW iVentures and Unbound, are targeting other parts of the market – in Motorway's case, car owners looking to sell to car dealers.
Latest fund raise (£billions)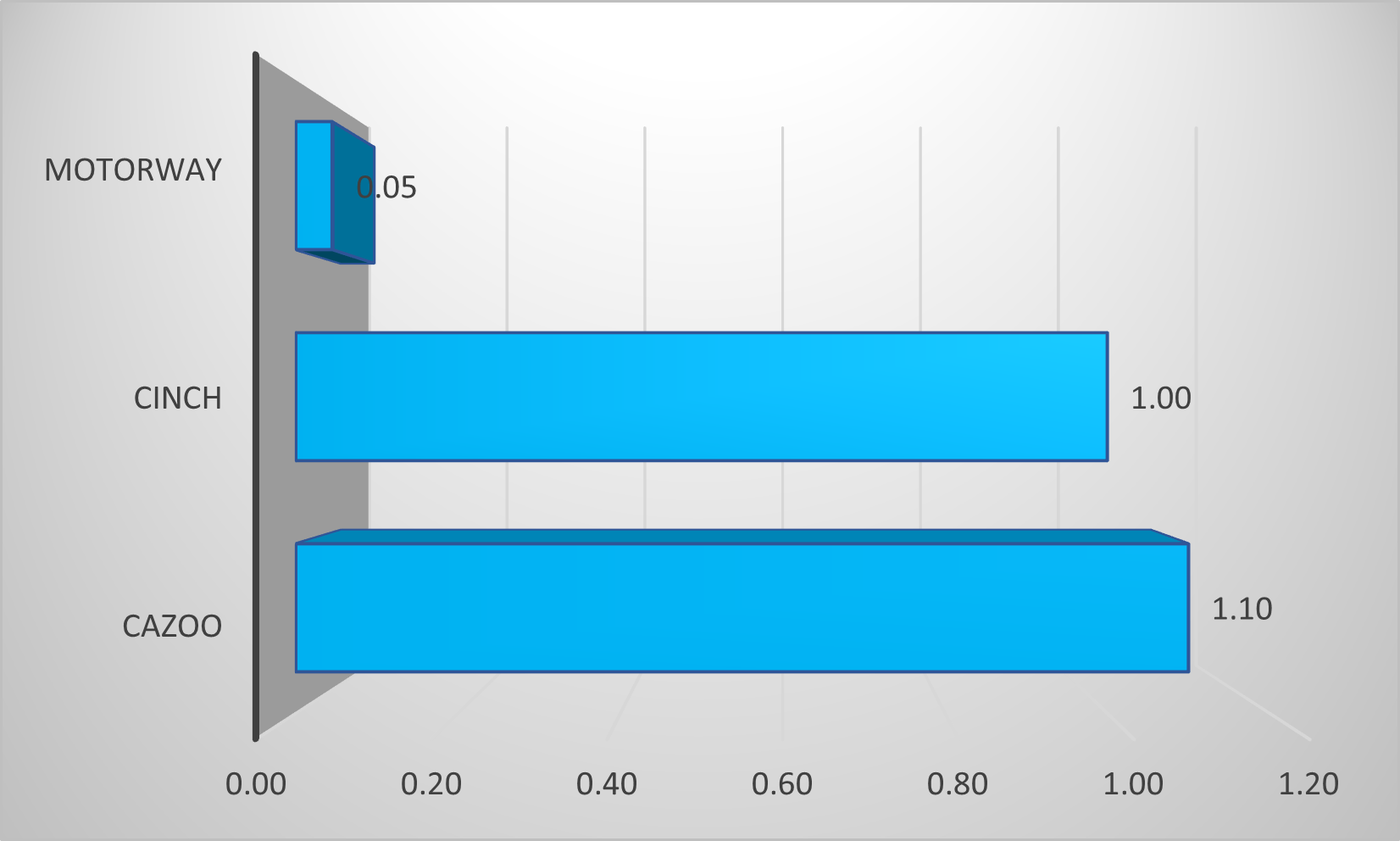 Source: MarktoMarket & press
ripe for disruption
Their promise of shaking up a sector that hasn't changed in decades is another reason for what some might say are toppy valuations. Capital is flowing to companies deploying technology such as data and algorithms to determine stock and car valuations to offer a much more customer-centric experience than has often been the case with traditional dealerships. Features such as online searches, fixed prices, free returns within a specified period if buyers are not satisfied, home delivery and so on provide a simple, speedy and convenient alternative in a market that has historically suffered from inefficiency and customer mistrust around vehicle quality, sales techniques and price haggling.
And there is no doubt that car e-tailers are growing fast. Carzam, for example, recently reported that it had reached over £20 million in revenues in its first eight weeks of operation from the sale of over 1,600 cars. It forecasts 20,000 vehicle sales in its first year of operation and £250 million of turnover.
peaches or lemons?
Yet despite rapid growth so far, could investors run out of road with some of these sites? How disruptive will Cazoo, for example, really prove to be? Its founder certainly has form – Alex Chesterton previously changed the movie rentals space by creating DVDs-by-post business LoveFilm, after which he turned his attention to property with online listings company Zoopla, both of which netted investors substantial returns.
Investors will certainly have bought into Chesterton's strong track record and the fact that longer-established car e-tailers in other markets have been growing strongly. Carvana in the US, for example, reported revenues of US$5.6 billion for 2020, up 42% on 2019 (although with a negative EBITDA of US$250.6 million).
So are traditional car dealers on the wrong side of history and consumer trends? They may be, but there is little to stop them from adopting digital strategies themselves – something many are now doing. If they can make it work, their current modest valuations might look quite attractive by comparison to those of the new disruptors.
For more details on these deals and MarktoMarket's broader datasets please contact doug@marktomarket.io.