Insights
Subscribe Now
Monthly updates from our team straight to your inbox
What is going on in IT Services M&A?
MarktoMarket analyses the drivers behind a boom in M&A activity in the IT Services sector in 2021.
no surprises
An explosion in private equity interest in UK IT Services has pushed deal volumes in the space up 75% in the five months to May 2021.  The upsurge in activity was driven by both 'platform' deals and bolt-on acquisitions by previously acquired businesses with 'buy and build' strategies. Ignoring bolt-on transactions, private equity buyers have completed 20 platform deals in the year-to-date in IT Services.  This compares to 9 deals in the equivalent five months of 2020.
Trade activity has been also been strong, with 83 completions, 66% ahead of the same period last year.
IT Services: Private Equity v Trade Deal Volumes year-to-date 2021 v 2020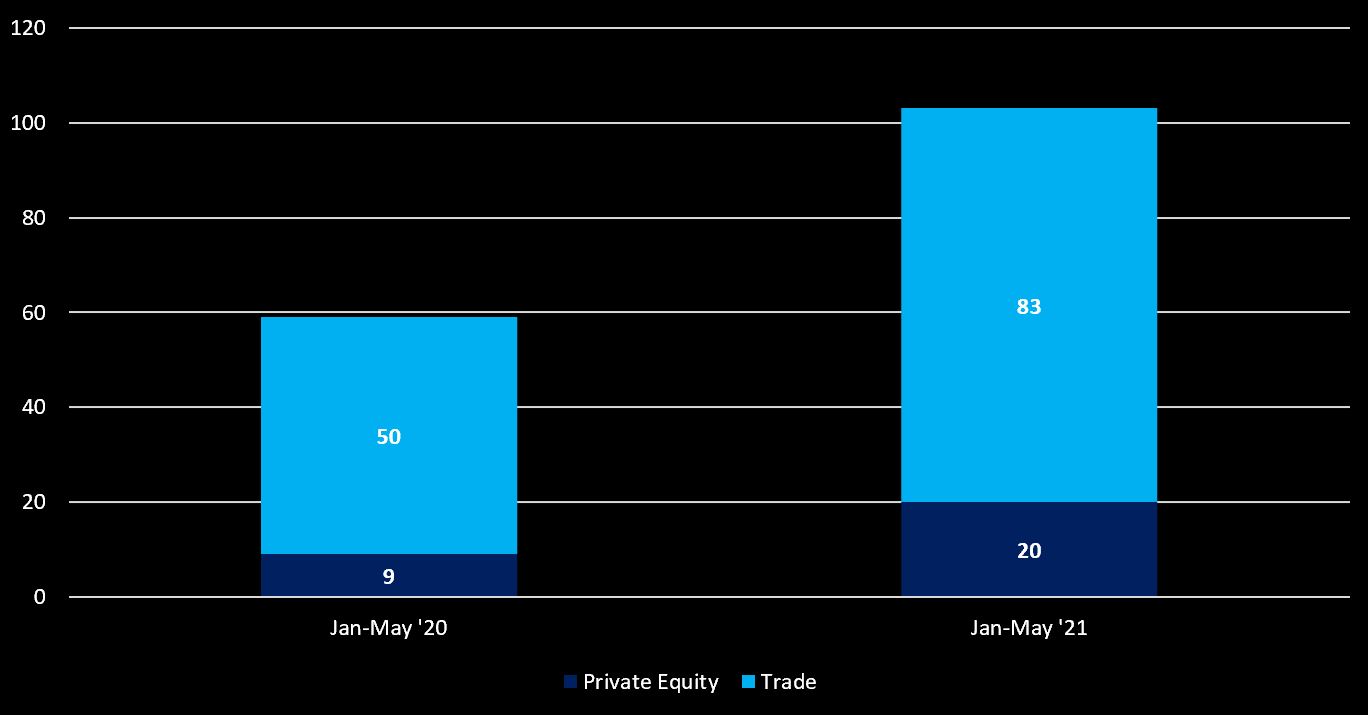 financial versus trade buyers
The busiest financial buyers have been Inflexion, LDC and Northedge, with Growth Capital Partners, Beech Tree, Palatine, FPE Capital, amongst others, also chipping in.  On the trade side, we have seen a number of buyers completing more than one deal thus far this year, including Accenture, BDR, Air IT, and BCN.  Having said this, many of these 'trade' buyers are actually private equity funded platforms – Air IT is owned by August Equity and BCN is a Beech Tree portfolio company.
Interestingly, after completing 5 transactions in the 5 months to May 2020, Accenture has retrenched somewhat from the market.  The consulting giant was behind some of the most significant mid-market deals in 2020, paying £99 million for Context Information, £32 million for Parker Fitzgerald and £31 million for Mudano.  Suggesting multiple arbitrage is alive and well in the sector, some of the larger transactions have been fully-priced relative to our aggregate data on sector multiples, no more so than Context Information, which was acquired from its parent Babcock International for 4x trailing revenues (albeit the company was indicating 'outperforming' revenue growth).
IT Services: Accenture Deal Examples Estimated Enterprise Value £M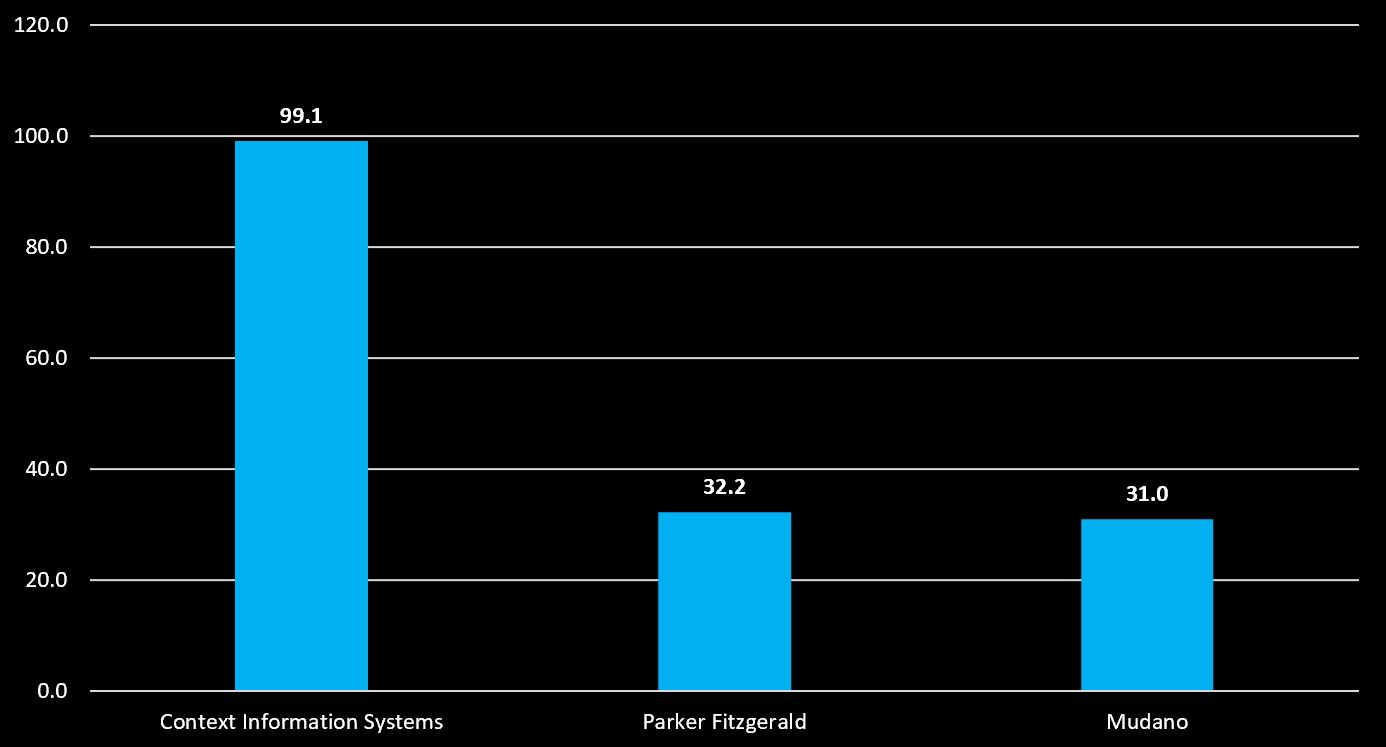 FOCUS AREAS
Consultancy, including software development and systems integration, firms have proved the most popular in both periods, with 27 deals completed in the current year to date against 20 during the comparative period.  Next up is Managed Services, Hosting & Cloud Computing, where 25 deals have already been executed this year, including NVM's acquisition of Trust Systems and the disposal of Node 4 by LDC and Bowmark to Providence Equity.
Resellers, such as Codestone (acquired by FPE Capital) and Distology (Northedge), were also popular, with 14 completions recorded so far this year.
IT Services: M&A by Sub-Category year-to-date 2021 v 2020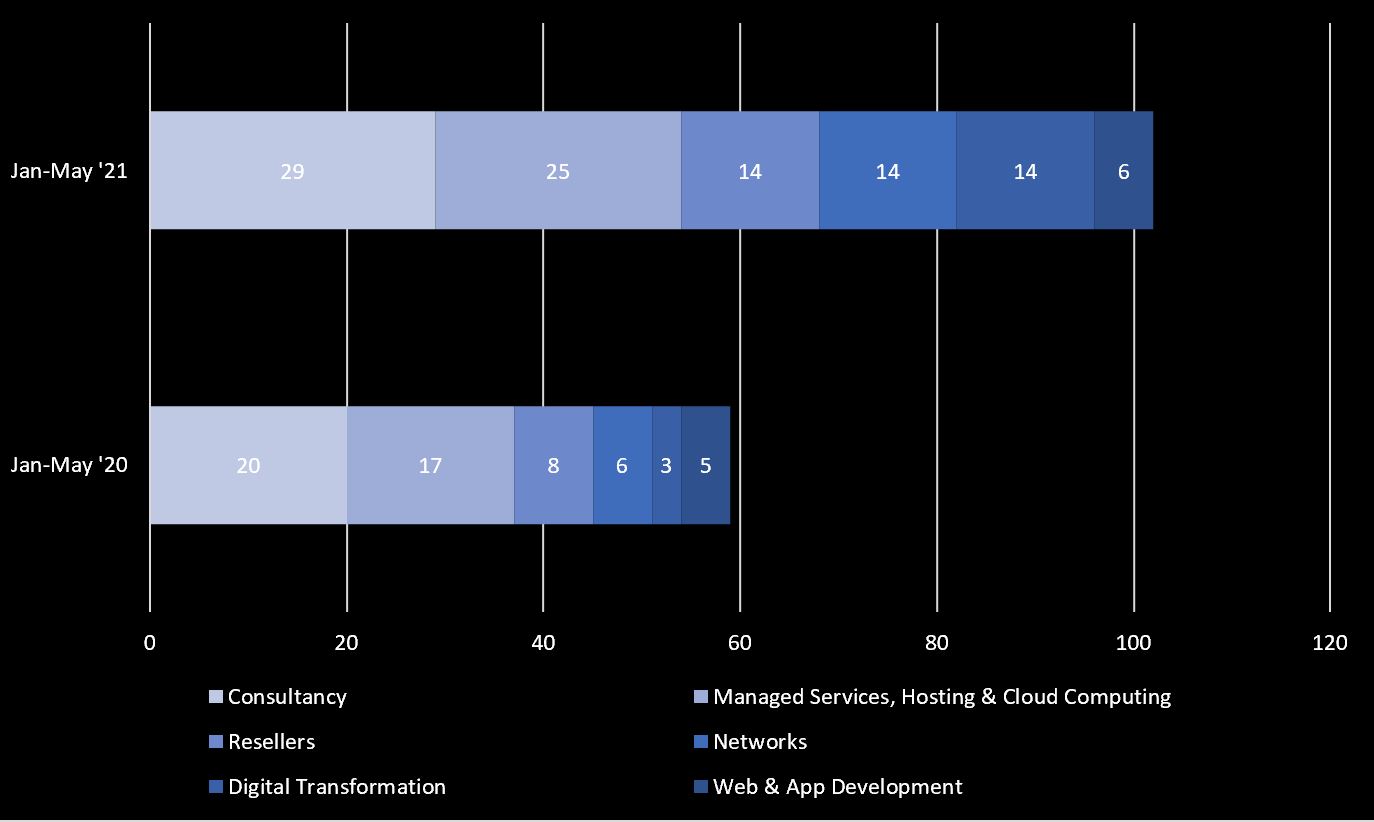 OUTLOOK FOR REMAINDER OF 2021
IT Services fits neatly into the playbook for middle and lower-middle market private equity – it's a fragmented space (although becoming less so) and, as a sector, it benefits from the unstoppable trend of digital transformation and enablement.  In the case of Managed Services, there is also the attraction of long-term, contractual revenues streams.  However, there is some evidence of multiples trending up at the lower end, perhaps narrowing the opportunity for multiples expansion as a business grows through acquisition.  This is a natural consequence of the increased competition for assets in the market, not just from private equity and the global consultancy groups, but also AIM-listed consolidators with ready access to capital such as Panoply.
We expect both deal volumes and valuation multiples to continue their upward trajectory.