Insights
Subscribe Now
Monthly updates from our team straight to your inbox
       
MarktoMarket and Lee Humble, Associate Partner at MHA Tait Walker, join forces to analyse recent trends in UK software M&A.
Businesses operating a SaaS model have been attractive for some time due to the nature of their revenue stream. In a period of significant economic disruption, SaaS operators have generally displayed robust performance, with some accelerating growth during recent periods of lockdown and enforced remote working.
A key determinant of performance, valuation and, ultimately, involvement in M&A activity will rest on the sectors served, with those SaaS businesses serving leisure and hospitality naturally more exposed to COVID headwinds than those providing information technology services.
Private equity interest continues to build across the sector and following a period of relative termination and delay in investment during Q2 2020 they are now back in market with significant hunger and record levels of dry powder which must be deployed.  Investments include both new partnerships as well as significant follow-on funding for existing assets with buy and build aspirations.  As well as the financial sponsors, banks and debt funds are sharpening their focus on the sector.  This primary activity will inevitably lead to a boom in the secondary buyout market.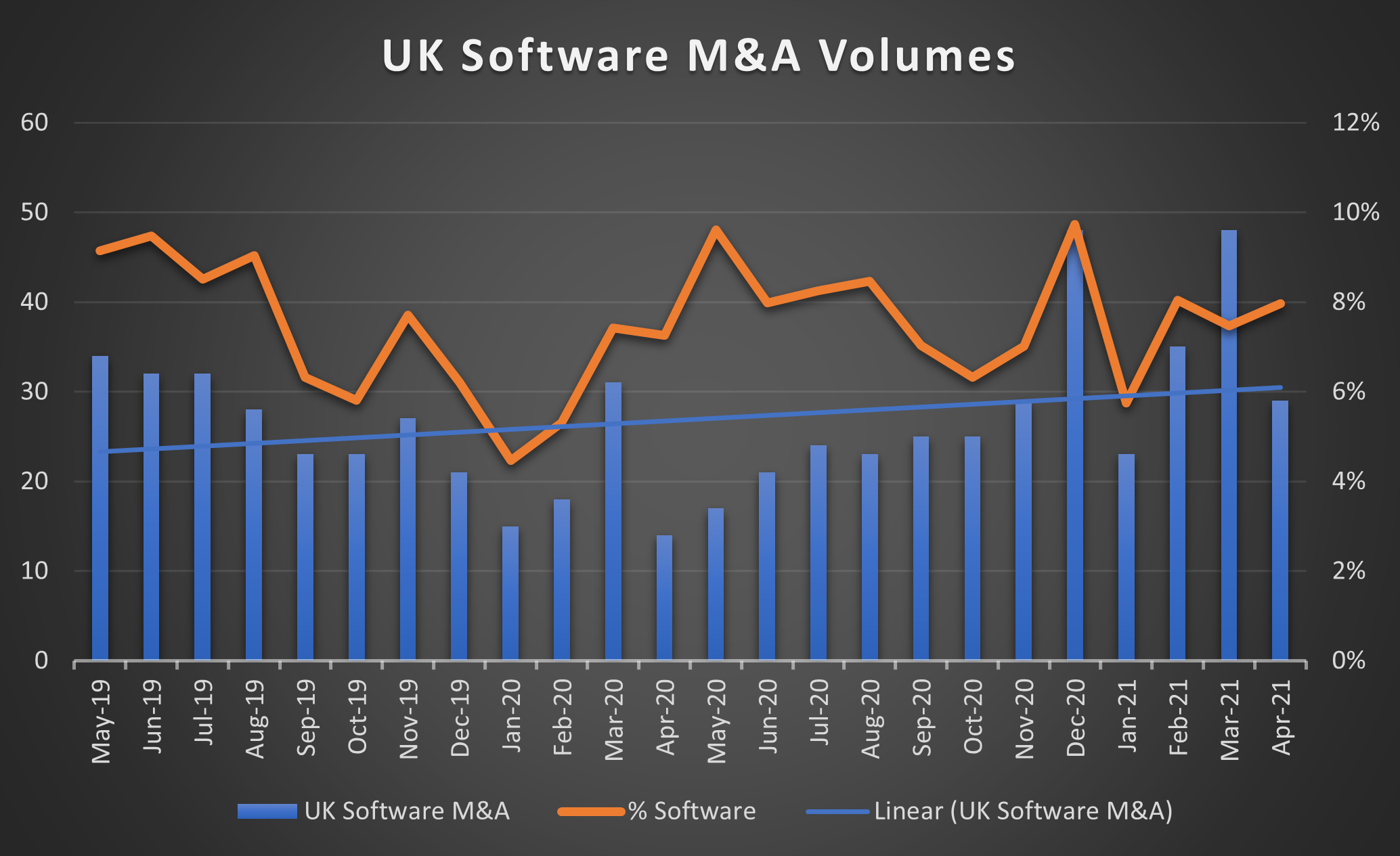 Recent buyers of SaaS assets include LDC, HG Capital, Inflexion, ECI, NorthEdge and Newlands Capital, however, the two most acquirers of UK software assets have been Access Technology Group and ClearCourse Partnership.  Both of these entities are backed by private equity groups – TA Associates (Access) and Aquiline Capital Partners (ClearCourse) – and both businesses are executing supercharged buy and build strategies, resulting in 18 deals for ClearCourse and 16 for Access over the past 24 months.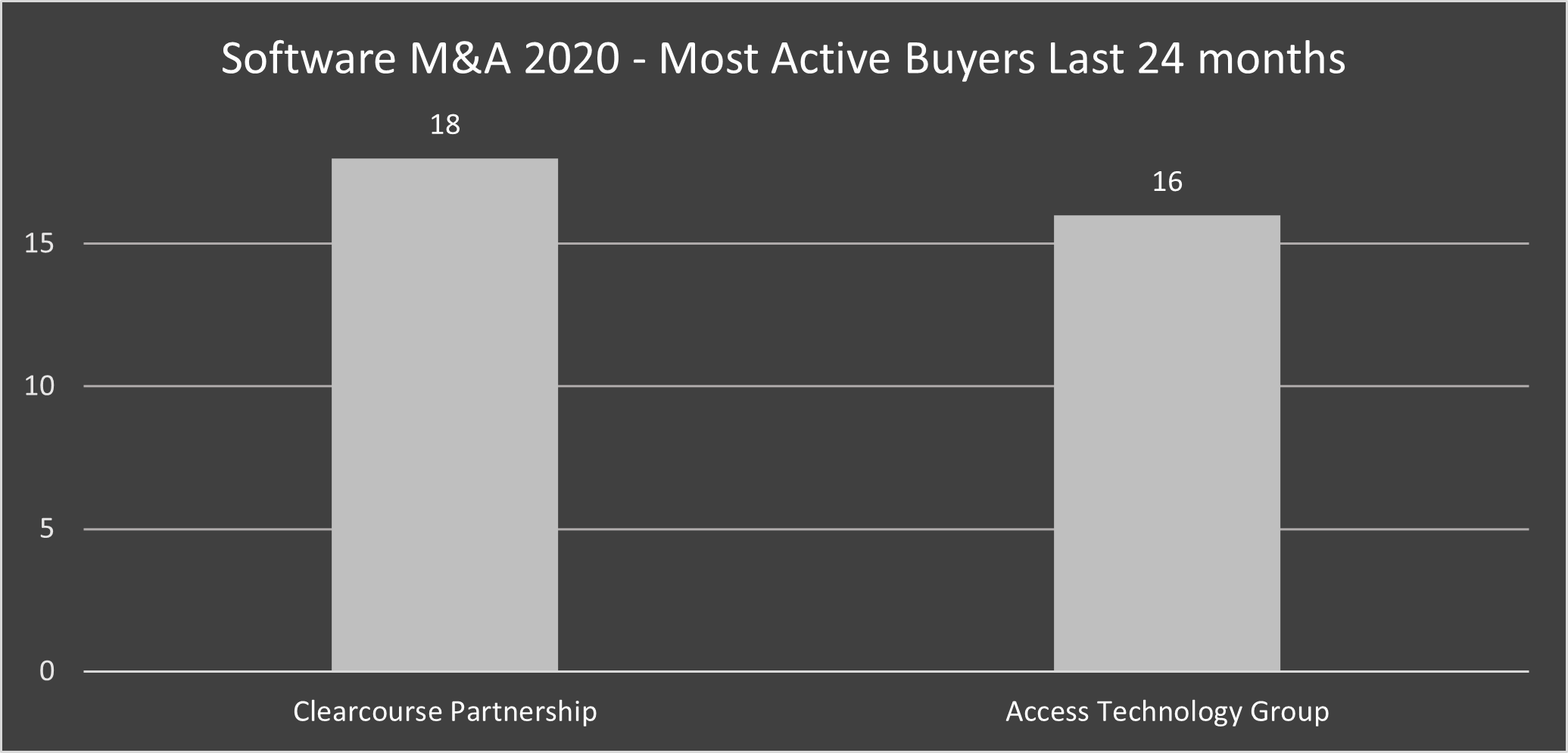 ClearCourse's acquisition strategy has centred on relatively small (sub-£10 million) targets that focus on the simplification of workflows and the automation of payment processes, predominantly in the leisure and events sectors.  Deals include the £7.1 million acquisition of Giftpro, a platform for the hospitality industry, and CircData, a provider of conference software, which was acquired for £5.0 million.
Access Technology has completed transactions further up the size spectrum.  Recent deals include the £51 million acquisition of Eclipse, a provider of practice management software for law firms, and People Apps, a human resources software platform, for £85 million.  Access' portfolio of businesses demonstrates a vertical and horizontal strategy with the group now offering multiple applications across a diverse range of industries.
Whilst revenue is often the metric used as part of the valuation exercise there is also a great deal of focus on other financial metrics, with reference points such as customer lifetime value, churn, retention and acquisition cost also forming key parts of due diligence. Demonstrating a strong handle and budgetary accuracy over such measures is a great means to elevate valuation and should be considered in advance of any transaction.  Revenue multiples have been trending up for private software businesses.  Whilst we calculate that the mean software multiple in 2020 was 3.4x, multiples for prized assets with the highest levels of recurring revenues, solid growth prospects and substantial barriers to entry can move north of 10x.
Anecdotal evidence suggests that software assets, as well as other businesses with subscription revenue models, will continue to be highly sought after and will remain priced at premium multiples.
For further information or to speak to MarktoMarket please contact olga@marktomarket.io.
Transaction data collected by MarktoMarket is gathered and enriched over time and often relies on estimates.  As such, data should be treated on a 'best estimate basis' and should not be relied upon.   Users of this data assume full responsibility for any references to the data and MarktoMarket has no liability for any damage caused by errors or omissions in any information.
Looking for more M&A deal data or new clients to contact?
Book a free platform tour and see how MarktoMarket helps M&A advisers deliver excellent service to their clients and find new deals