Insights
Subscribe Now
Monthly updates from our team straight to your inbox
The Demise Of The Humble Sausage
MarktoMarket analyses the meat alternatives startup scene.
super-sized sector
Research by the Boston Consulting Group (BCG) predicts that the alternative-protein market will be worth $290 billion by 2035.   BCG estimates that every tenth portion of meat, eggs, dairy and seafood is expected to contain alternative proteins as people alter their diets to help bring about a food ecosystem that is less dependent upon intensive livestock farming.
According to the Economist, the amount of meat consumed globally is still growing, but far less so in rich countries than the developing world.  In the UK, for example, the number of vegans more than quadrupled from 2014 to 2019.  The population identifying as 'flexitarian' (where the diet is dominated by meat alternatives but is not meat free) is far greater, with movements such as Veganuary, World Meat Free Week and regular meat free days all raising awareness and changing habits around protein consumption.
heating-up
To keep up with this trend, capital has been attracted to a new generation of meat alternative brands and producers.  The Global Food Institute and Meat Atlas say that investment into alternative protein companies was $3.5 billion in 2020, treble the 2019 figure.
Creating a meat-free sausage is about re-configuring the components of plants to more closely align their structure of fats, carbohydrates and sugars to an animal counterpart.  The exact formulae of this re-engineering are closely-guarded secrets and proprietary to each producer but it is this science that has propelled Beyond Meat, the plant-based burger brand, to a $7 billion market value and Impossible Foods, its US rival, to seek a $10 billion valuation as it prepares to go public.
US alternative meat leaders market valuations ($bn)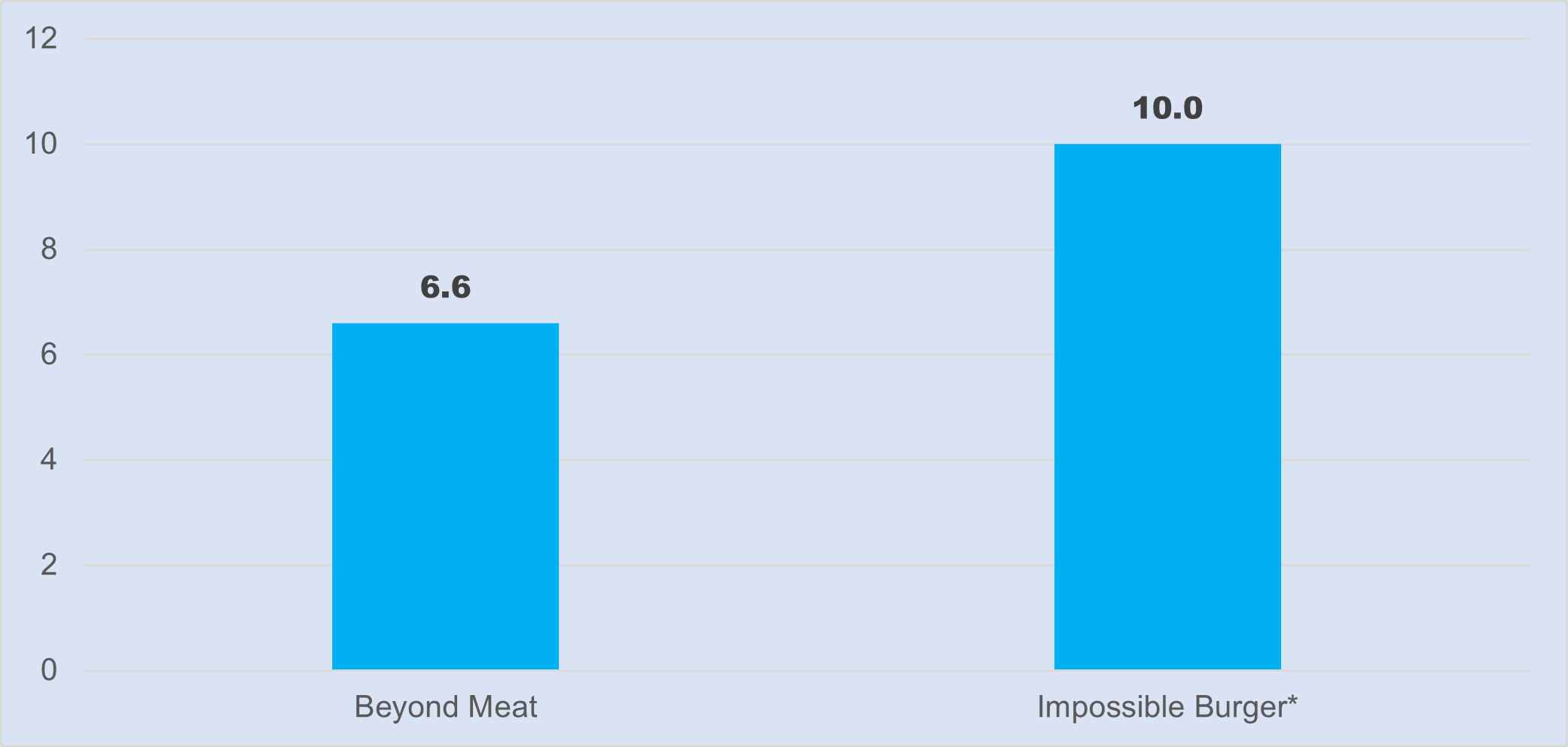 *estimated IPO valuation
across the pond
In the UK, venture capital has been seeking out the domestic startups that are becoming increasingly familiar, and crowding out conventional meat products, on supermarket shelves.  In an as-yet unannounced deal, VBites Foods has accepted an investment of £6.5 million at a pre-money valuation of £18.5 million.  VBites, founded in 2003, can hardly be considered a startup.  In fact, their own success in plant-based alternatives has spawned an incubation arm, which provides access to manufacturing, product development and distribution to early-stage plant-based ideas.  So far, this arm has partnered with vegan pizza company, One Plant Pizza; avocado-based dessert brand, Onist; and whole foods ice cream maker, Beau's.
Another unannounced transaction saw Allplants, a plant-based frozen meal delivery service, raise £9.1 million at a £49.2 million pre-money valuation (the new shares benefit from a 1x liquidity preference).  The latest close follows a £3.4m crowdfunding round alongside institutional investors Felix Capital and Octopus Ventures.  Planty, a smaller rival to Allplants in the frozen meal delivery market, has just closed a smaller round of £0.8 million at a £3.9 million pre-money valuation.
Last year Meatless Farm trumped all of these with a £24 million raise at a £106 million valuation.  Meatless is already back for more with a Crowdcube campaign to help fund a new protein production facility in Calgary and expand their already impressive distribution channels.
UK alternative meat startups – recent valuations ($bn)

Meanwhile, some of the more established players have gone from niche, 'alternative' producers, to mainstream FMCGs.  Windmill Organics, owner of brands such as Biona and Bonsan, now generates £56 million of revenue and £10 million of EBITDA.  It remains 100%-owned by the founders.  Another familiar name Quorn Foods was acquired by Mondo Nissin Corp, a Philippine-based global food and beverages company, for £562 million, an EBITDA multiple of 18x.
lab to fork
Whilst the consensus is forming around a world where dependence on meat reduces, a key challenges to winning over the consumer will always be taste.  Happily, in a world of 'lab grown' meat, taste can be engineered and the flavour and texture of a plant-based burger is moving increasingly close to the real thing – one day we may not even be able to tell whether our burger was grown in a field or that lab.
MARKTOMARKET
MarktoMarket is a data platform and marketplace for the private capital markets.
For more details on these deals and MarktoMarket's broader offerings please contact doug@marktomarket.io.