Insights
Subscribe Now
Monthly updates from our team straight to your inbox
Deliveroo and Trustpilot lead the way
Pundits are predicting a glut of tech IPOs following Rishi Sunak's relaxation of London's listing rules.  The easing comes on the back of a review by Lord Hill, a former EU financial services commissioner.  Key recommendations included allowing dual-class structures in the premium listing segment of the London Stock Exchange.  These arrangements permit founders to keep control, despite ceding economic ownership, by giving them casting votes on decisions.  This is unchartered territory for most investors in UK equities and is likely to be a factor in valuations.
We look at two recent IPOs – Deliveroo and Trustpilot – to analyse the market's response to their stock market debuts and investigate the factors driving their share prices.
Post-IPO reaction
Deliveroo took advantage of the relaxed listing rules, with founder Will Shu retaining 57% of the voting rights despite ending up with less than 10% of the equity.  This acted as a turn-off for many of the UK's largest institutional investors and appears to have curbed demand for ordinary shares, if the post-float share price fall of 40% is any indication.
Conversely, Trustpilot has enjoyed a comparatively successful start to life as a public company.  The review platform floated with a single share class, and investors have enjoyed a share price gain of 26% since its IPO.
Share price movement since IPO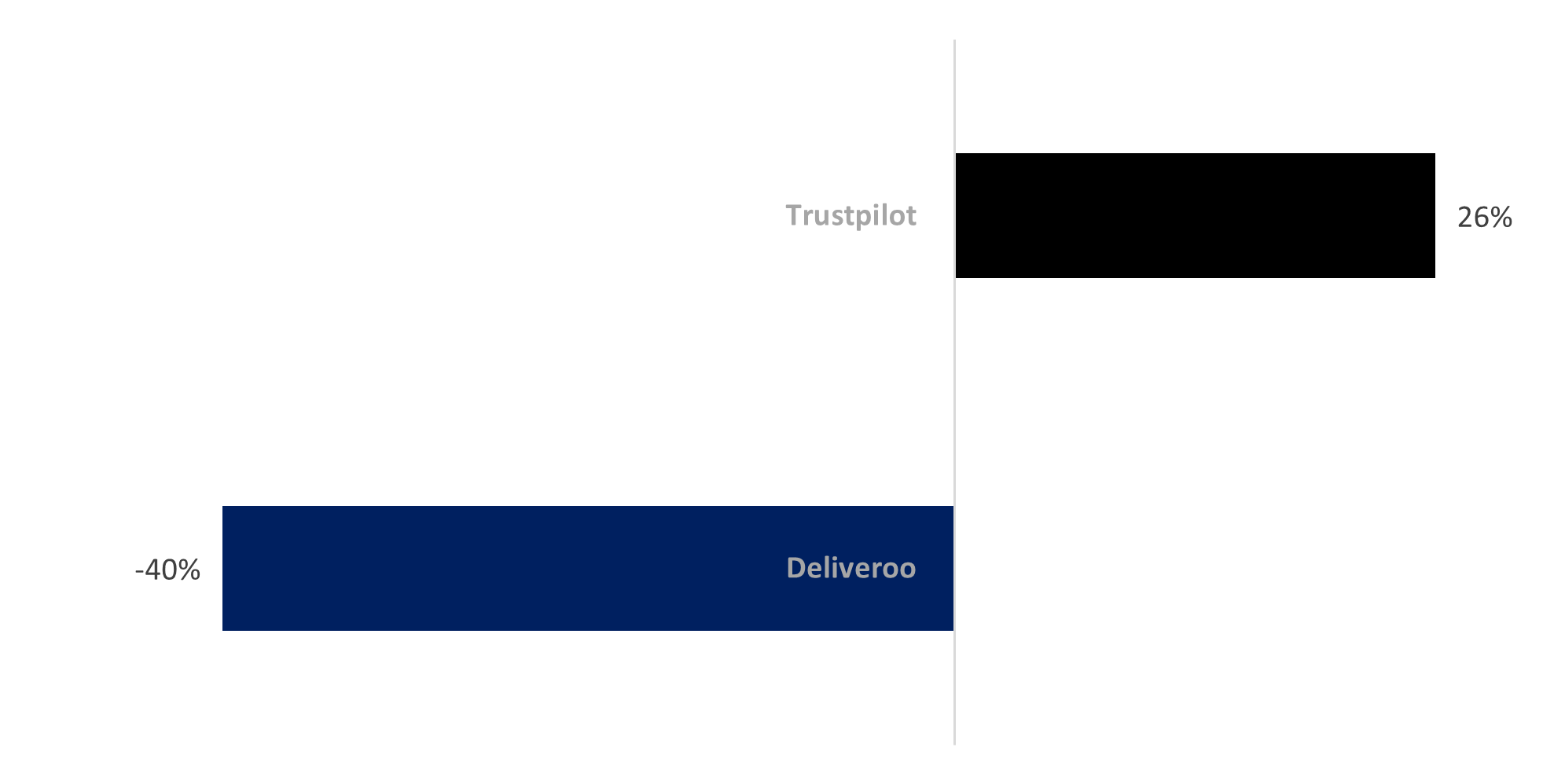 What is driving the multiples?
Both businesses have been bucketed in the 'tech' category.  We would classify both as marketplaces, but similarities end with this definition – this much is apparent in their respective valuations.
Estimated EV/Revenue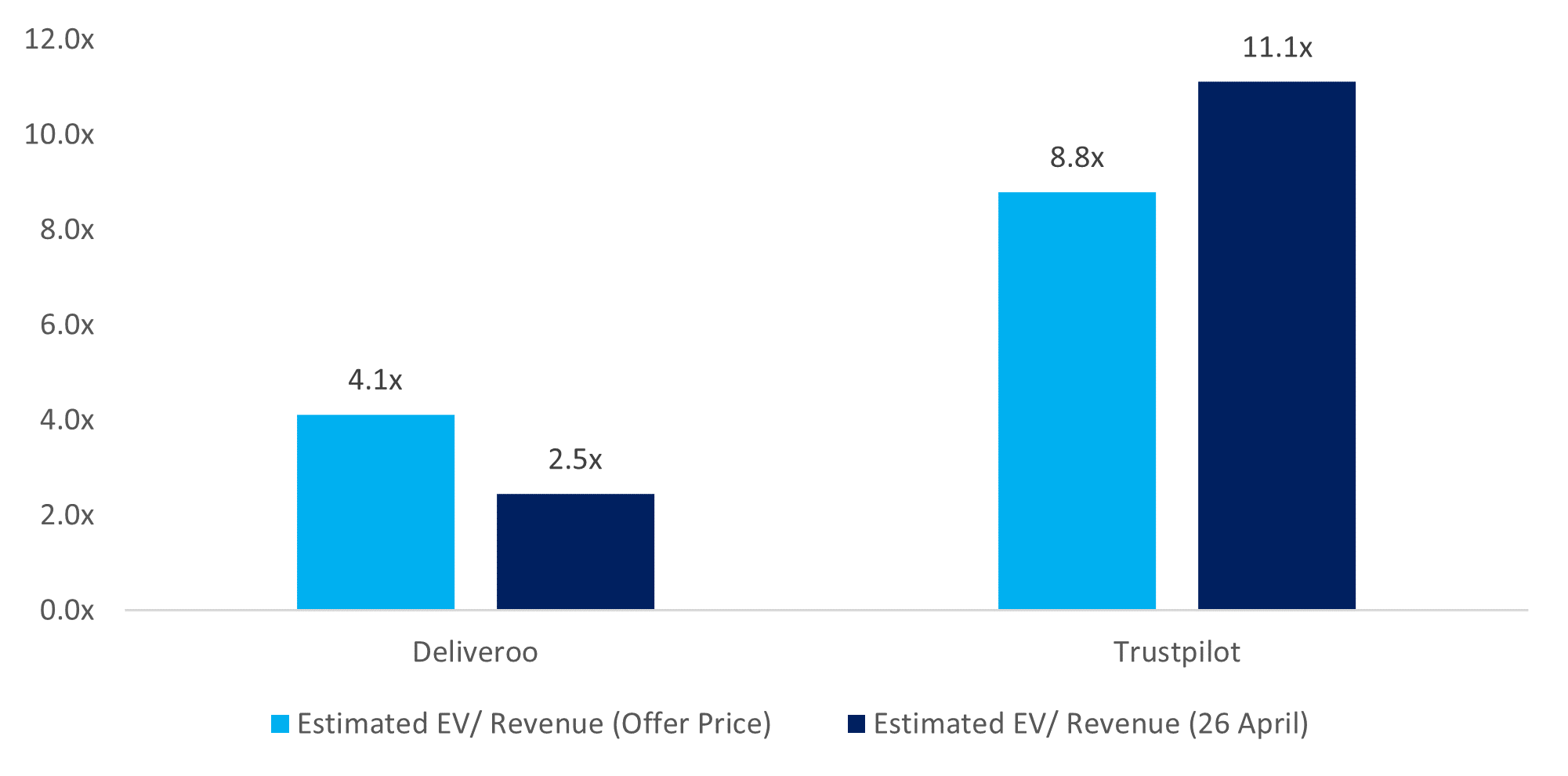 Whilst Deliveroo's stock has de-rated significantly since IPO, Trustpilot is now commanding a double-digit revenue multiple.  The best marketplaces will attract big prices in public and private markets.  Trustpilot holds an enviable position as the 'go to' platform for publication and consumption of consumer reviews.  Deliveroo, on the other hand, is fending off competition from Uber Eats, Just Eat and smaller operators catering to small cafes and restaurants that shun Deliveroo on ethical grounds (the company has drawn criticism over workers' rights) or their inflexibility on rapidly changing menus.
Deliveroo's revenues will be susceptible to the vagaries of this competition as well as consumer demand (which arguably peaked during lockdown).  Trustpilot's fixed, contractual pricing terms give clearer sales visibility.
Furthermore, Trustpilot should benefit from a greater degree of operational gearing than Deliveroo.  High operational gearing allows a chunky proportion of revenues to fall to the bottom line.  This is typical of software, data and marketplace businesses, where there is little incremental cost required to drive sales growth.  Deliveroo, with its fleet of riders (albeit riders that are engaged as contractors, not employees), has a cost base that is more closely coupled to its revenues and which has to grow to facilitate sales growth.
Pre-IPO versus IPO Pricing
Deliveroo tried to attract a big premium to its last private round price when it listed.  Trustpilot did too.  The difference is that Trustpilot's final private placement was completed in March 2019; Deliveroo's was in January 2021, two months prior to its IPO.  Notwithstanding the 'liquidity premium' that comes with a public market listing, to justify a 38% price uplift in two months took impressive salesmanship.
IPO pricing versus previous round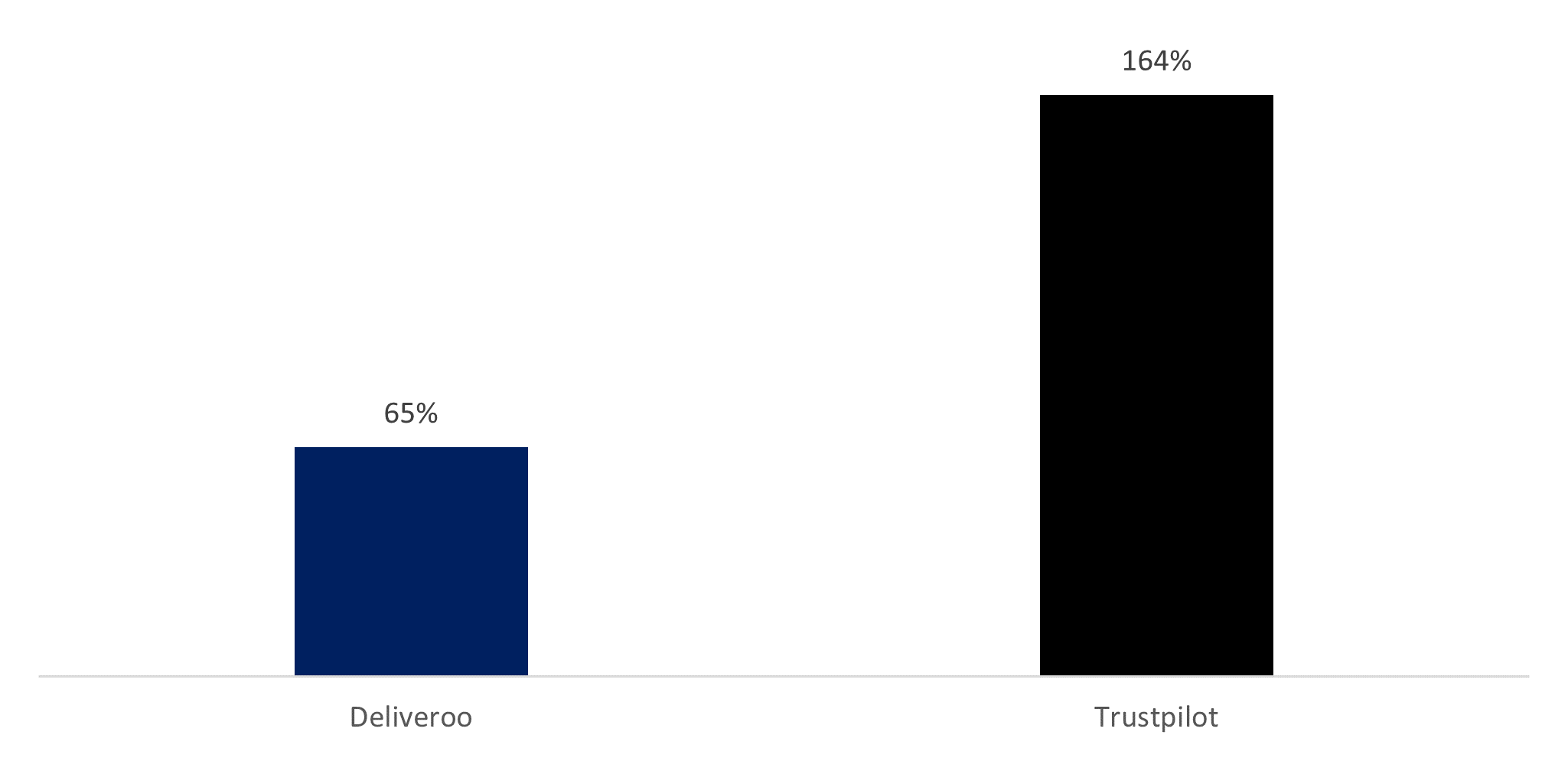 Pricing an IPO
Experts will tell you that the worst thing you can do is over-price your IPO, even if it means taking a little more dilution on day one.  Price it right and your share price goes up.  With a rising share price, everyone wants to take a look, nobody wants to miss out.  Price it wrong and your price falls.  Whilst on the face of it this represents a buying opportunity, in practice, nobody wants to touch your stock.
By going first, Deliveroo and Trustpilot have proved valuable data points for the next batch of tech flotations.
For further information or to speak to MarktoMarket please contact olga@marktomarket.io.
Transaction data collected by MarktoMarket is gathered and enriched over time and often relies on estimates.  As such, data should be treated on a 'best estimate basis' and should not be relied upon.   Users of this data assume full responsibility for any references to the data and MarktoMarket has no liability for any damage caused by errors or omissions in any information.
Looking for more M&A deal data or new clients to contact?
Book a free platform tour and see how MarktoMarket helps M&A advisers deliver excellent service to their clients and find new deals