Insights
Subscribe Now
Weekly updates from our team, straight to your inbox
October 2020 Valuation Barometer
Overview
Highlights from our October Valuation Barometer, covering deals and valuation multiples in UK M&A from September 2020.
Highlights
M&A markets returned with a bang in September, with a standout period of deal activity. Granted, the aggregate deal value was boosted by Nvidia's acquisition of ARM from Softbank for $40 billion; however, transactions worth another £19.6 billion were announced or completed in the month.
Volumes also reversed the decline seen in August – we recorded 306 deals, an uplift of 21% on the prior month. Whilst still behind last year's levels, the 2020 versus 2019 like-for-likes show an improving trend.  We calculated that deals valued at a total of £50.4 billion were executed or announced during the month. This represents a vast uplift on the August 2020 total of £8.2 billion.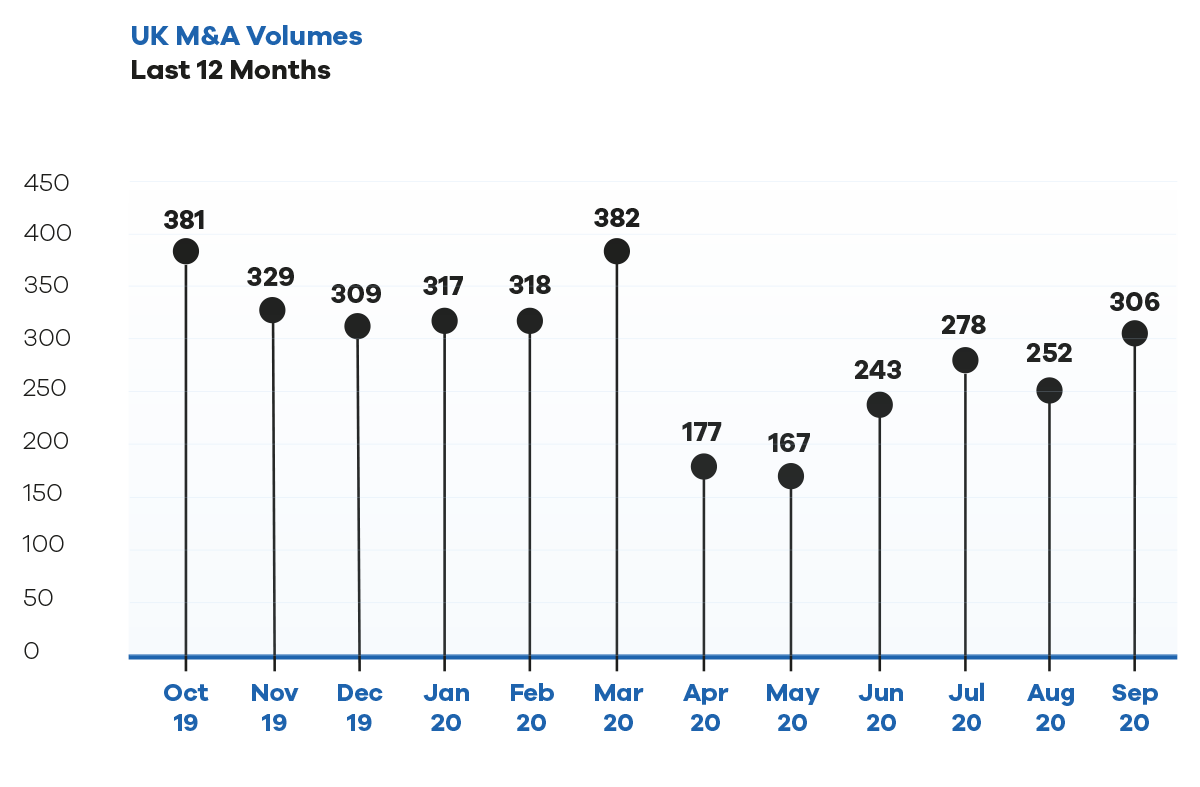 Spotlight Transactions
Besides ARM, there were other attention-grabbing deals, including:
GIC and Massachusetts Mutual's £2.8 billion takeover of Rothsay Life, the specialist annuity provider.
A £3.0 billion approach for security giant G4S by BC Partners and GardaWorld.
Caesars Entertainment's £2.9 billion bid for bookie William Hill.
Tech-specialist PE firm HG Capital's $1.5 billion investment in Hyperion Insurance.
At the lower end of the market, we saw some interesting acquisitions, including:
The sale of Bristol Energy's residential customer base, brand and systems to Together Energy for £14 million.
The acquisition of IFA support provider Sense Network by Adviser Service Holdings for £9.4 million.
Kingswood's £4.7 million acquisition of IFA platform Regency Investment Services.
The divestment of Mears' Scottish domiciliary care business to Cera Care for £2.5 million.
Deal Commentary
There was a flurry of activity for US assets, with TT Electronics, Essentra, Keywords, Hanover Investors and Mpac Group amongst the buyers looking across the pond for inorganic growth.  Closer to home, professional services firm FRP Advisory was particularly busy, using its M&A experience to grow its own corporate finance and business recovery practices via the acquisitions of JDC Group and Abbot Fielding.  This follows a summer of activity in the professional services market by K3 Capital, adding randd UK and Quantuma to diversify their core corporate finance and business broking activities.
Sample Completed and ANNOUNCED M&A MULTIPLES – SEPTEMBER 2020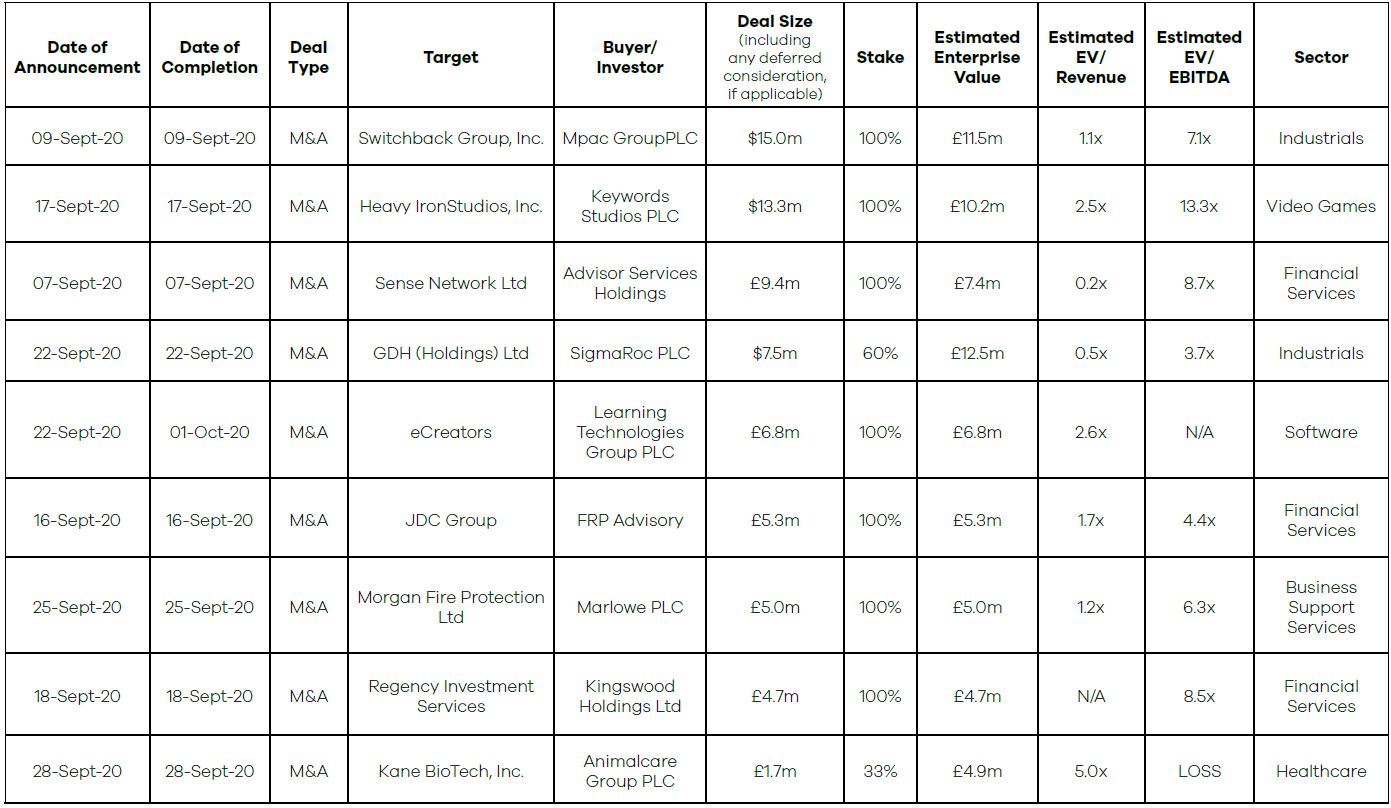 Download the executive report below. Access to the full list of deals in the October Valuation Barometer is reserved for members of the MarktoMarket Data Co-operative. 
For the full list of previous 2020 Barometers – visit our reports page.
Download the October Valuation Barometer
The executive report is available to anyone working in advisory or investment teams.