Insights
Subscribe Now
Weekly updates from our team, straight to your inbox
5 Medtech Startups to Watch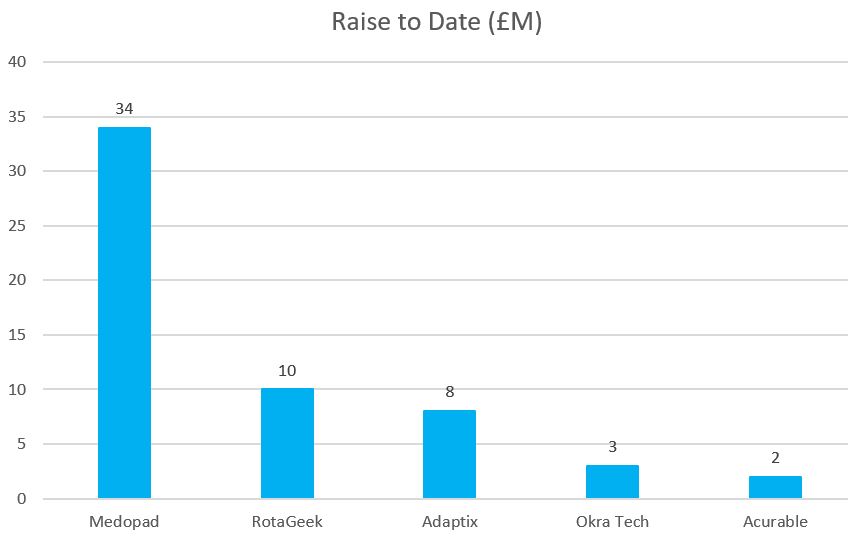 Today's announcement that Medtronic is acquiring Digital Surgery is another sign of the inexorable shift towards the use of artificial intelligence and other technologies in healthcare.  Digital Surgery, backed by Balderton, Ballpark and Episode 1, boasts a suite of AI and surgical video education platforms for surgical practitioners.  The software will be integrated into its new parent's hardware, including Hugo, Medtronic's forthcoming soft tissue surgical robot.
As technology continues to disrupt the healthcare sector, we look at five other pioneering MedTech startups that may be in the cross-hairs of acquirers:
Founded – 2011
Investors – Bayer
Bayer-backed Medopad has developed a range of applications that pull patient records from hospital databases and combine this with data collected through wearable devices to enable doctors to better diagnose conditions.  A recent $25m raise is earmarked for expansion of its clinical research operations and international expansion.  Alzheimer's disease is a key focus of Medopad – their technology will allow remote monitoring of verbal memory in at-risk individuals.
Founded – 2009
Investors – Schneider Investment Associates
Adaptix is adding 'digital tomosynthesis' – 3D capability – to traditional X-ray.  The startup has been backed by Schneider Investment Associates to bring its 'Flat Panel X-ray Source' to market at a price that is compatible with existing 2D systems.  3D medical imaging is revolutionising radiological diagnosis and surgical planning by allowing more life-like views for surgeons to act upon.
Founded – 2015
Investors – Core Assets
Cambridge-based Okra is all about personalised medicine.  Okra's platform uses AI to inform life science teams how to match the right drug to the right patient.  Using OKRA, healthcare professionals access one combined view of all their data to generate actionable, evidence-based insights in real time.  Okra's technology is part of the movement away from the traditional 'one size fits all' attitude towards to the treatment of patients.
Founded – 2009
Investors – Mobeus
Mobeus backed Rotageek in 2018 to continue development of its workforce management software which deploys personalised algorithms and machine learning to optimise staff resourcing.  Whilst the startup operates in multiple industries, healthcare is a key market.
Founded – 2016
Investors – Kindred Capital; Mundi Ventures
Acurable has designed the first wearable medical device that can accurately diagnose and manage respiratory conditions at home.  Its sensor is non-invasive and no training is required, enabling home use without the assistance of a specialist or a visit to the hospital.  The London-based business was a spin-out from Imperial College.
Request a Demo
Submit the form and a member of our sales team will be in touch to set up a demo.