Insights
Subscribe Now
Monthly updates from our team straight to your inbox
How to turn £100k into £82 million
Shares in Deliveroo will commence trading on the London Stock Exchange this week.  This will bring to an end an eight-year journey as a private company, during which time the takeaway delivery app has raised an astonishing £1.3 billion across nine rounds of funding.  A further £1 billion is earmarked for the IPO at a rumoured valuation of £7.8 billion ("pre-money").
£8 billion in 8 years
Looking back on Deliveroo's capital raising history affords an insight into the stellar returns that will be made by its early backers.  The canny individuals who funded the embryonic business in 2013 invested £115,001 of seed capital at a valuation of £1.5 million.  At the anticipated float price, this stake will be worth £82 million – a cash multiple of 710 times!
Series A investors arrived shortly afterwards and, despite less than a year elapsing since the seed round, were persuaded to back the company at a £9 million valuation.  The round totalled £2.7 million and will be worth £350 million on listing, a money multiple of 127x – still not too bad.
Four years was all Shu needed to turn his startup into a unicorn.  This status was achieved when Deliveroo completed a £379 million Series F raise in September 2017 at a pre-money valuation of £1.1 billion.  A further £844 million was raised from investors including Amazon over two rounds in the subsequent two years before the latest £135 million 'top-up' completed in January this year.
Deliveroo fundraising history (£m)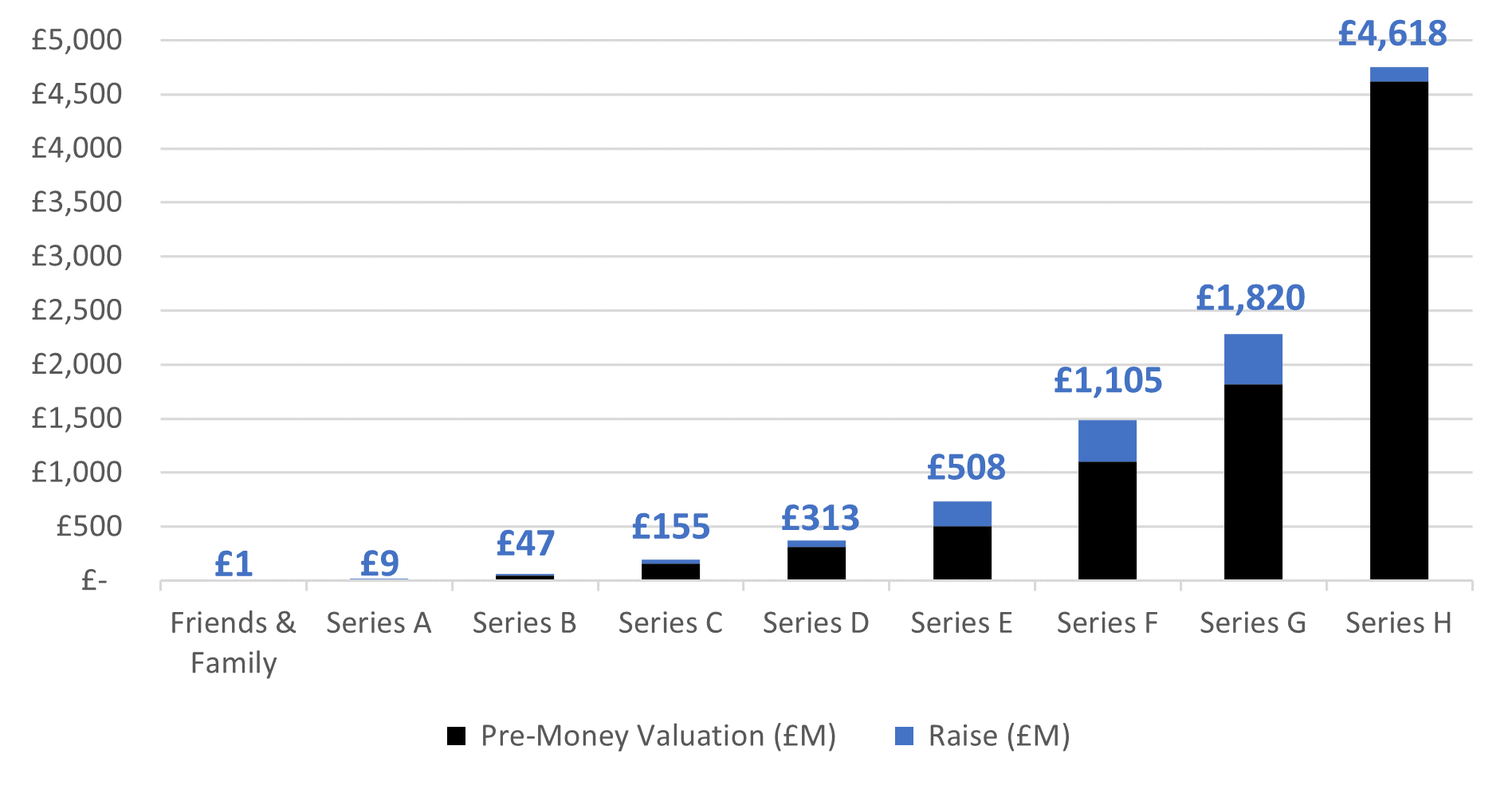 IPO Pricing
The indicated £7.8 billion listing valuation (£8.8 billion post new money) seems to have passed the sniff test with fund managers.  This is despite the last round completing in January 2021 at a post-money valuation of £4.7 billion.  A 69% premium in three months feels like a generous uplift, especially with the introduction of a dual share structure giving Founder and CEO Will Shu 20 votes for every one vote held by everyone else on the cap table.   However, in a smart marketing ploy, Deliveroo is making £50 million available to its loyal customers – given the size of its customer base and the cap on individual subscriptions at £1,000, this could keep the after-market strong as retail investors scramble to make-up their allocations.
Fundamentals
Unlike its closest listed comparable, Just Eat Takeaway, Deliveroo has not yet broken-even – last reported operating losses reduced year-on-year but still came in at £225 million, on revenues of £1.2 billion.  At current growth rates, 2021 revenues could reach £1.5-1.8 billion.  At the mid-point of this range the business will trade on a revenue multiple of 5.3x.  Whilst this is by no means an outlier for a high-growth digital marketplace business it provides an unfavourable comparison against Just Eat Takeaway, which trades on 3.4x revenue.
Deliveroo v Just Eat estimated revenue multiples (current year)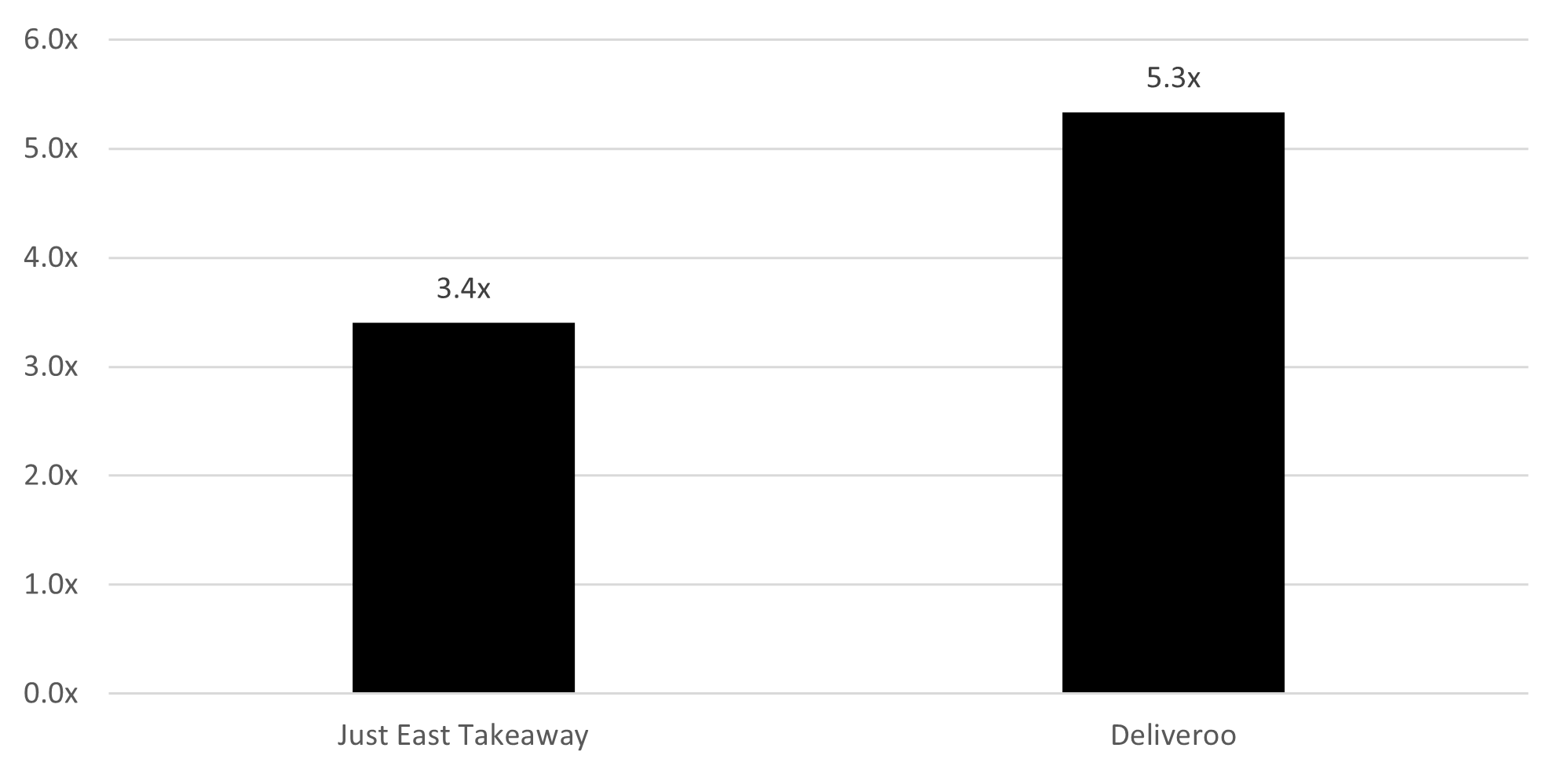 London v New York
Irrespective of where pricing goes when Deliveroo goes 'live' on the exchange, early investors are guaranteed once in a lifetime returns.  What remains to be seen is whether, post flotation, the public markets will be as forgiving of the heavy losses that Deliveroo has been sustaining in order to support top-line growth.  Hopefully, new investors will be patient – in an environment where high growth tech businesses are increasingly choosing to list in the US, we should welcome the shareholders' decision to float in London and hope that it heralds a precedent for other digital leaders to do the same.
For further information or to speak to MarktoMarket please contact olga@marktomarket.io.
Transaction data collected by MarktoMarket is gathered and enriched over time and often relies on estimates.  As such, data should be treated on a 'best estimate basis' and should not be relied upon.   Users of this data assume full responsibility for any references to the data and MarktoMarket has no liability for any damage caused by errors or omissions in any information.
Looking for more M&A deal data or new clients to contact?
Book a free platform tour and see how MarktoMarket helps M&A advisers deliver excellent service to their clients and find new deals