Insights
Subscribe Now
Monthly updates from our team straight to your inbox
MarktoMarket dives into M&A trends in the legal market.
catalysts
The introduction of the Solicitors' Incorporated Practice Rules in the early 1990s paved the way for practices to incorporate as limited companies and limited liability partnerships.
The logical next stage has now come to pass, as shareholders and partners crystalise the goodwill in their firms through exits to larger competitors, private equity buy-and-build platforms and initial public offerings.
We look at recent M&A activity in the legal industry to uncover the volumes, the transaction prices and multiples, the keenest acquirers, and the firms that are likely to be the hungriest for deals in 2022.
trends
Deal volumes involving UK law firms have been consistent over the past three years.  The boost in activity coincides with the IPO of two of the most acquisitive groups – DWF and Knights – as well as the entry of Marlowe, a business support and IT Services group with a market capitalisation of £850 million, into the legal services market via a sequence of acquisitions.
UK Law Firm M&A Volumes: 2019 – 2021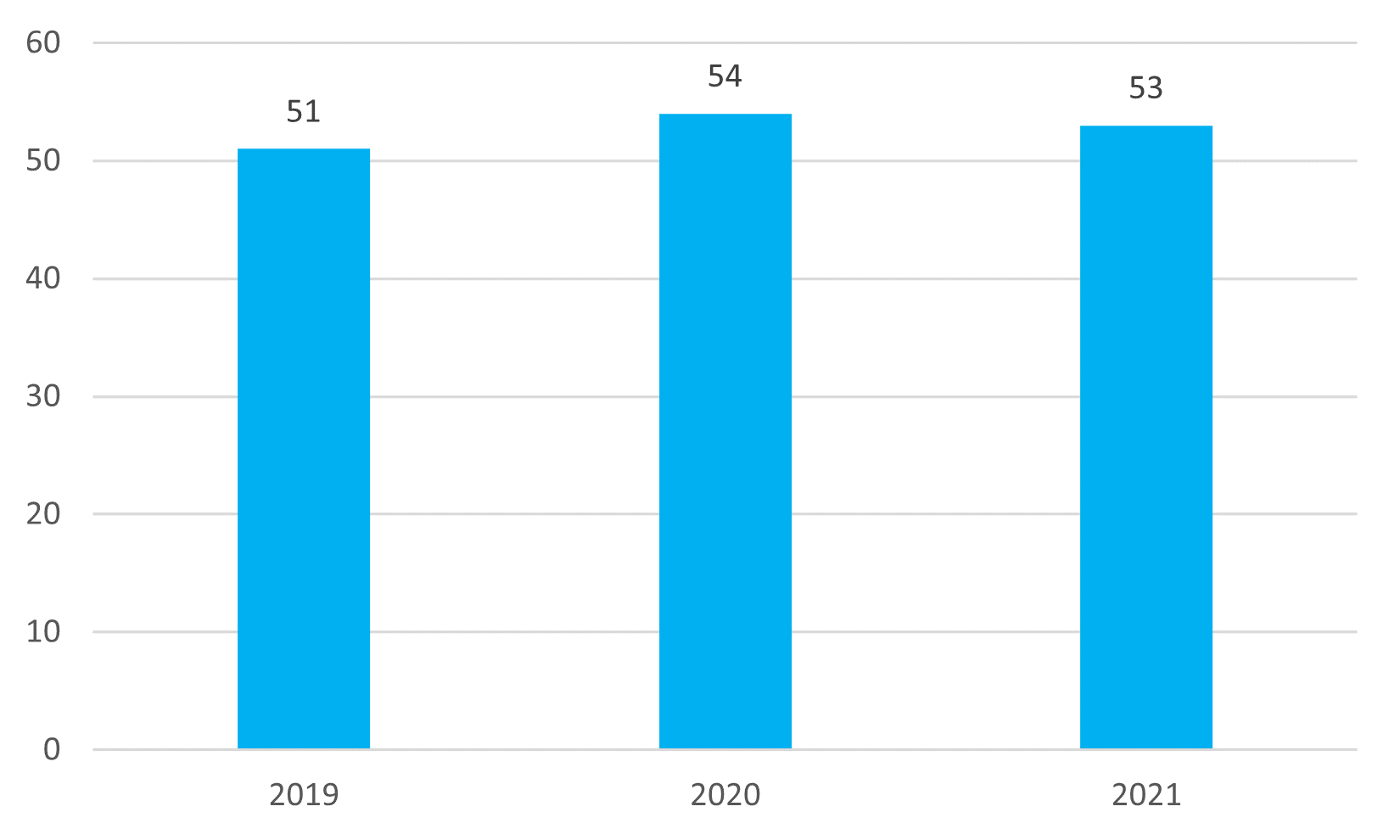 buyers
Knights leads by a distance in terms of acquisition completions over the past three years.  The group raised £50 million of firepower on listing in 2018 and has since completed 14 deals, with 12 of these coming since 2019.  Behind Knights is Metamorphe Group, acquirer of 5 regional firms since 2019.  The Telford-based group is privately-funded and led by Executive Chairman Tony Stockdale, the former CEO of Linder Myers LLP.  Stockdale has prior experience of professional services roll-ups, having worked in the accountancy profession with RSM Bentley Jennison and, latterly, Tenon and RSM.  The third most acquisitive group was Marlowe, which has added 4 law firms amongst its 65 acquisitions since 2016.
Most Active Buyers: 2019 – 2021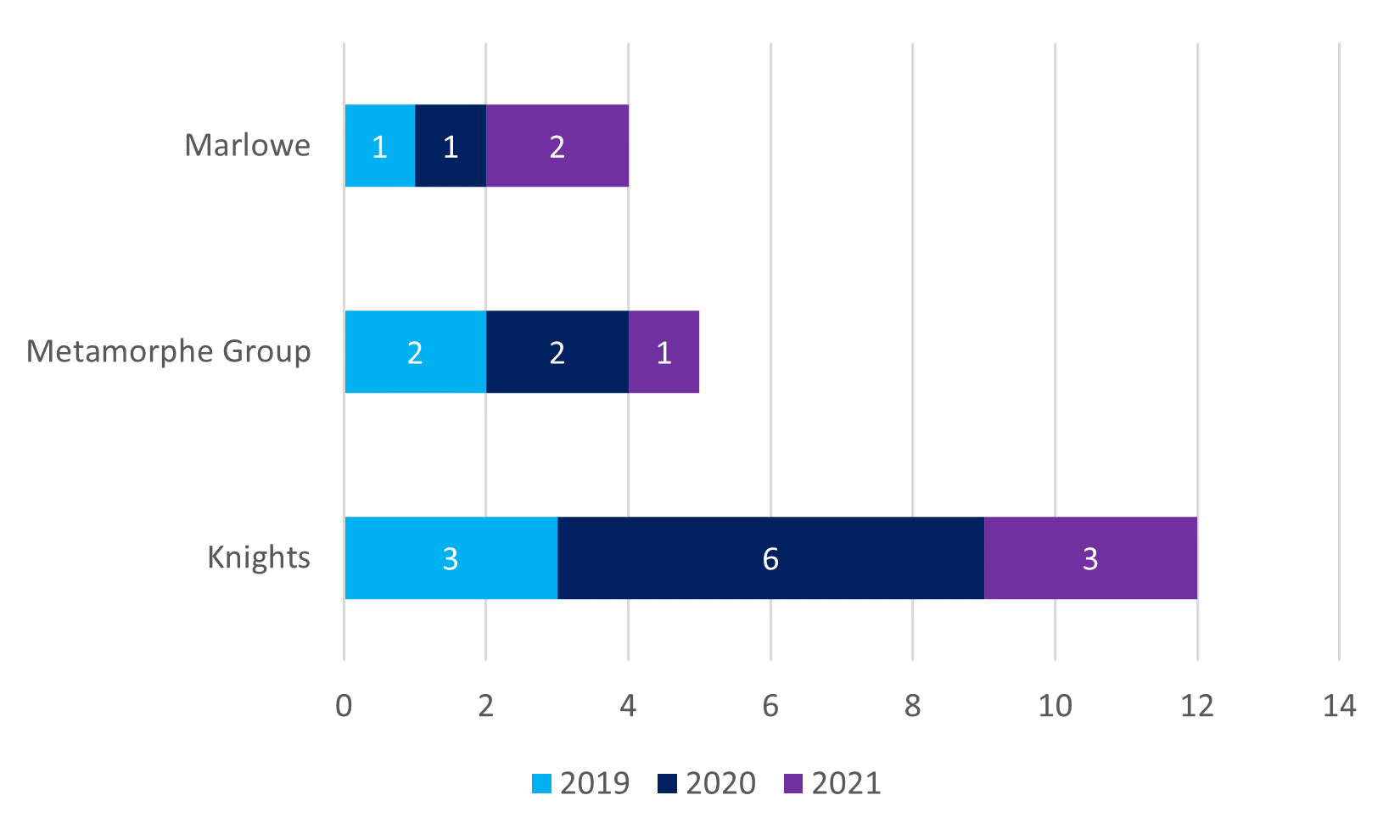 valuations
When looking at valuations we focus on multiples of billings, rather than profit multiples, to recognise that most acquired businesses will be partnerships where profits are largely removed via drawings.  The median multiple over the period under review was 1.2x billings.  This is a material discount to the revenue multiples of all of the listed law firms (with the exception of The Ince Group), offering significant opportunities for pricing arbitrage.
Legal M&A Billing Multiples (Median EV/Revenue) last 3 years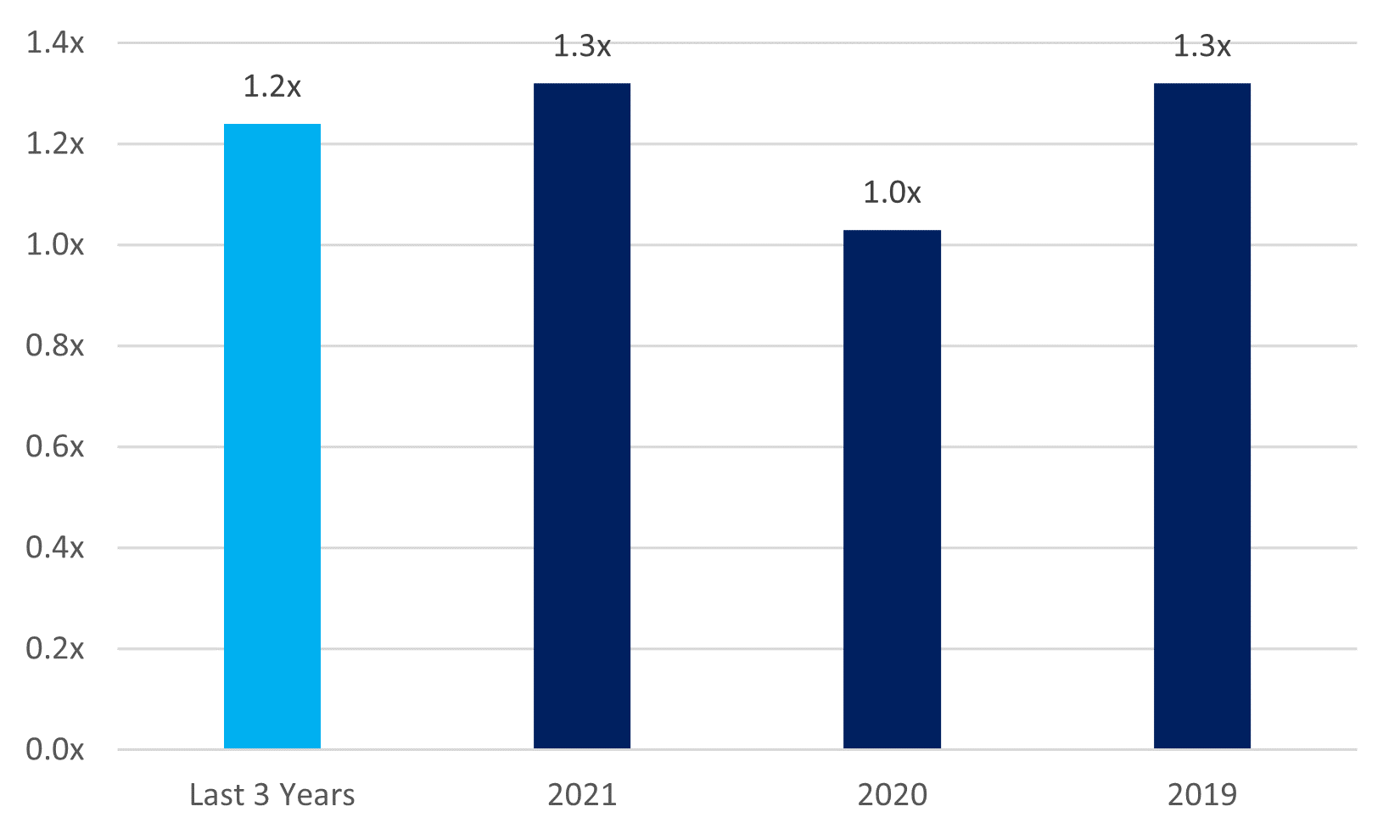 Of course, it is important to put multiples in the context of the variables that will have an impact, such as specialisms, growth rates and size.  On the latter category, we could decipher little correlation between the size of the firm and the quantum of the revenue/billing multiple over the three year period under review.  However, looking further back in time to 2016, HG Capital completed the acquisition of Citation for a revenue multiple of over 5x.  Citation is a provider of health and safety, HR and employment law consultancy.  In this respect it is no different from a multitude of other firms.  However, is boasts one key differentiator in that it benefits from a subscription-based model.  We know from other sectors that the visibility provided by recurring revenue models attract significantly higher multiples than peers operating with traditional 'time and materials' billing structures.
Sub-£50m Revenue Legal Firms: Deal Size Versus Revenue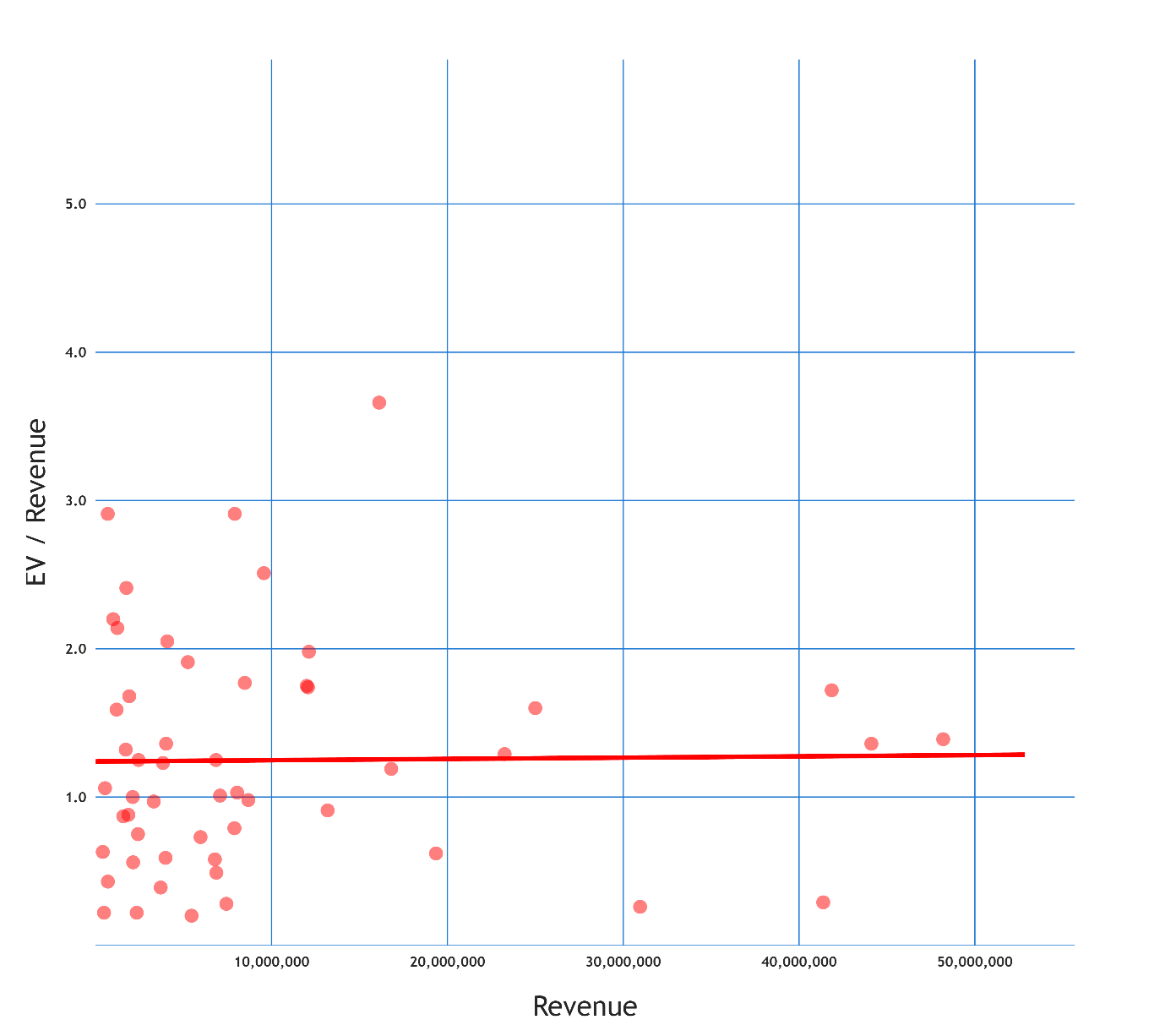 what is the outlook?
With the exception of Gateley (net cash balance of £9 million) and Keystone (£7 million), the listed law firms all posted a net debt position in their most recent results announcements.  This is, however, no impediment to further M&A activity – Knights recently secured a £60 million revolving credit facility with HSBC UK, Allied Irish Bank and Lloyds Bank at the turn of the year, providing it with plenty of dry powder for its next acquisition spree.
A new competitor may be emerging in the form of Mishcon de Reya, which has confirmed its intentions to list on the London Stock Exchange.  It announced its first deal, a merger with life sciences specialist Taylor Vinters, in September – this may have diluted its last reported cash balance of £34 million but expect new funds to be raised on IPO to provide additional firepower.
Another buyer to look out for is Sun Capital Partners, which made Fletchers Solicitors, the UK's largest injury law firm, its first portfolio company in the legal space.   Sun described the legal market as "hugely fragmented" and sees Fletchers as the ideal platform on which to launch a buy and build strategy.  Competition may come from Blixt Group, another financial buyer looking to build a leading firm via acquisition.  It recently completed its first deal, acquiring Fisher Jones Greenwood, a 23 partner, Colchester-based operation.
The market now has a range of established acquisition platforms.  With either private equity money or relatively quick access to capital via public markets, there will be no shortage of buyers nor funding to continue the consolidation of the legal market.  Activity may have been elevated over the past 3 years but, with 12,000 registered law firms in the UK, there is plenty more for cash-rich acquirers to go for.
MARKTOMARKET
MarktoMarket is a data platform and marketplace for the private capital markets.
For more details contact doug@marktomarket.io.