Insights
Subscribe Now
Monthly updates from our team straight to your inbox
Capital flooding into startups is translating into a hiring boom in tech.  We analyse MarktoMarket's jobs data to identify some of the fastest hiring young companies in the space.
According to the Office for National Statistics (ONS), UK job vacancies hit an all-time high in October.  There were a record 1.2 million positions being advertised in the month, a figure that is nearly 50% higher than pre-pandemic.  This is despite 2.2 million people starting a new job during the third quarter of 2021.
Tech is at the forefront of this hiring boom.  Strong inflows of capital into digital businesses have translated into unprecedented demand for talent at startups.  Data analysed by Adzuna, in conjunction with the UK's Digital Economy Council and Tech Nation, found that tech-related jobs now make up 13% of all job vacancies.
We analysed MarktoMarket's jobs and employment data tracker to identify some of the fastest hiring startups in UK tech.
Live year-on-year employee growth estimate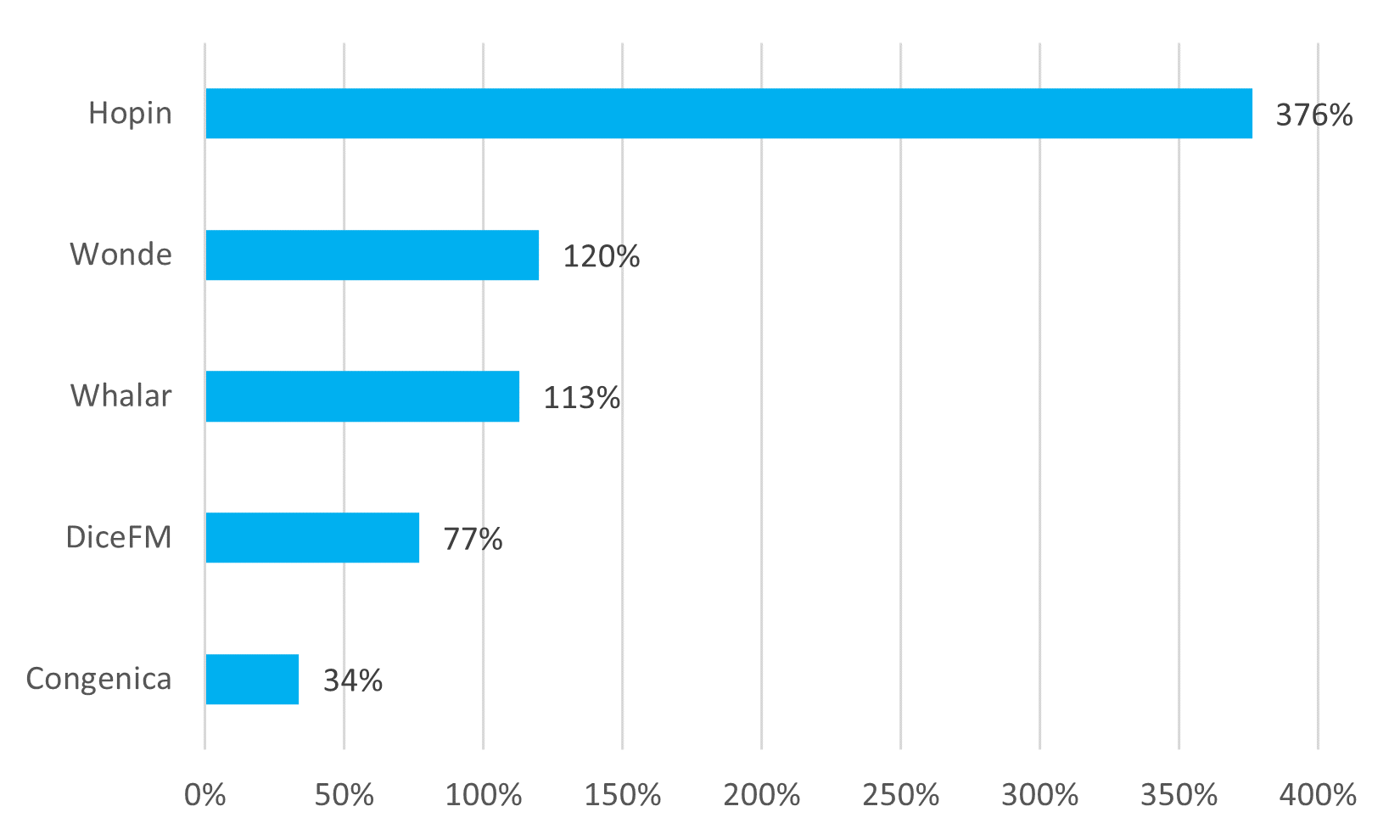 Genomic medicine opens up the possibility of transforming health and wellness with life-changing diagnoses and treatments.  But interpreting genomic data is complex and time-consuming, meaning most labs are operating at capacity, resulting in delayed identification and treatment of rare diseases.  Congenica's software is a decision support system for genomic analysis.  The platform helps to interpret complex genome sequencing data, maximizing case throughput and improving health outcomes.  Congenica raised its latest round a year ago when Tencent and Legal & General led a £40 million raise, alongside existing investors Parkwalk, Cambridge Innovation Capital and Downing.  Since then headcount has grown from an estimated 80 members of staff to 107.  It is currently looking to place roles in DevOps, Machine Learning and Clinical Project Management.

Ticketing startup Dice FM is on a hiring tear.  Following the close of a mammoth Series C round, we estimate that the business has recently created vacancies for over 20 positions, including data scientists, fan support agents and a creative director.  With COVID-19 bringing live events to a sudden halt, Dice established a ticketed streaming platform which allowed artists like Lewis Capaldi and Tobe Nwigwe to perform for fans around the world.  Dice's Series C attracted $122 million and valued the business at $400 million.  The investment was led by SoftBank Vision Fund 2 and supported by Nest co-founder Tony Fadell and previous investors, including DeepMind co-founders Mustafa Suleyman and Demis Hassabis.  Since pivoting to livestreaming, Dice has delivered 6,400 events.

You may not have heard of Whalar but chances are that they had a hand in the influencer marketing that is driving more of your buying decisions.  On one side, Whalar attracts the most marketable talent out there; on the other, they seduce the world's leading brands.  By matching the right influencer to the right brand to create high-quality content, you have a powerful advertising message.  Our live headcount stats suggest hockey stick-like growth of 100% year-on-year and aggregate current vacancies point to an optimistic outlook for the future.  The next step for the business is the Whalar Change Collective, a marketplace for automating the connection between creators and brands.  The business is mentored by some media heavyweights, including Sir John Hegarty, a veteran of Saatchi and Saatchi and founder of legendary ad agency Bartle Bogle and Hegarty.

Wonde was founded in 2015 in response to the pressure on schools to maintain and manage their data accurately while adhering to data protection obligations.  The solution is a platform where schools can quickly and securely maintain and manage their data while controlling how it is shared with third-party applications. Wonde's software integrates hundreds of education apps with school Management Information Systems (MIS), giving schools control over access to data on a pupil-by-pupil basis.  The company has added 23,000 schools and 400 apps to its platform.  We estimate that the company headcount has almost trebled to 76 employees in a little over a year – impressive growth that shows little signs of abating with a slew of new roles being created in customer-facing and engineering roles.

No commentary on tech startup hiring would be complete without mentioning Hopin, the London-based company which, with impeccable timing, launched a virtual venue platform with multiple interactive areas for connecting and engaging with attendees.  Participants can replicate the experience of being at a real-world conference by moving in and out of rooms from the comfort of their desks.  In the true spirit of the times, Hopin is 100% remote, helping it to grow to over 1,000 employees, despite being incorporated less than 3 years ago.  Our job posting data suggests that this trend will continue, boosted by a $450 million capital injection from Arena Holdings and Altimeter Capital, valuing the company at $7.75 billion.
MARKTOMARKET
MarktoMarket is a data platform and marketplace for the private capital markets.
For more details contact doug@marktomarket.io.