Insights
Subscribe Now
Weekly updates from our team, straight to your inbox
December Valuation Barometer
Overview
Highlights from our December Valuation Barometer, covering deals and valuation multiples in UK M&A from November 2020. Download the full report below.
Highlights
The resurgence of M&A markets continued in November, with deal volumes and values suggesting that we are back to normal. After a strong October, deal volumes in November remained robust, with 363 M&A transactions completed versus 362 in October.
Of course, we may be witnessing a temporary boost, driven by the return of deals that were put on the back-burner during the peak of the pandemic.  There may also be an acceleration of transactions as vendors look to complete sales before the end of the 2020/21 tax year, and avoid possible changes to the capital gains tax regime.  Whatever the reason, the momentum might be shifting towards a seller's market, with bidding wars back in vogue (Countrywide and Telit) and improved offers for G4S, Elementis and McCarthy & Stone.
We calculated that M&A deals valued at a total of £54.2 billion were executed or announced during the month.  This represents an uplift of 81% on the October 2020 total of £30.0 billion.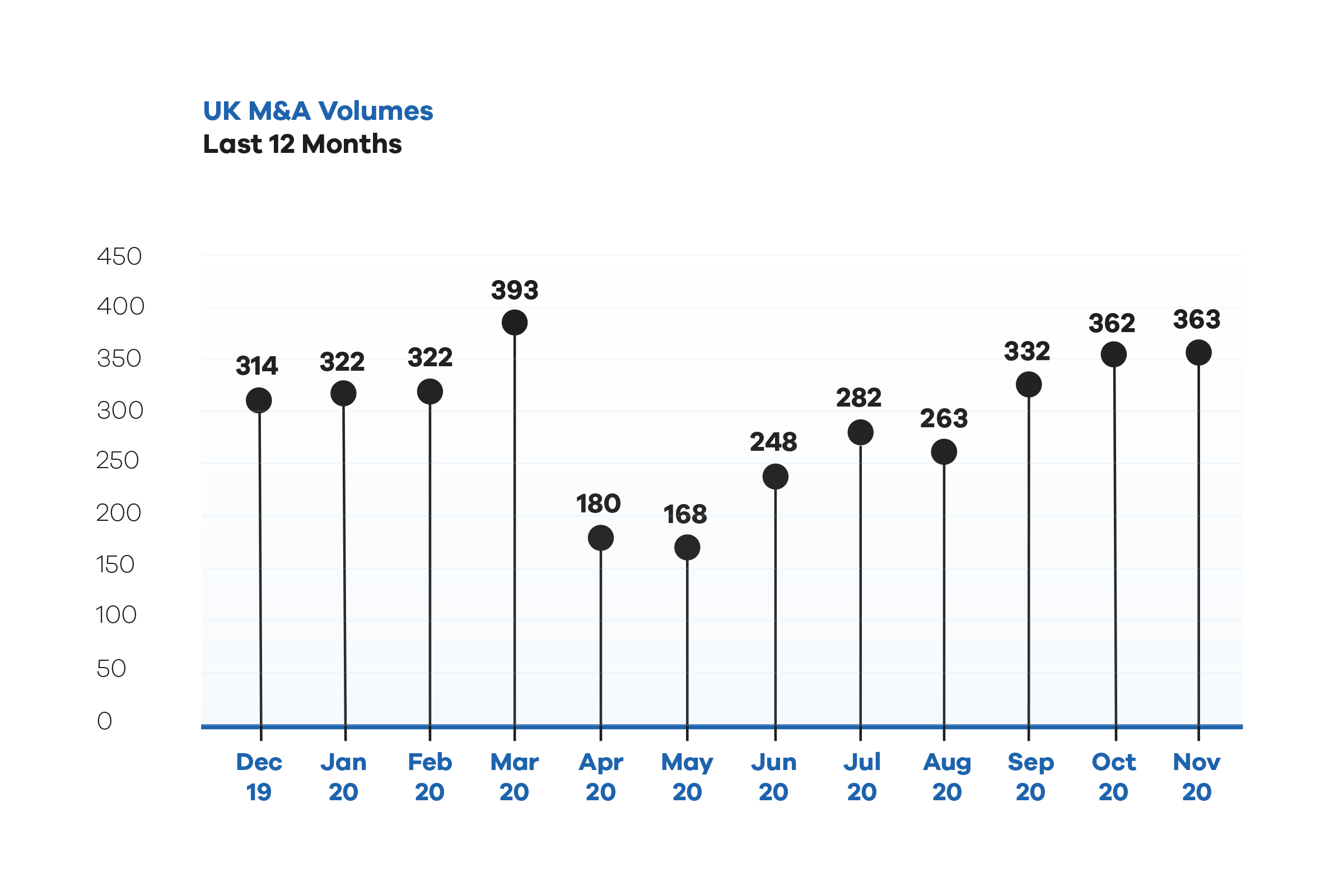 dEAL cOMMENTARY
The total in November was given an enormous boost by the proposed acquisition of data giant IHS Markit, best know for its Purchasing Managers Index (PMI) by S&P Global in a $44 billion deal, the biggest transaction of the year so far.  Besides IHS Markit, November brought a £7.2 billion bid for RSA Insurance and the merger of electric vehicle maker Arrival with CIIC Merger Corp, valuing the business at $5.4 billion ahead of the combined entity's listing on NASDAQ.
The sub-£10 million enterprise value end of the market was robust, with WH Ireland and Kingswood both continuing the consolidation theme in wealth management with their own acquisitions and an active healthcare market where Marlowe was particularly busy, picking up two businesses in the occupational health arena.
Spotlight Transactions
Other material deals during November included:
The takeover of Codemasters, a video games publisher, by Take-Two Interactive Software for £739 million
The acquisition of Iberchem by Croda Interational for €820 million
Transdigm Group's acquisition of Cobham Aero Connectivity, the designer of antennas and radios for the aerospace market, for $965 million
The smaller end of the market saw a flurry of deal-making, including:
Pets at Home's acquisition of animal telehealth provider The Vet Connection for £15 million
The acquisition of telecoms equipment wholesaler Relec Electronics by DPW Holdings for $4.7 million
Foxton's acquisition of London estate agent Aston Rowe for £2.2 million
sAMPLE COMPLETED AND ANNOUNCED m&a MULTIPLES – November 2020

Download the executive report below. Access to the full list of deals in the December Valuation Barometer is reserved for members of the MarktoMarket Data Co-operative. 
For the full list of previous 2020 Barometers – visit our reports page.
Download the December Barometer
Submit the form for the executive report.