Insights
Subscribe Now
Weekly updates from our team, straight to your inbox
Data Is Eating The World – And Commands The Multiples to Prove It
Legendary Silicon Valley venture capitalist Marc Andreessen once said that "software is eating the world".  The inference was that traditional industry was being displaced by software or, at the very least, traditional industries that did not digitally enable themselves would die.
The value of software is evident in the valuations of software businesses, which routinely sell for impressive revenue multiples.  However, it you look at where the really jaw-dropping prices are, they're in data.
Software VS DATA
It's easy to conflate data with software.  Most data is now accessed over a software platform – but the software is the delivery mechanism, rather than the core value proposition.  The existence of the data usually gives the data provider an engrained, often unassailable, position in its market.  Without the same (or a better) dataset, newcomers cannot compete, and no number of lines of code can change this.  This 'moat' becomes wider and deeper over time – as the dataset grows, it becomes harder for competitors to enter.
Furthermore, the presence of a unique dataset can create lasting network effects.  With every newcomer to 'the network' the data platform becomes more and more entrenched.  Examples of data providers with strong network effects are the London Stock Exchange (providing the platform for bringing together buyers and sellers of assets) and IHS Markit (bringing together contributors and consumers of data on economic activity).
Both the London Stock Exchange (LSE) and IHS Market are in the process of concluding mega-deals.  LSE appears close to tying up its $27 billion acquisition of Refinitiv, whilst IHS Markit is the subject of a $44 billion bid by S&P Global.  We estimate that the latter deal is being priced at a revenue multiple of c10x.  This may appear steep, until you look at the sales multiples of other data businesses.
Data leaders – revenue multiples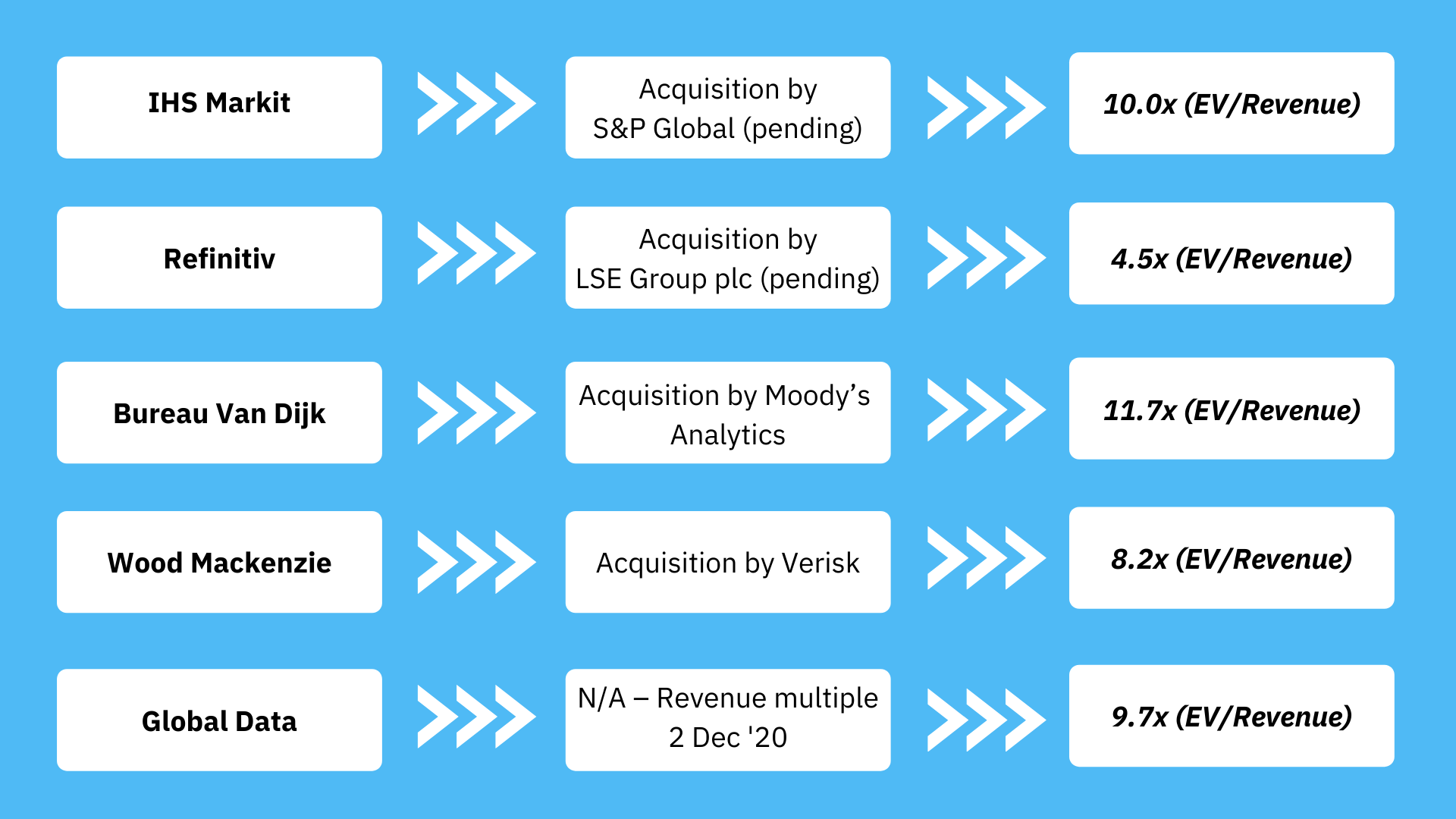 *EV/Revenue data estimated. 
So, WHo's Up and Coming in Data?
The deals listed above are some of the more well-known examples of transactions involving data providers, but there's plenty of action elsewhere in the market for advisors and investors interested in this space.
At the smaller end of the market, we uncovered five other data businesses that we believe merit a closer look.
Billed as a leading market research platform, GWI provides detailed consumer insights to some of the world's best known brands. Shareholders include SG Growth Partners, and last reported revenue was £19.8 million.
Wejo collects, organises and enhances data from millions of connected cars across multiple brands, makes and models. Shareholders include General Motors, and last reported revenue was £2.5 million.
Springboard measures foot traffic in stores, shopping centres and high streets, providing retailers with with real-time insights that inform a wide range of use cases. Shareholders include British Smaller Cos VCT, and last reported revenue was £5.4 million.
Over the last 45+ years ISWR has built up the world's largest database on the beverage alcohol market, covering market, category and brand performance in 157 countries. Shareholders include FPE Capital, and last reported revenue was £6.6 million
CryptoCompare is a global cryptocurrency market data provider, giving institutional and retail investors access to real-time, high-quality, reliable market and pricing data on 5,300+ coins and 240,000+ currency pairs. Last reported revenue was £3.4 million.
Looking for more interesting tech firms?
Book a free platform tour and see how MarktoMarket helps M&A advisers find fast-growth tech firms