Insights
Subscribe Now
Weekly updates from our team, straight to your inbox
UK200Group & MarktoMarket 2020 SME Index
Summary
MarktoMarket were delighted to partner with the UK200Group again to produce the 2020 SME Valuation Index.
The Index sets out the not unexpected impact of COVID-19 on SME deal activity and  valuations. The first phase of lockdown saw an understandable significant drop in transactions completing given the uncertainty, and UK200Group had a number of clients that immediately stopped or delayed transactions. It would be fair to say that of those deals that were done, multiples and deal values would be expected to, and did, fall and there was a greater emphasis on earn out and deferred terms. Of course, part of the impact is that banking activity shifted almost entirely to CBILS and Bounce Back loans, which excluded acquisition funding, so deals completing would have been impacted by available finance.
SME Multiple Analysis – 2020 vs previous years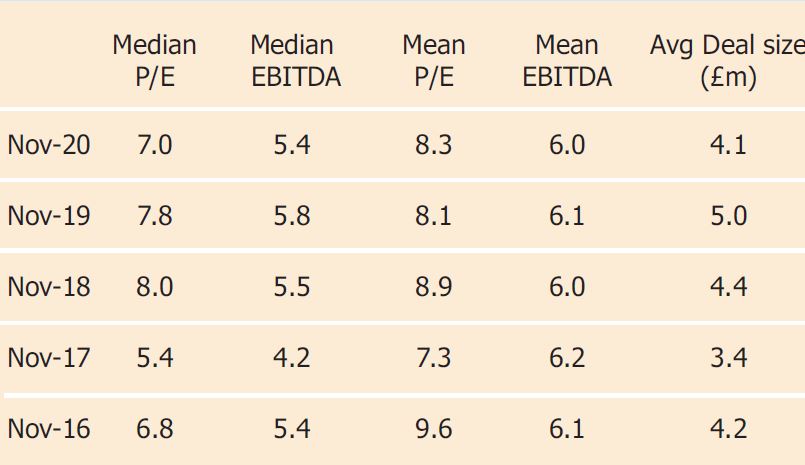 Overall, multiples decreased. At a 95% confidence level, EBITDA multiples are occurring in the range of 5.0-6.9x.
An analysis of the data shows significant difference in figures before and after the advent of the first national lockdown in March. Pre-lockdown, the median EBITDA multiple was 5.9x, decreasing to 4.8x thereafter. The median P/E multiple was 8.0x, which fell to 5.7x. The mean EV/EBITDA multiple was sitting at 6.4x pre-lockdown, falling to 5.5x for the rest of the year, whilst the mean P/E multiple was 9.3x, decreasing to 6.8x. Average deal size pre-lockdown was £4.7 million, which subsequently dropped to £3.6 million.