Insights
Subscribe Now
Monthly updates from our team straight to your inbox
UK M&A Q1 2022 Valuation Indices
report Highlights
Highlights from our Q1 2022 UK M&A Valuation Indices, covering UK M&A transaction multiples for M&A deals completed in January – March 2022.
During Q1 2022, the deal market began to feel a little uncertain with high energy prices and inflationary pressures, however, deal volumes only dropped marginally in Q1 2022 when compared to the previous three quarters.
The level of deals in Q1 2022 denotes a strong performance relative to pre-pandemic volumes, demonstrating that there remains a strong desire to execute transactions with readily available cash.
Please note that the chart implies only the movement in deal values within our datasets that feed into these indices and not necessarily the average deal value movement across the entire market.
Deal Size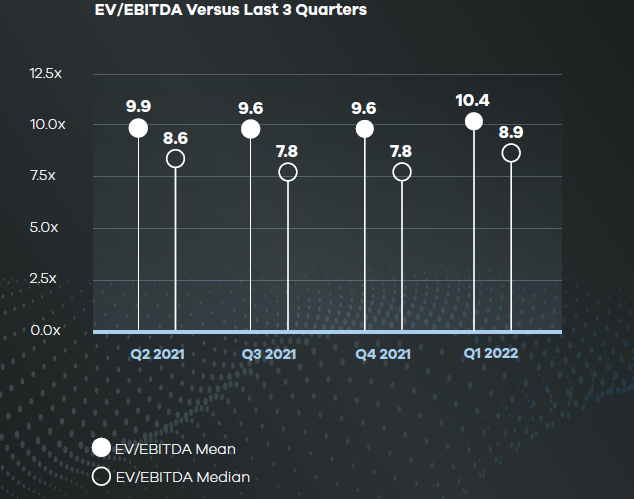 Our data indicates that multiples have expanded in the first quarter of 2022 relative to the last three quarters of 2021. In part, this is due to both a higher median deal size and an increased proportion of Technology, Media & Telecommunications ("TMT") deals in our sample for the latest quarter. Both of these factors will serve to increase the aggregate multiple.
SECTOR-BASED INDICES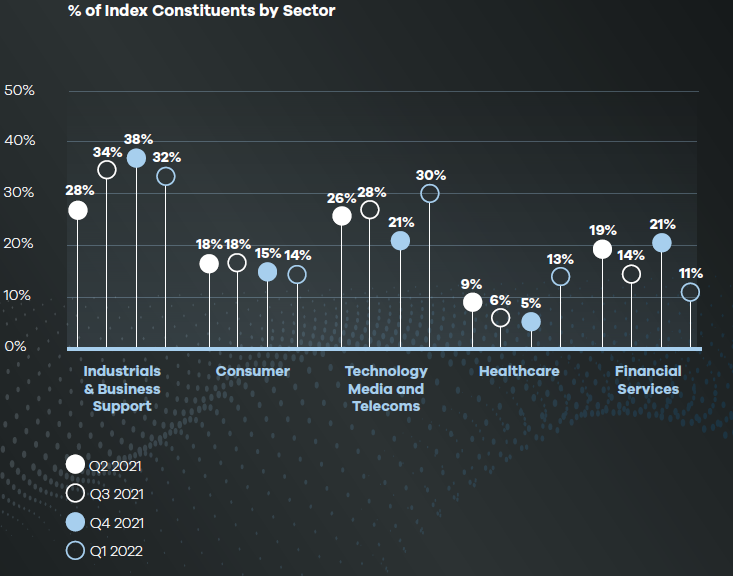 Within sectors, Industrials and Business Support Services accounted for the largest proportion of M&A deals in Q1 2022 closely followed by Technology, Media and Telecommunications.
Request the executive report below. Please contact olga@marktomarket.io to discuss access to the full versions of all MarktoMarket Reports.
For the full list of previous reports visit our reports page.
Request the Report
Submit the form for the executive report.