Insights
Subscribe Now
Monthly updates from our team straight to your inbox
September 2022 Valuation Barometer
OVERVIEW
Highlights from our September 2022 Valuation Barometer, covering deals and valuation multiples in UK M&A in August 2022.  Request the Executive Summary below.
HIGHLIGHTS
Deals lost pace over the summer month of August 2022, however, there were several significant transactions announced.
We combined data from MarktoMarket's platform and our other sources to estimate the value of deals completed and announced in August 2022. We calculated that M&A deals valued at a total of £25.6 billion were executed or announced during the month.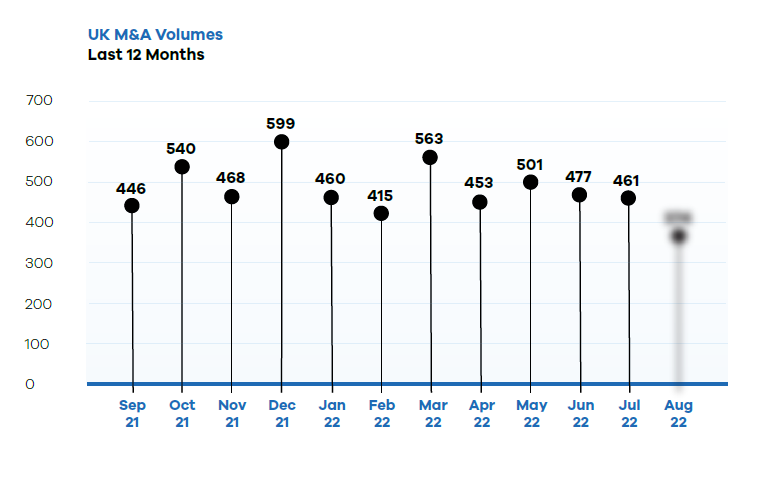 DEAL COMMENTARY
The largest transaction recorded was by OpenText Corporation, which disclosed the acquisition of FTSE 250 company, Micro Focus International PLC for £5.1 billion. The enterprise software company, which acquired Hewlett Packard Enterprise Company back in 2017, will join its larger competitor OpenText, a Canadian public-listed company, as the latest prize in its growth-by-acquisition strategy.
SPOTLIGHT TRANSACTIONS
Other deals during August included:
The smaller end of the market witnessed the following deals:
Hygglo acquired the digital renting platform Fat Llama for £34.5 million.
Coca-Cola HBC acquired ESM Effervescent Sodas Management Limited for €45 million.
The disposal of a 1% stake in the privately family-owned Portakabin business, Shepherd Building Group Limited, at an estimated enterprise value of £1 billion.
SAMPLE COMPLETED AND ANNOUNCED M&A MULTIPLES – August 2022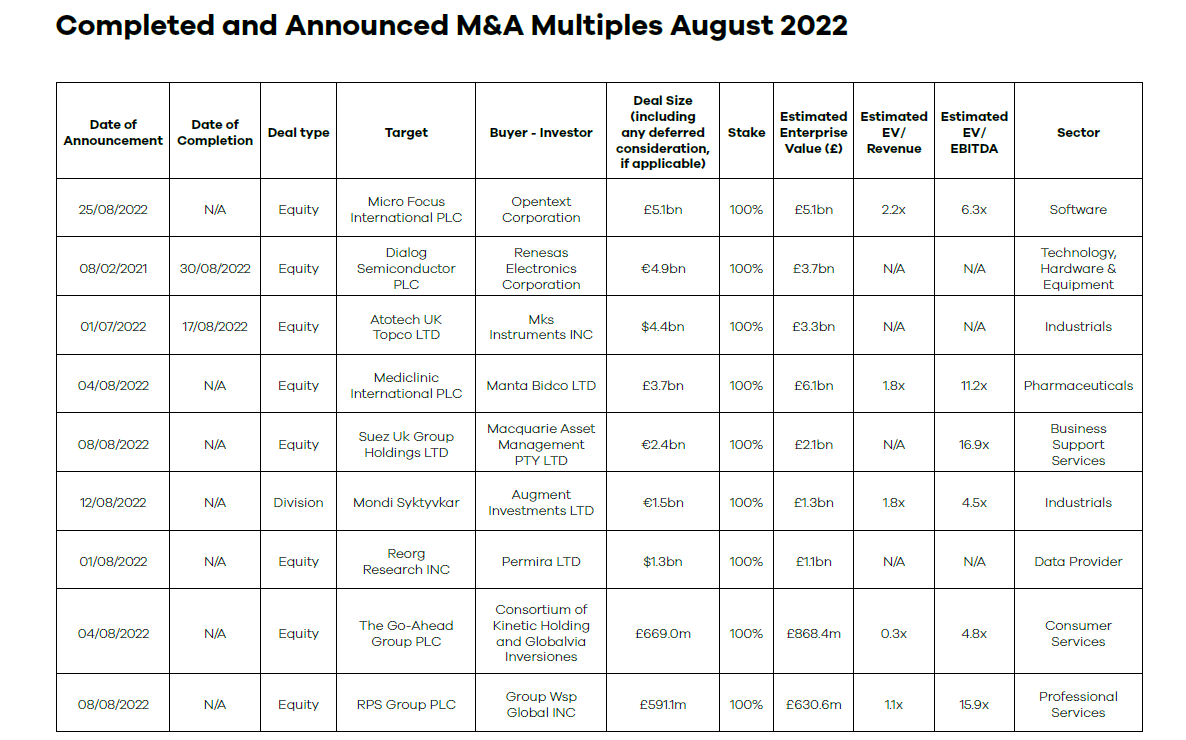 Request the executive report below. Please contact nick.webb@marktomarket.io to discuss access to the full list of deals in the MarktoMarket Valuation Barometers.
For the full list of previous 2021 / 2022 Barometers – visit our reports page.
Request the Report
Submit the form for the executive report.