Insights
Subscribe Now
Monthly updates from our team straight to your inbox
November 2021 Valuation Barometer
Overview
Highlights from our November 2021 Valuation Barometer, covering deals and valuation multiples in UK M&A in October 2021.  Request the Executive Summary below.
Highlights
It was another busy month for the UK deal market, with 434 deals recorded.
We calculated that M&A deals valued at a total of £9.9 billion were executed or announced during the month of October. This compares to a prior month total of £27.5 billion (which included the now withdrawn bid of £16.4 billion by DraftKings LLC to acquire Entain PLC).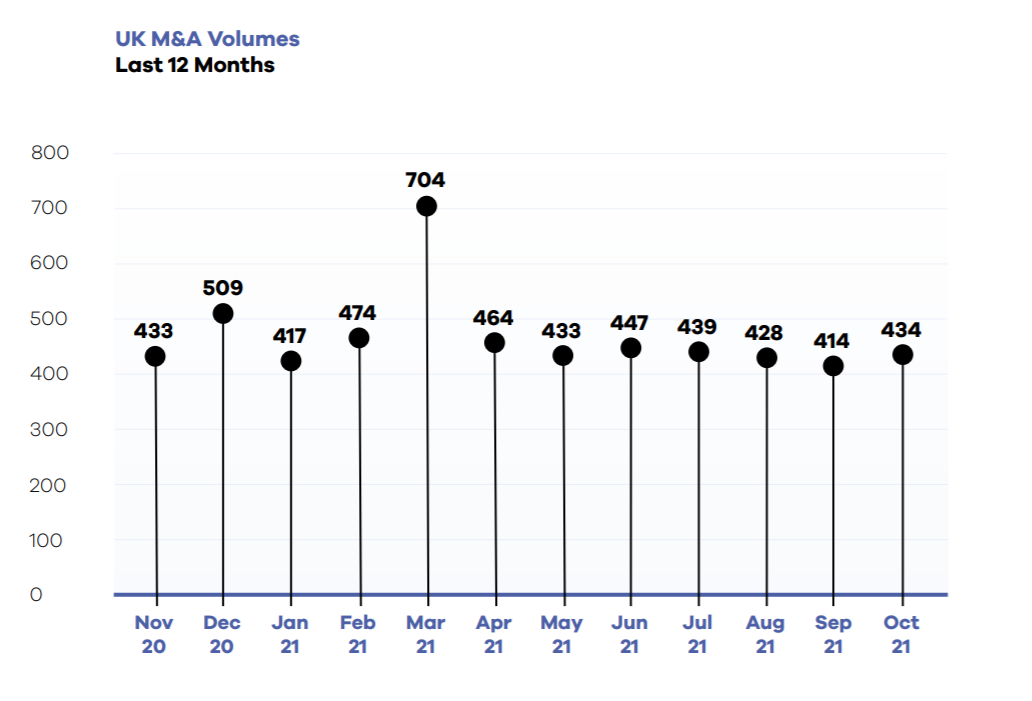 dEAL cOMMENTARY
The largest transaction recorded was Aristocrat's bid for Playtech PLC for £2.7 billion. As a global gaming and technology company, Aristocrat's motivation behind the acquisition of the online gambling software supplier is to drive growth in its iGaming and online sports betting business and widen its reach to customers.
Following continued pressure from UK regulators on the big four accountancy firms to eliminate conflicts of interest in the sector, PWC took a step forward by selling its global mobility consulting division for $2.2 billion to Clayton Dubilier & Rice LLC.
Spotlight Transactions
Other deals during October included:
First Group's sale of Greyhound Lines INC to FlixMobility GmbH for $172 million.
The long-anticipated sale of Newcastle United for £305 million to an investment group led by the Saudi Arabian Public Investment Fund alongside PCP Capital Partners and RB Sports & Media.
The sale of a 1% stake in the privately owned Lamex Food Group Ltd, a chilled and frozen food import and exporter, at an estimated enterprise value of £101 million.
The smaller end of the market witnessed the following deals:
The acquisition of a 12% stake in The Reflex Group Limited, a labels, printing and packaging business, in a deal valuing the business at an estimated enterprise value of £53 million.
 Marlowe PLC's four acquisitions: VinciWorks (£54 million), Hydro-x Group (£30 million), Riskwize Ltd (£25 million) and Sterling Hydrotech Holdings Ltd (£1.75 million).
Cazoo PLC's acquisition of Vans365 Ltd for £6.5 million.
SAMPLE COMPLETED AND ANNOUNCED m&a MULTIPLES – October 2021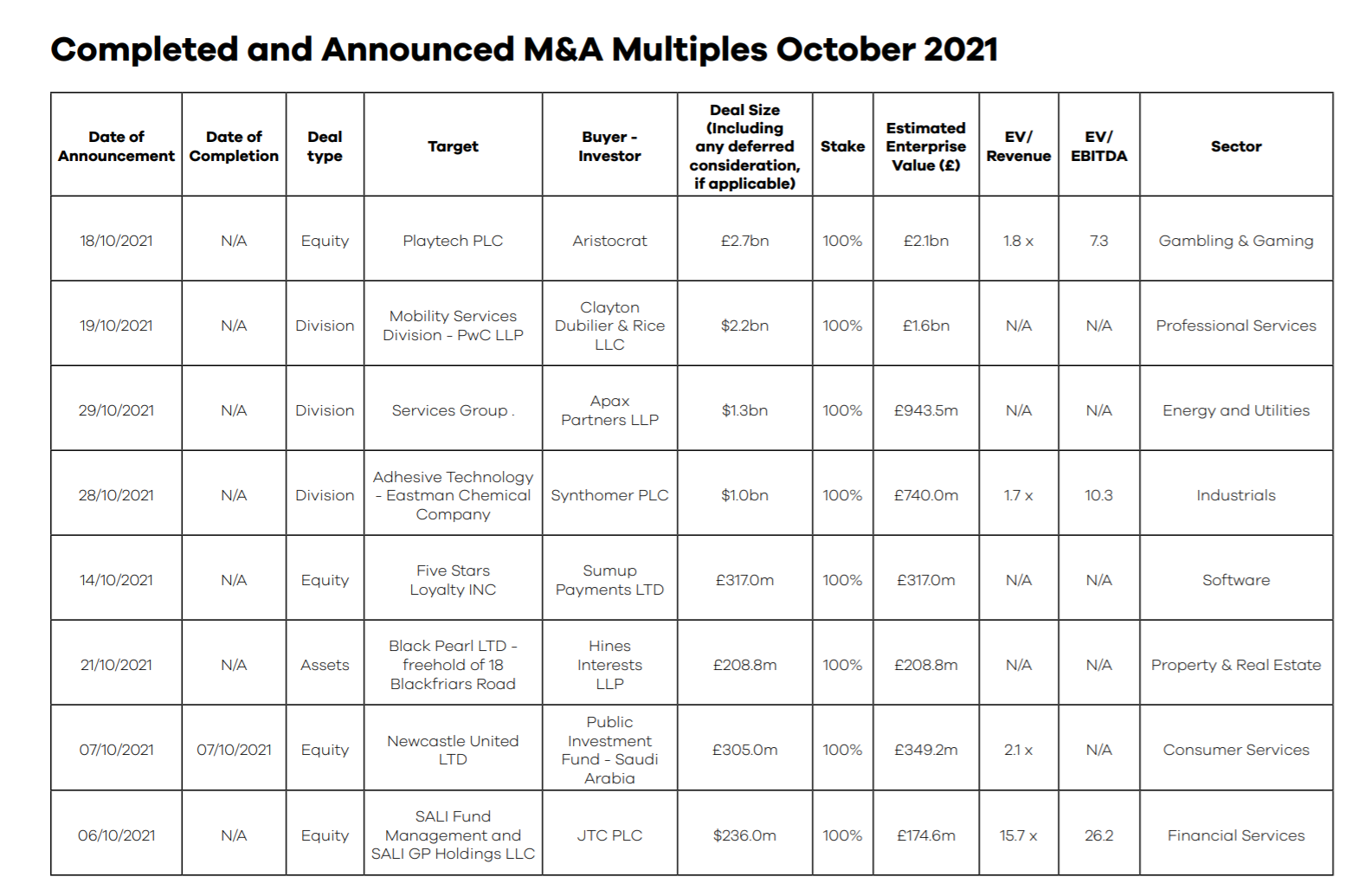 Request the executive report below. Please contact olga@marktomarket.io to discuss access to the full list of deals in the MarktoMarket Valuation Barometers.
For the full list of previous 2020 / 2021 Barometers – visit our reports page.
Request the November 2021 Barometer Executive Report
Submit the form for the executive report.