Insights
Subscribe Now
Weekly updates from our team, straight to your inbox
November Valuation Barometer
Overview
Highlights from our November Valuation Barometer, covering deals and valuation multiples in UK M&A from October 2020. Download the full report below.
Highlights
With a $40 billion mega-deal announced last month, September was going to be a hard act to  follow. However, acquisitive corporates, infrastructure investors and private equity all gave it a  good shot, contributing to a total deal value in the month of a creditable £30.0 billion.
Several multi-billion pound transactions were announced, including: Walmart's sale of Asda to the Issa brothers and TDR Capital; LSE's disposal of Borsa Italiana (the Italian Stock Exchange) to Euronext; and Liberty Global's acquisition of Swiss telecoms challenger Sunrise  Communications. The deal total of 330 was ahead of a September comparable of 325,
representing a return to 'normalised' pre-COVID levels of activity.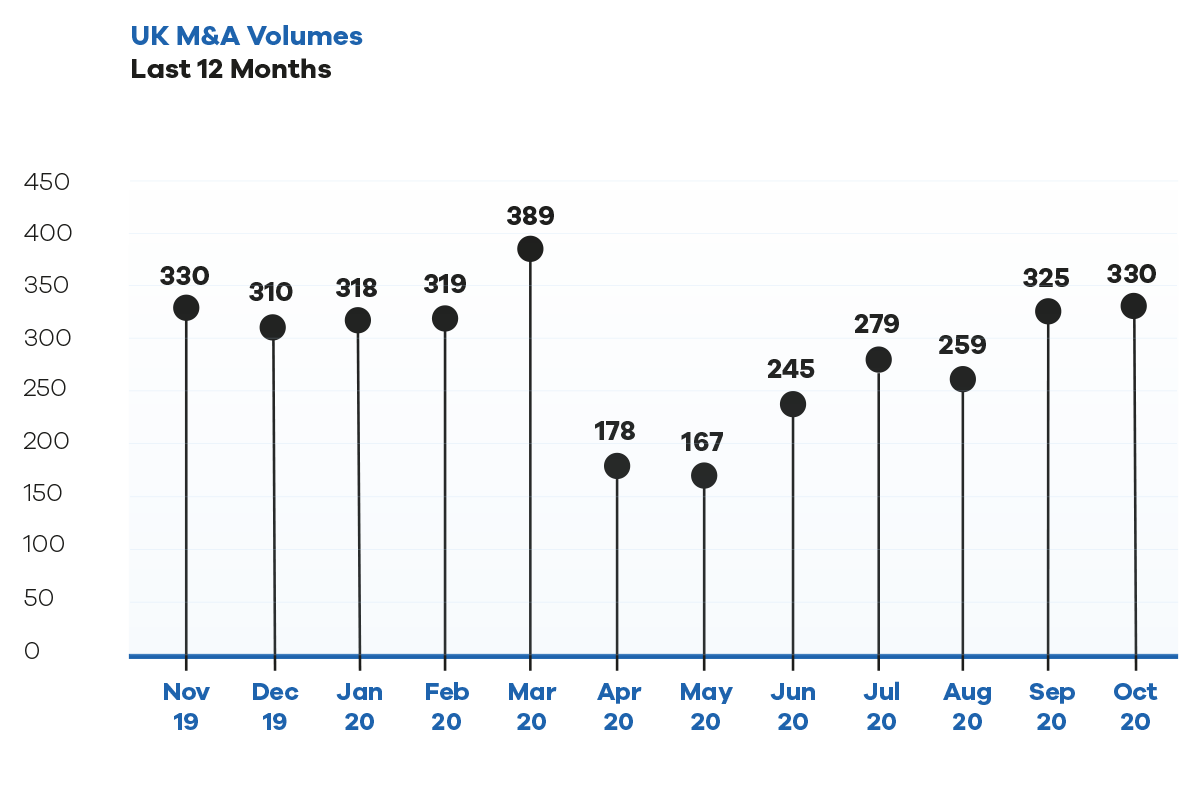 Spotlight Transactions
Material deals during October included:
The London Stock Exchange's sale of Borsa Italiana to Euronext NV for €4.3 billion
Oleg Novachuk and Vladimir Kim's £3 billion bid for copper miner Kaz Minerals
The proposed takeover of TalkTalk Telecom by Toscafund
The smaller end of the market also announced some interesting transactions 
Advanced Business Software and Solutions' acquisition of Clear Review, a performance management SaaS offering, for £26 million
The sale of IT-IS International, a developer and manufacturer of diagnostic instrumentation, to Novacyt for up to £12 million.
Care home provider CareTech's acquisition of Smartbox Assistive Technology, a provider of communication aids for the elderly and vulnerable, for £10.6 million
The sale of haulier Nidd Transport to Xpediator for £4.6 million
dEAL cOMMENTARY
Within smaller company deal making, Judges Scientific returned to the fold with the acquisition of chemical vapour deposition specialist Korvus – a positive signal from one of the most active acquirers in the industrials space over recent years.
Additionally, small businesses in the Financial Services and Fintech sectors proved popular, with a host of deals that included: MJ Hudson's acquisition of Bridge Consulting; the sale of Watchstone's Ingenie business to A-Plan Group; Somerset Capital Management's takeover of Liontrust's Asia Income Team and Fund; and Equals Group's 'trade and asset' deal for the international payments business of Effective FX. Within the technology sector, video  companies remained attractive to acquirers – October saw the acquisitions of Coastlink Software and Deus Craft.
Read our latest article about video game company acquisitions.
sAMPLE COMPLETED AND ANNOUNCED m&a MULTIPLES – OCTOBER 2020

Download the executive report below. Access to the full list of deals in the November Valuation Barometer is reserved for members of the MarktoMarket Data Co-operative. 
For the full list of previous 2020 Barometers – visit our reports page.
Download the November Barometer
Submit the form for the executive report.