Insights
Subscribe Now
Monthly updates from our team straight to your inbox
Market Report | May 2022 Valuation Barometer
OVERVIEW
Highlights from our May 2022 Valuation Barometer, covering deals and valuation multiples in UK M&A in April 2022.  Request the Executive Summary below.
HIGHLIGHTS
Deal activity slowed in April when compared to the previous twelve months.
We combined data from MarktoMarket's platform and our other sources to estimate the value of deals completed and announced in April 2022. We calculated that M&A deals valued at a total of £11.9 billion were executed or announced during the month. This compares to a prior month total of £15.8 billion.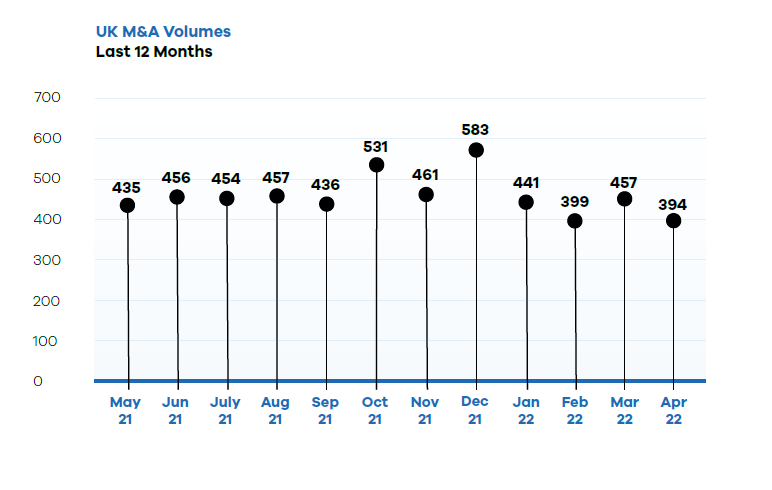 DEAL COMMENTARY
The largest deal in April was announced by Royal Bank of Canada ("RBC") with its acquisition of Brewin Dolphin Holdings PLC for £1.6 billion. RBC believes the transaction will be 'transformational' for its wealth management business and provides a strategic opportunity for RBC to create a market-leading wealth business in the UK, Ireland and the Channel Islands.
SPOTLIGHT TRANSACTIONS
Other deals during April included:
The acquisition by GlaxoSmithKline of California-based, late-stage biopharmaceutical company,
Sierra Oncology, for £1.5 billion
Ithaca Energy has acquired Siccar Point Energy for $1.1 billion.
International Game Technology plc ("IGT") acquired iSoftBet for €160 million.
R&G Fluid Power Group, who have scaled through acquisitions in the UK's fluid power industry, has itself been purchased by Diploma Holdings plc for £100 million.
The smaller end of the market witnessed the following deals:
The acquisition of Koora, a Middle East digital sports publisher, by TPGbackedFootballco for $25 million.
The sale of Beacon Roofing to Brickability plc for a consideration of £6.5 million.
The disposal of a 0.5% stake in an online parking services provider, Parkopedia, at an estimated enterprise value of £55 million.
SAMPLE COMPLETED AND ANNOUNCED M&A MULTIPLES – March 2022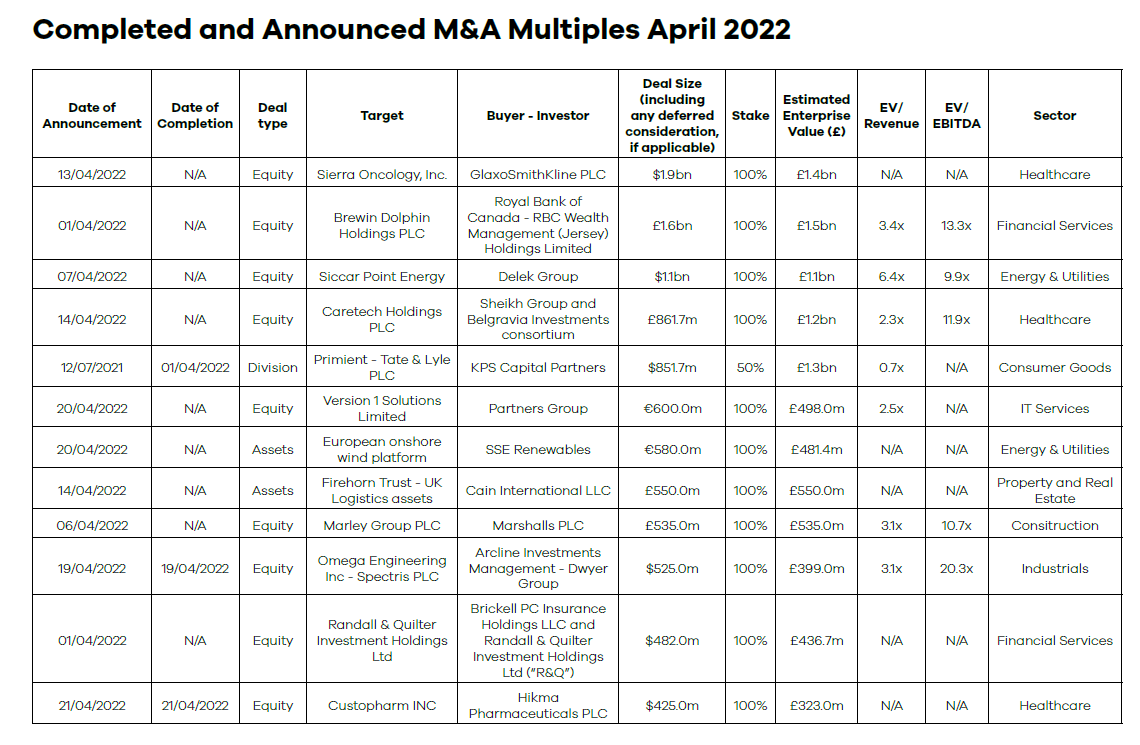 Request the executive report below. Please contact nick.webb@marktomarket.io to discuss access to the full list of deals in the MarktoMarket Valuation Barometers.
For the full list of previous 2021 / 2022 Barometers – visit our reports page.
Request the Report
Submit the form for the executive report.