Insights
Subscribe Now
Monthly updates from our team straight to your inbox
Market Report | March 2022 Valuation Barometer
OVERVIEW
Highlights from our March 2022 Valuation Barometer, covering deals and valuation multiples in UK M&A in February 2022.  Request the Executive Summary below.
HIGHLIGHTS
Activity appeared to slow in February following a busy December and January, however, there were still many noteworthy UK transactions.
We combined data from MarktoMarket's platform and our other sources to estimate the value of deals completed and announced in February 2022. We calculated that M&A deals valued at a total of £7.1 billion were executed or announced during the month. This compares to a prior month total of £13.6 billion.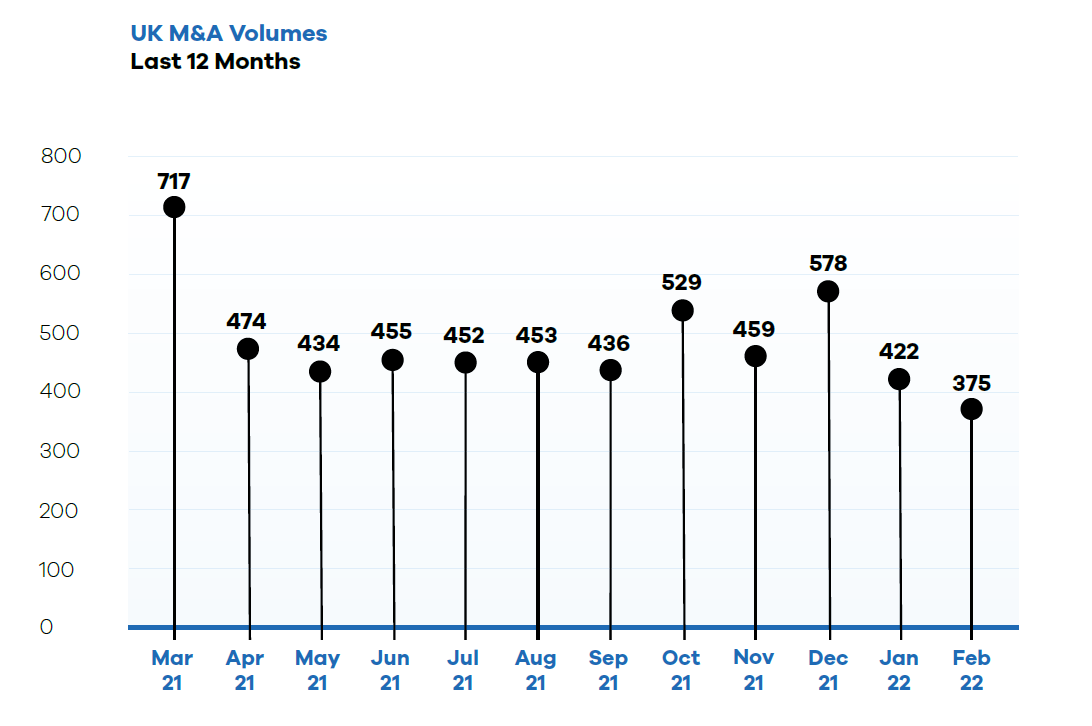 DEAL COMMENTARY
February 2022 witnessed globally contracted logistics company GXO Logistics Inc acquire Clipper Logistics plc for £965 million. The deal combines complementary service offerings, providing significant opportunities and synergies in the high-growth e-commerce/e-fulfilment market for both parties.
SPOTLIGHT TRANSACTIONS
Other deals during February included:
The sale of XLN Group to its Lancashire-based competitor, Daisy, for £210 million, positioning DAisy as the second-largest UK SME telecoms company.

Edinburgh-based TVSquared announced its acquisition by global TV Ad delivery and measurements company Innovid, for $160 million.

Harwood Private Capital backed an MBO of Mr Fothergill's Seeds for £100 million.
The smaller end of the market witnessed the following deals:
eEducation Albert AB, a Nordic technology player, bought Sumdog Ltd, an Edtech startup, for a consideration of up to £8.9 million.

Sharktower AI Limited, a software company that tracks business activities, has been acquired by Proteus for £10 million. 

The sale of a 1% stake in soft drinks manufacturer, Crawingredients Limited, at an estimated enterprise value of £79 million.
SAMPLE COMPLETED AND ANNOUNCED M&A MULTIPLES – FEBRUARY 2022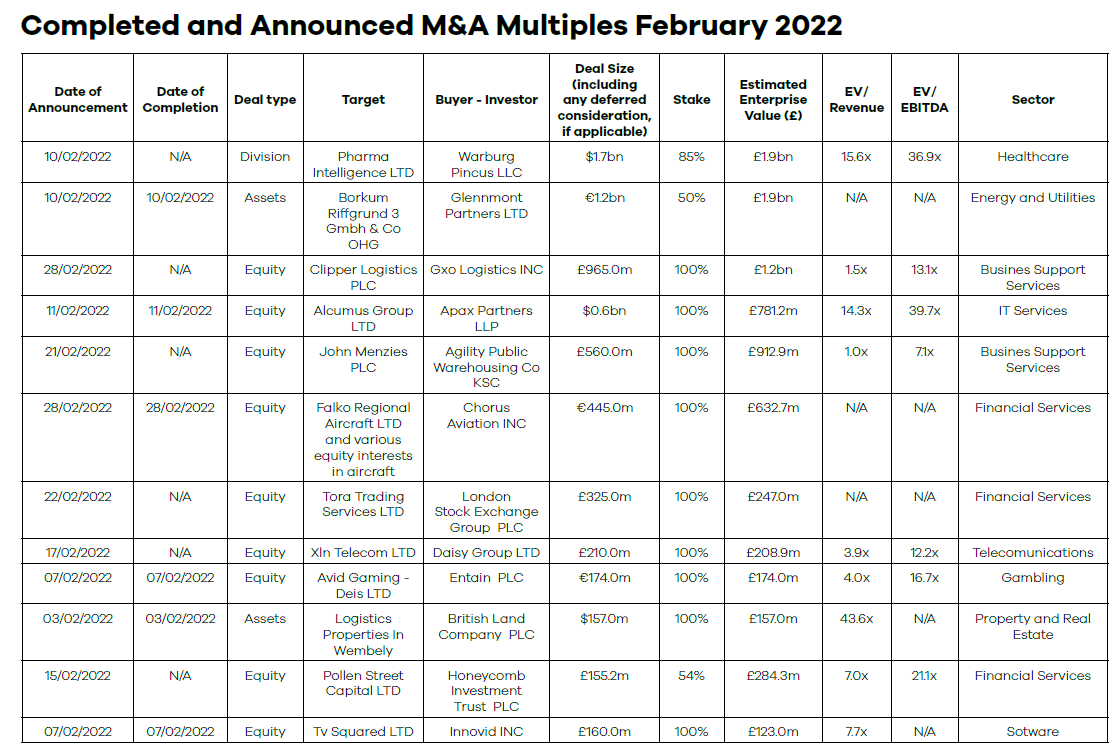 Request the executive report below. Please contact nick.webb@marktomarket.io to discuss access to the full list of deals in the MarktoMarket Valuation Barometers.
For the full list of previous 2021 / 2022 Barometers – visit our reports page.