Insights
Subscribe Now
Monthly updates from our team straight to your inbox
July 2021 Valuation Barometer
Overview
Highlights from our July '21 Valuation Barometer, covering deals and valuation multiples in UK M&A in June 2021.  Request the Executive Summary below.
Highlights
Newspaper headlines were dominated by the bidding war for Morrisons, the UK-listed supermarket group. The latest battle may have been won by Fortress Investment Group, after their latest £6.3 billion bid was recommended by the grocer's board, however, the war may not yet be decided – Clayton, Dubilier & Rice, which saw its initial bid rejected, continues to circle.
The total value of deals completed in June fell by 4% to £21.5 billion from £22.5 billion in May 2021, and the number of transactions was 44% higher than in June 2020.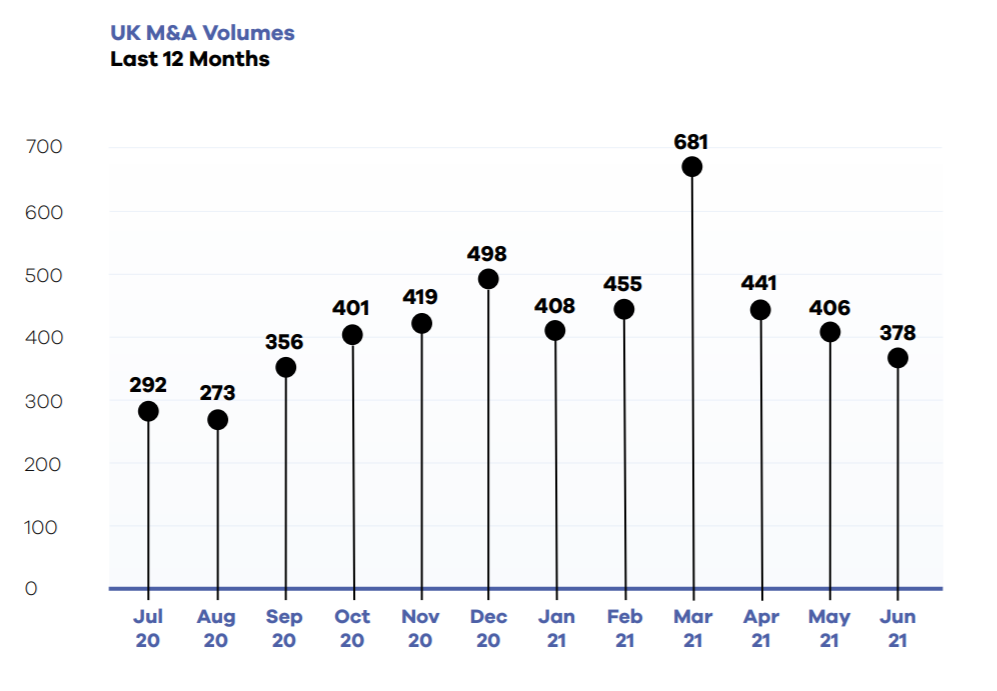 dEAL cOMMENTARY
Private equity interest in mid and large cap public companies continued to prove strong, a reflection of the narrowing of Introduction the discount between private and listed company valuations. UDG, the diversified healthcare services group, and Senior, the aerospace and defence engineer, both received bids, from Clayton, Dubilier & Rice and Lone Star, respectively.
Financial services startup Nutmeg was acquired by JP Morgan. The rumoured acquisition price does not quite put the online saves and investment platform in "unicorn" territory, but does provide an attractive return for its multiple venture capital backers and acts as validation of the flourishing of the fintech sector in the UK.
Spotlight Transactions
Other deals during June included:
Auction Technology Group's acquisition of LiveAuctioneers, an online North American arts and antiques marketplace, for $525 million
Dev Clever Holdings Plc's acquisition of The Inspirational Learning Group, a provider of learning programs for school children, for £264 million
The rumoured takeover of healthy eating fast food chain Itsu by Bridgepoint for £100 million
The smaller end of the market witnessed the following deals:
Kingswood's acquisition of Admiral Wealth Management for £4 million
The sale of Lightwater Valley Attractions, a Yorkshire theme park, to Luke Johnson-backed
Brighton Pier Group for £5 million
Marlowe Plc's acquisition of Carter Leydon Millar Ltd for £2.3 million and CQC Compliance Ltd for £2 million
SAMPLE COMPLETED AND ANNOUNCED m&a MULTIPLES – june 2021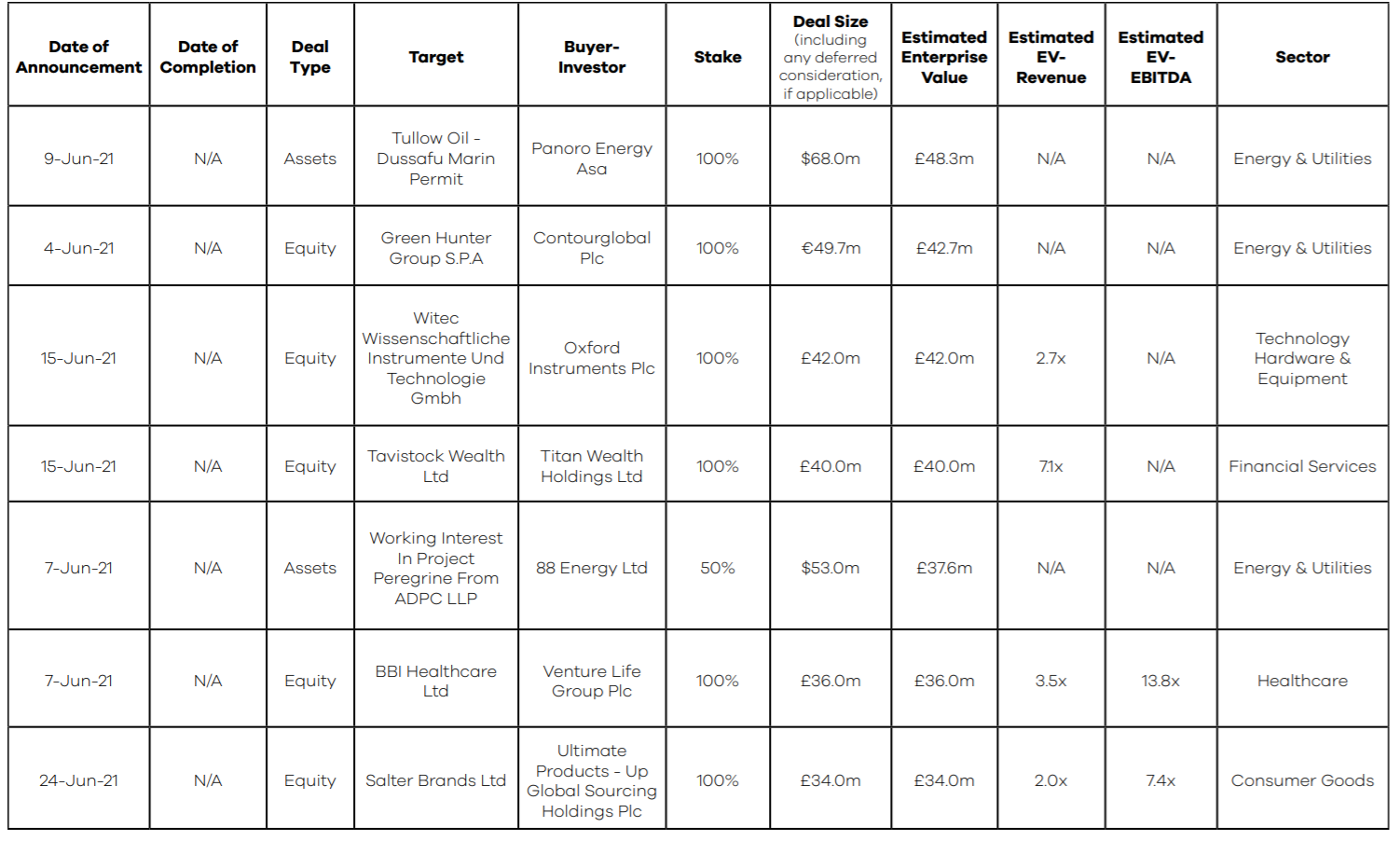 Request the executive report below. Please contact olga@marktomarket.io to discuss access to the full list of deals in the MarktoMarket Valuation Barometers.
For the full list of previous 2020 / 2021 Barometers – visit our reports page.
Request the June 2021 Barometer
Submit the form for the executive report.