Insights
Subscribe Now
Weekly updates from our team, straight to your inbox
January 2021 Valuation Barometer
Overview
Highlights from our January '21 Valuation Barometer, covering deals and valuation multiples in UK M&A in December 2020.  Download the report below.
Highlights
Strong deal momentum continued into December with data suggesting a busy end of the year. 434 M&A transactions completed in December (10% ahead of November), with customers reporting strong pipelines for 2021.
Competition for assets in attractive sectors continued to intensify.  At the larger end of the market, Electronics Art made a last-minute winning bid for Codemasters, whilst financial services targets including Dalton and Appian were in favour at the smaller end of the market.
We calculated that M&A deals valued at a total of £76.7 billion were executed or announced during the month. This represents an uplift of 42% on the November 2020 total of £54.2 billion.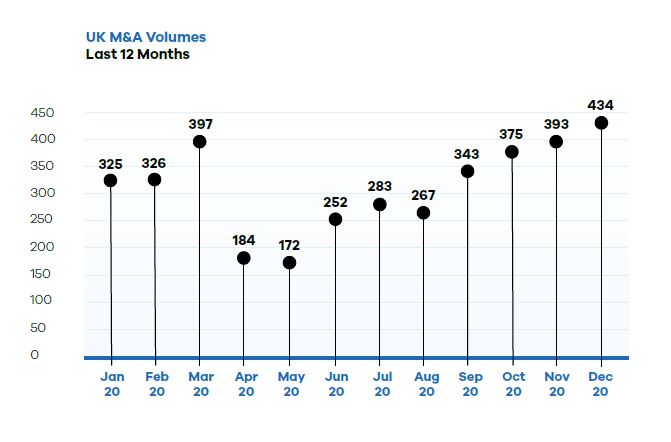 dEAL cOMMENTARY
As has been the norm in recent months, a small number of 'mega deals' have boosted the deal value figure.  In December, it was UK pharma giant AstraZeneca's $39 billion bid for Boston-based rare disease specialist Alexon.  The cash and share deal was not well received by the market, with AstraZeneca's shares falling 5% following the announcement.  Our second largest transaction was the completion of Tesco's sale of its Thai and Malaysian businesses.
Spotlight Transactions
Other deals during December included:
The $5.6 billion acquisition of BP's Alaskan operations by Hillcorp Energy Co.
A renewed bid for G4S by Allied Universal, valuing the security group at £3.8 billion.
The acquisition of the remaining 37% of Edinburgh-based US sports betting group FanDuel by Flutter.  The deal values FanDuel at $11 billion.  We estimate this represents a revenue multiple of 10x, a bargain in comparison to its closest peer, DraftKings, which trades on 36x trailing sales.
The smaller end of the market witnessed the following deals:
Brickability's acquisition of McCann, a building materials logistics specialist, for £1.75 million.
The sale of clean air solutions designer and manufacturer Monmouth Scientific to SDI Group for £5.8 million.
Schroder's acquisition of Ombu, an investor in early stage 'cleantech' opportunities, for £4 million.
sAMPLE COMPLETED AND ANNOUNCED m&a MULTIPLES – DECEMBER 2020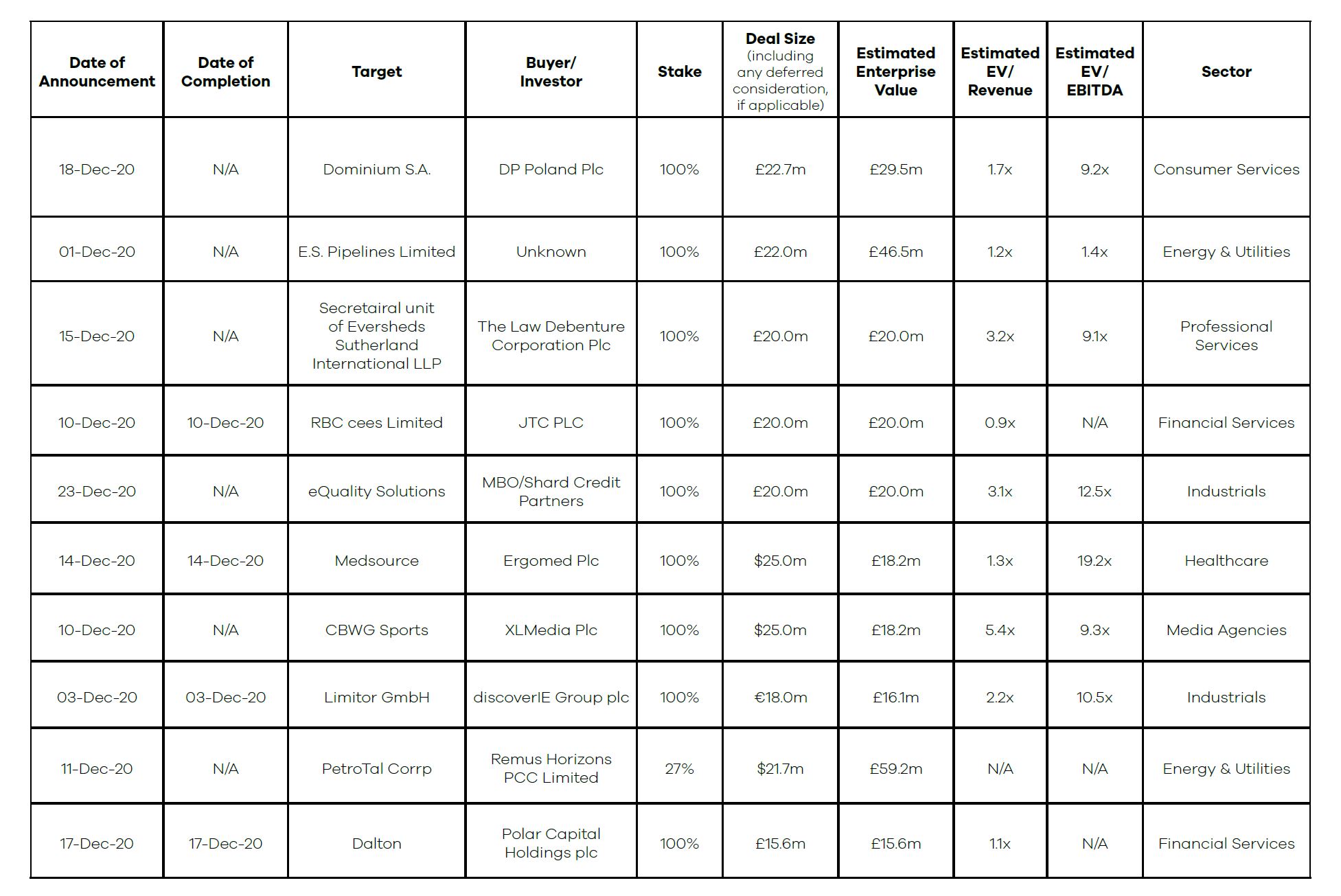 Download the executive report below. Access to the full list of deals in the Valuation Barometers is reserved for members of the MarktoMarket Data Co-operative. 
For the full list of previous 2020 Barometers – visit our reports page.
Download the January 2021 Barometer
Submit the form for the executive report.