Insights
Subscribe Now
Weekly updates from our team, straight to your inbox
Fintech M&A: How to Justify Premium Pricing
SimplyBiz Group plc, a provider of compliance and business services to financial advisers, has announced its full year results, declaring "strong growth in revenue, adjusted EBITDA and adjusted earnings per share" as a strap-line.
Scroll down to the Joint CEOs' statement and, by paragraph 8, the reader learns that almost all of the 24% revenue growth came from Defaqto, which SimplyBiz acquired earlier in the year.  Organic growth was a mere 1%.  The addition of Defaqto, a fintech platform specialising in providing information and ratings on consumer financial products, allows the Joint CEOs to make these bold statements – but was the acquisition worth it?
SimplyBiz paid £74.3m for Defaqto, which included borrowings of £24.7m and £3.4m of cash.  In its last financial year prior to the deal, Defaqto had generated revenues of £12.8m and EBITDA of £5.3m.  The historic acquisition multiples were 5.8x Revenue and 14.0x EBITDA.  On the face of it, this does not look like a cheap way for a low-growth business to boost its revenues, however, the target had three characteristics that may have helped to justify its price – sector, strong organic growth and recurring revenues.
Firstly, any business with genuine fintech credentials will attract a premium.  MarktoMarket's latest assessment of comparable Fintech M&A deals implies a revenue multiple range of 1.1x to 16.0x and EBITDA multiples ranging from 11.7x to 46.0x.  The mean multiples are 8.0x and 23.3x respectively.
Secondly, growth also attracts a premium.  We don't have a like-for-like comparison of Defaqto's 2019 results as the company's financial year end prior to acquisition was July, but we know that growth to July 2018 was 10% and that revenues for the twelve months to December 2019 were up 18% on this figure to £15.1m.  On Defaqto's latest numbers, the acquisition multiples have shrunk to 4.9x Revenue and 12.2x EBITDA.  The platform is used by thousands of financial advisers who were not customers of SimplyBiz before the deal – the cross-sell opportunity looks like it is adding a further boost to Defaqto's pre-acquisition growth.
Finally, recurring revenues are highly coveted, due to the annuity-like income they provide.  Recurring revenues represent 96% of total sales at Defaqto, a similar figure to its new parent.
Taking these factors into account, and assuming Defaqto can continue its impressive growth trajectory, SimplyBiz may in fact have bagged itself a bargain.
All data sourced from MarktoMarket – multiples are adjusted using available information.  The Fintech basket multiples all refer to historic results or, where only current year (at the time of the acquisition) results are available, these are used.
Multiples Comparison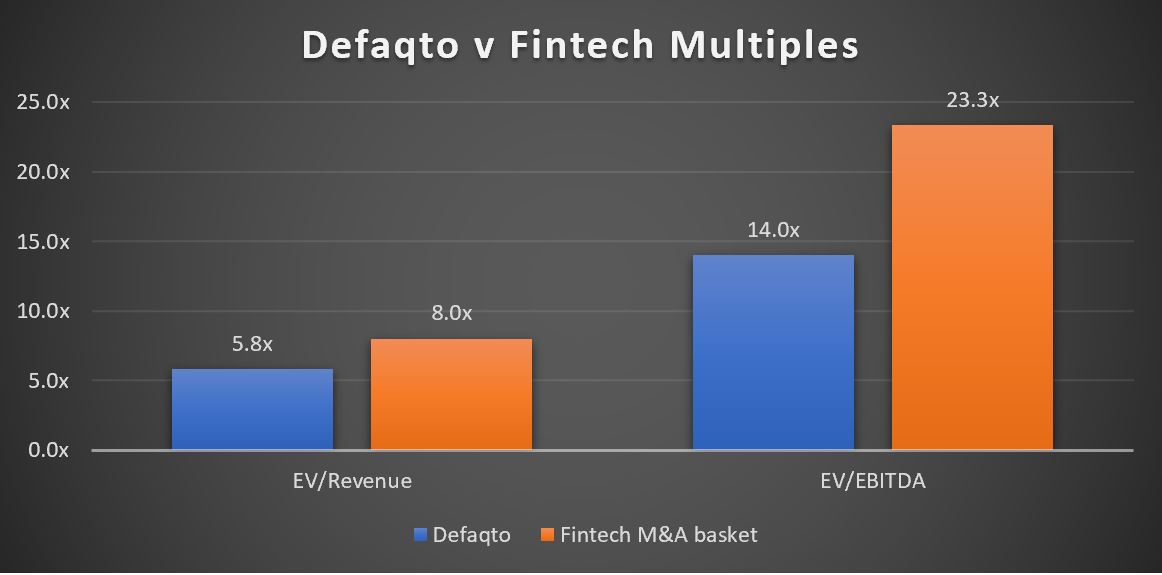 Request a Demo
Submit the form and a member of our sales team will be in touch to set up a demo.