Insights
Subscribe Now
Monthly updates from our team straight to your inbox
December 2021 Valuation Barometer
Overview
Highlights from our December 2021 Valuation Barometer, covering deals and valuation multiples in UK M&A in November 2021.  Request the Executive Summary below.
Highlights
Deal volumes dropped slightly in November, with 396 deals recorded.
We calculated that M&A deals valued at a total of £17.1 billion were executed or announced during the month of November. This compares to a prior month's total of £9.9 billion.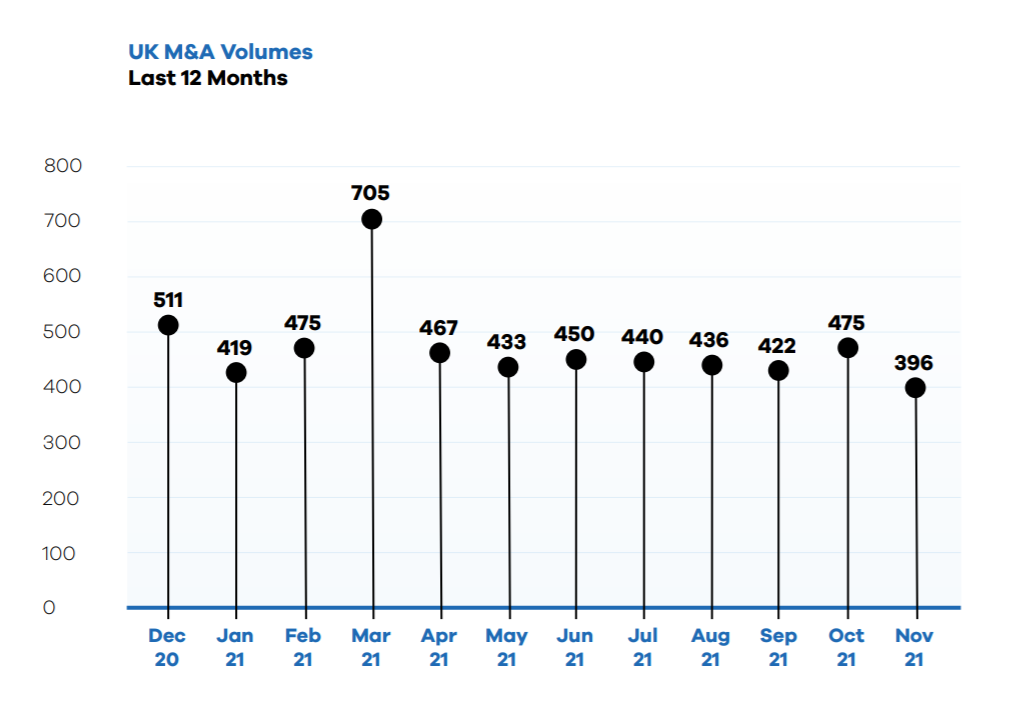 dEAL cOMMENTARY
The largest transaction recorded was CVC Capital Partners' acquisition of Unilever's Tea business (Ekaterra) for €4.5 billion. Ekaterra's portfolio comprises 34 tea brands including Lipton, PG tips and Pukka.
Following EG Group's withdrawal from the acquisition of Asda's Forecourt Business in October 2021, it announced it has entered into an asset purchase agreement with Sprint Food Stores in the US. The deal is valued at $300 million.
Spotlight Transactions
Other deals during November included:
Abrdn PLC's acquisition of a subscription-based direct investing platform, Interactive Investor Ltd, for £1.49 billion.
Sirius Real Estate Ltd's first acquisition in the UK, BizSpace, for £245 million.
The acquisition of a 33% stake in Road Management Group Ltd, a holding company for two UK shadow Toll roads, by HICL Infrastructure Plc, valuing the business at an estimated enterprise value of £110.8m.
The smaller end of the market witnessed the following deals:
Vitec Group PLC, a solutions provider to the growing content creation market, acquired Savage Universal Corp, a provider of backgrounds to the photographic market, for $55.3 million.
The sale of a 27% stake in the privately owned timber and building merchant, C.W.B.G Ltd, at an estimated enterprise value of £37.5 million.
Brickability Group Plc's (construction materials distributor) acquisition of HBS NE for £5.5 million; its first acquisition in the renewable energy products sector but its 13th acquisition in three years.
SAMPLE COMPLETED AND ANNOUNCED m&a MULTIPLES – November 2021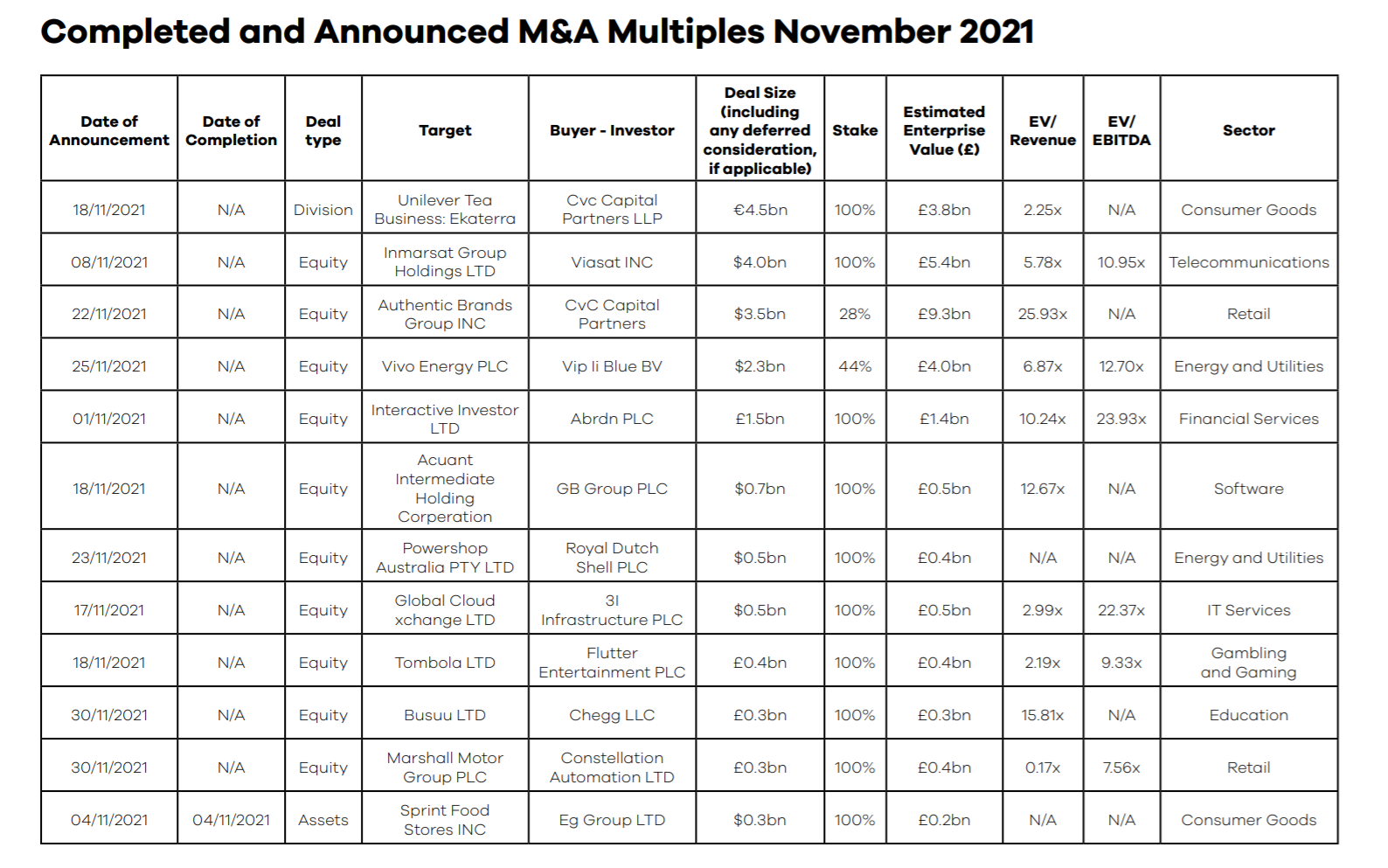 Request the executive report below. Please contact olga@marktomarket.io to discuss access to the full list of deals in the MarktoMarket Valuation Barometers.
For the full list of previous 2020 / 2021 Barometers – visit our reports page.
Request the December 2021 Barometer Executive Report
Submit the form for the executive report.