Insights
Subscribe Now
Monthly updates from our team straight to your inbox
August 2021 Valuation Barometer
Overview
Highlights from our August '21 Valuation Barometer, covering deals and valuation multiples in UK M&A in July 2021.  Request the Executive Summary below.
Highlights
Both deal volumes and gross transaction values remain strong as the post-pandemic M&A recovery continues. Foreign private equity and trade acquirers continue to hover around UK PLCs, attracted by valuations that are attractively priced relative to US and Eurozone equities as well as private companies.
We calculated that M&A deals valued at a total of £36.0 billion were executed or announced during the month of July. This compares to a prior month's total of £21.5 billion.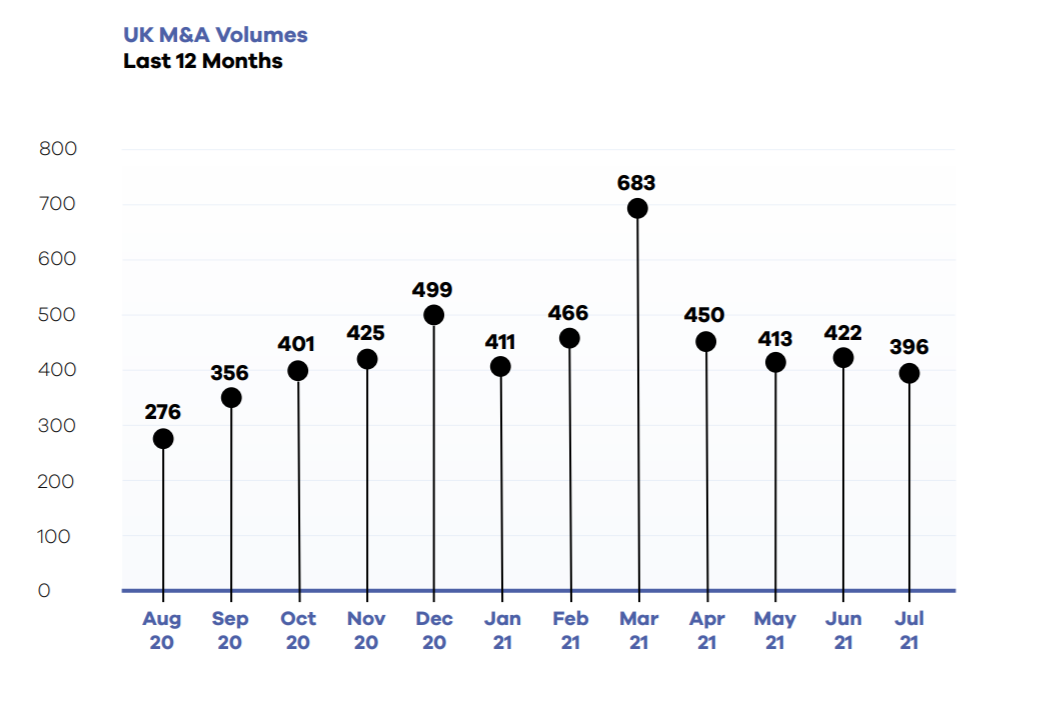 dEAL cOMMENTARY
There is no better example of the keen interest in UK companies than the battle for WM Morrison. The bidding war appears to be continuing for the supermarket group despite its board rubber-stamping Fortress' £6.3 billion bid. Fellow private equity giant Clayton, Dubilier & Rice is tipped to return to the fray, following the rejection of its initial 230p per share bid.
The other deal of the summer is set to be the takeover of inhaled medicines and devices maker Vectura, which may now have been secured by Marlboro cigarette giant Philip Morris. Critics have been quick to point out the juxtaposition of a tobacco company owning a healthcare business that specialises in treating the chronic illnesses created by its cigarettes but, with a board recommendation, it is now left to the shareholders to determine whether to bless the deal.
Spotlight Transactions
Other deals during July included:
The management buy-out of Leicester pharmacy chain Mr Pickford's Pharmacies in £14.2m deal backed by Connection Capital
FPE Capital's acquisition of employee benefits software company Zest Technology for £10 million
S-Ventures acquisition of plant-based nutrition company Pulsin for an enterprise value of up to £9.2 million
The smaller end of the market witnessed the following deals:
The nationalisation of metal fabricator Sheffield Foregemasters after a £2.6m takeover by the Ministry of Defence
Ideagen Plc's acquisition of Opsbase Ltd for £1.9 million
Amberley Publishing Holdings Ltd's acquisition of Quiller Publishing Ltd for £1.4 million
SAMPLE COMPLETED AND ANNOUNCED m&a MULTIPLES – july 2021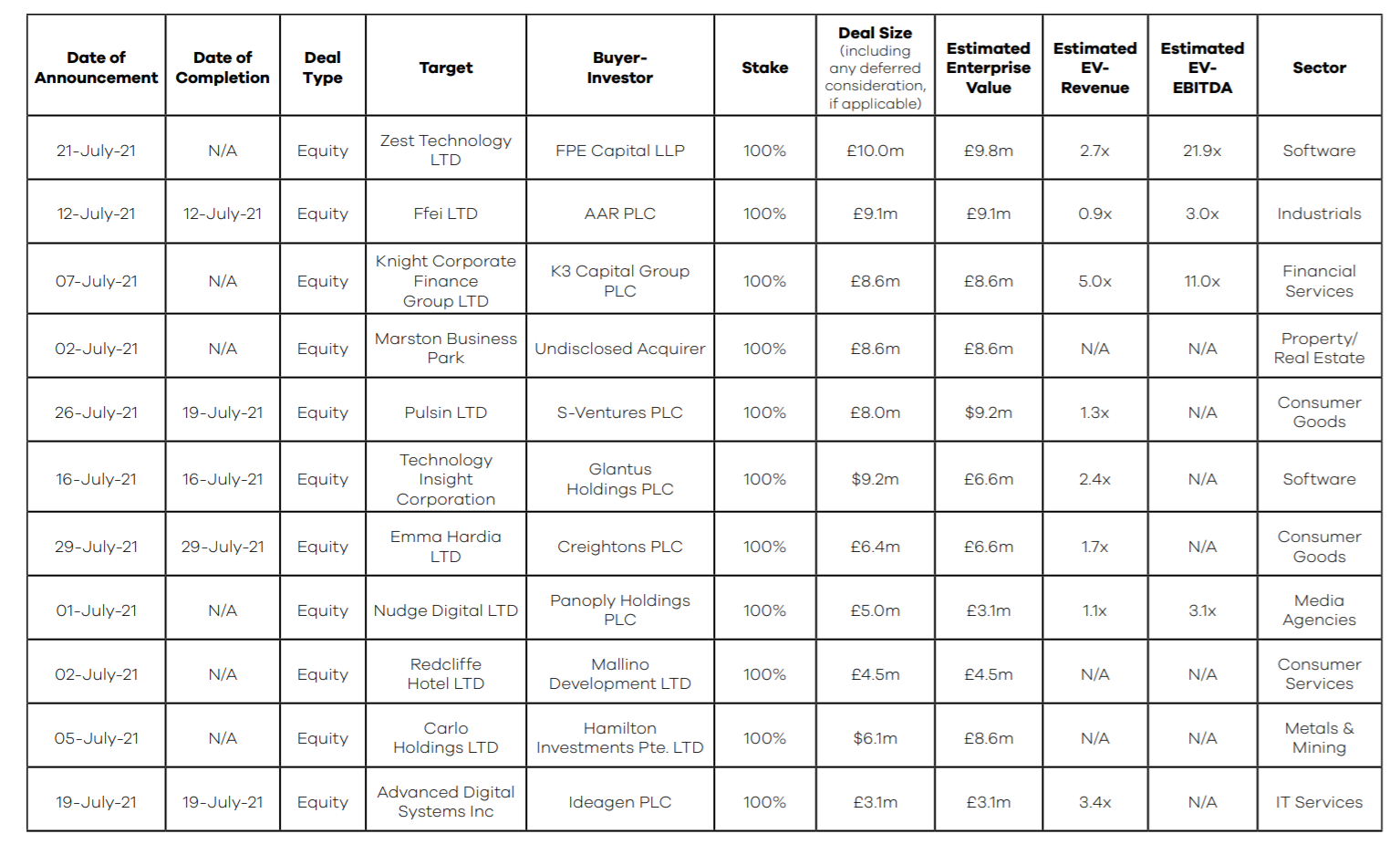 Request the executive report below. Please contact olga@marktomarket.io to discuss access to the full list of deals in the MarktoMarket Valuation Barometers.
For the full list of previous 2020 / 2021 Barometers – visit our reports page.
Request the August 2021 Barometer
Submit the form for the executive report.