Insights
Subscribe Now
Monthly updates from our team straight to your inbox
Minority Discounts And Craft Beer
MarktoMarket analyses the deal values, multiples and discounts in the craft beer industry.
THE PRICE OF A BREWERY
Recently, Brewdog has been in the press for all the wrong reasons but it pioneered a movement in craft ale for the masses, widening its appeal beyond the industry's traditional heartland of bearded enthusiasts at beer festivals.  Its early success has spawned a generation of startup brewers, many of whom learnt their trade with the big brands.
Success stories include Camden Town and Meantime Brewing.  Both businesses exited for healthy prices – £98 million (Camden) and £124 million (Meantime), and both commanded revenue multiples not far shy of 6x.
More recently, a 10% stake changed hands in Timothy Taylor & Co, brewer of the ubiquitous Landlord beer for £2.5 million, valuing the business at £25 million, a revenue multiple of 1x.  Why was a seller willing to deal at such a sizeable discount?  Three reasons – pubs, growth and minorities.
pubs
Unlike pure-play brewers Camden Town and Meantime Brewing, Timothy Taylor has 19 pubs.  By comparison, Meantime and Camden Town have just two pubs each.  Timothy Taylor's model is more akin to the traditional industry behemoths where pub ownership was vital to secure distribution for the breweries.
The majority of the new entrants to the space have eschewed ownership and operation of pubs and bars to focus on building their beer brands.  This strategy keeps their capital requirement lower and the business can remain leaner without the overheads of a pub estate.  Operational gearing is higher with this approach and margins will be greater.  Value creation comes from the brands rather than bricks and mortar.  Ultimately, we think buyers should attribute a higher multiple to this business model.
Pub estate comparison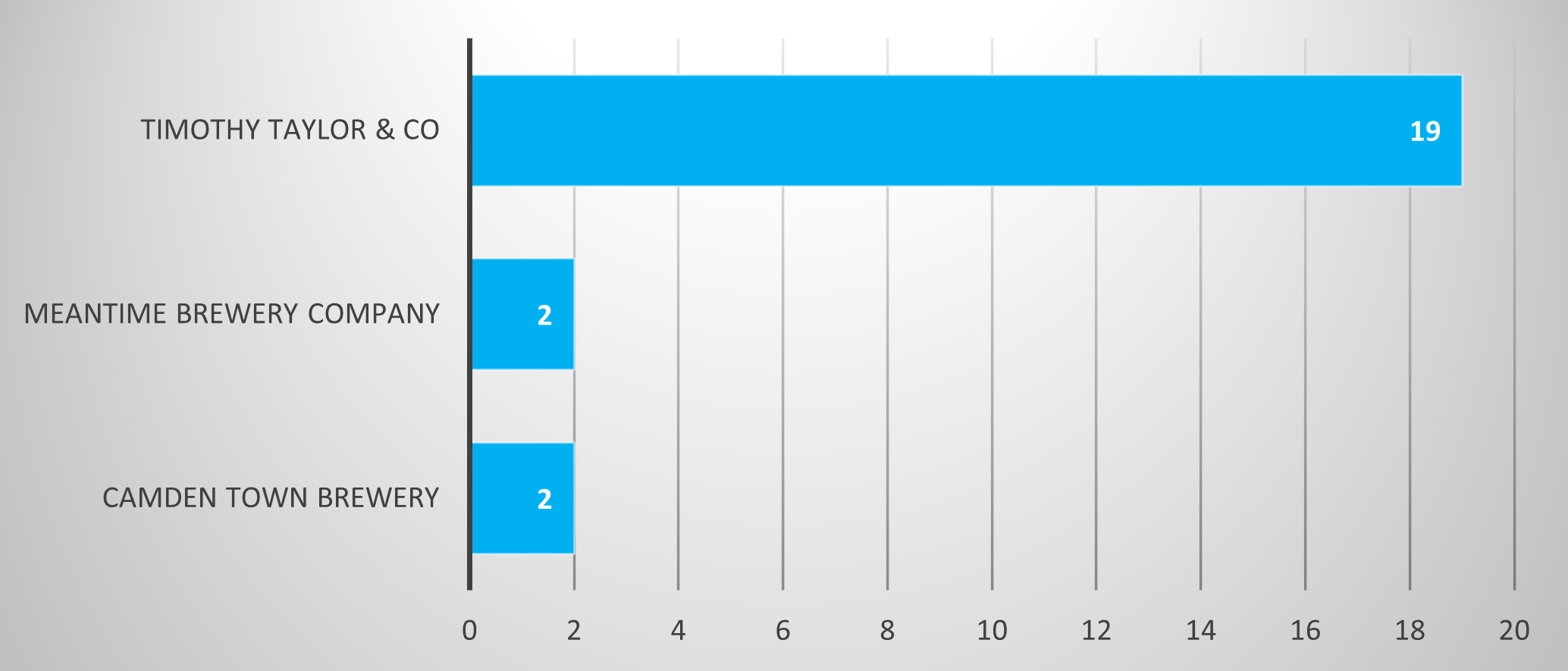 growth
Buyers pay-up for growth.  A lofty multiple of sales today may appear modest on a three year view if those sales are compounding at a high rate.
Year-on-Year Sales Growth – first year post-deal (Camden Town & Meantime) or most recently available (Timothy Taylor & Co)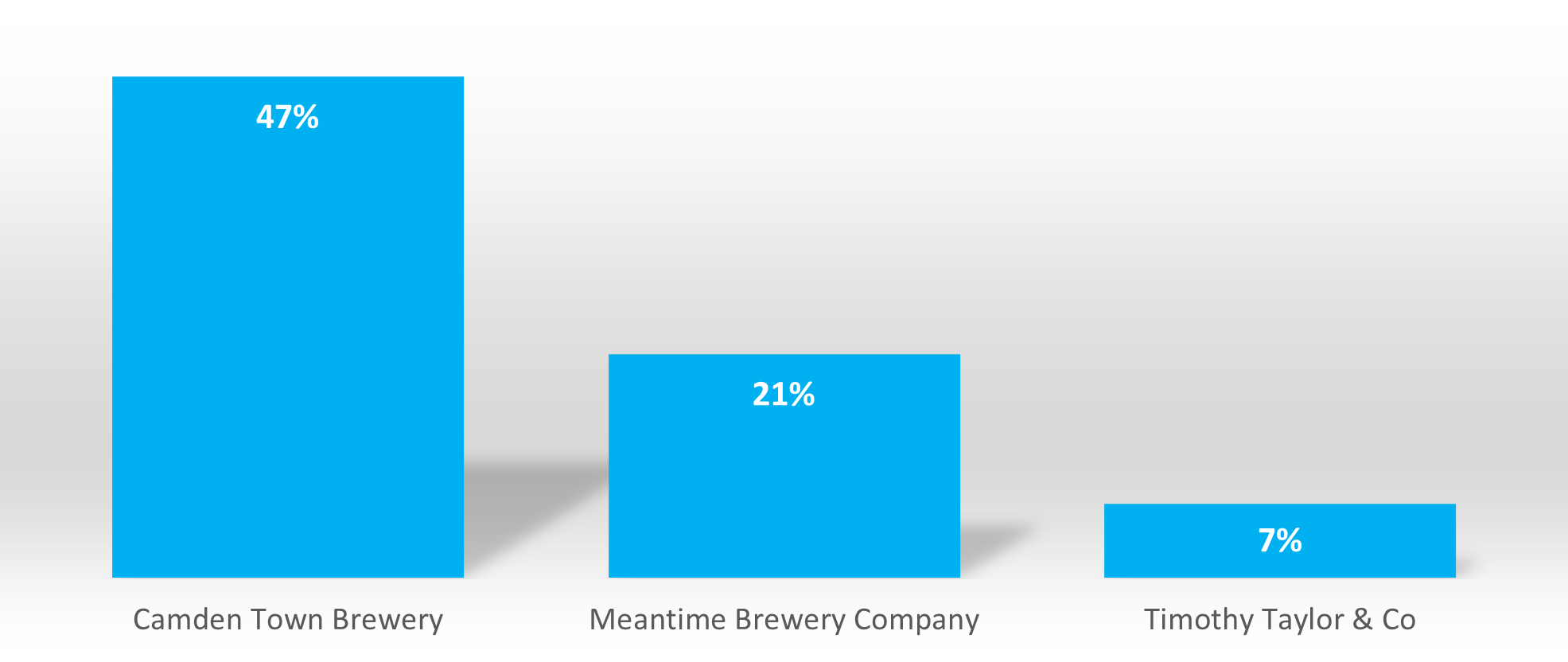 Camden Town was founded in 2010; Timothy Taylor began life in 1929.  It took Camden Town just six years to overtake Timothy Taylor in revenue.  The latter's revenues have broadly flat-lined, although, as a family-owned business with healthy profit margins and no debt, the shareholders may not be losing much sleep over this.
Re-basing the acquisition multiple on last reported trading, Anheuser-Busch Inbev paid less than 2x revenue for Camden Town, versus the 6x that was paid based on trailing revenues at the time of the transaction.
Revenue Growth £M – Camden Town Brewery versus Timothy Taylor & Co

minority stake
The Camden Town and Meantime deals were both acquisitions of 100% of the share capital of these targets.  The Timothy Taylor & Co deal involved the transfer of just 10% of the business.  Conventional wisdom dictates that a minority stake should be discounted relative to a controlling stake to reflect the lack of control.  This discount should be inversely proportionate to the size of the stake being transferred to reflect the fact that the rights of the shareholder become more limited as the position size reduces.  This approach is generally accepted, however, the quantum of the discount is the subject of much conjecture.
Our sample of brewers gives an illustration of how extreme this discount may be when a stake is as small as 10%.  MarktoMarket's estimated Enterprise Value/EBITDA multiple for Meantime was 32x; our estimate for Timothy Taylor was 5.7x, a discount of 82%.
However, as we have discussed, all other aspects of these deals were not equal.  The nature of the respective businesses, their growth characteristics and other factors will have been at play when determining the relative valuations of these companies.
Estimated EV/EBITDA multiples – Meantime versus Timothy Taylor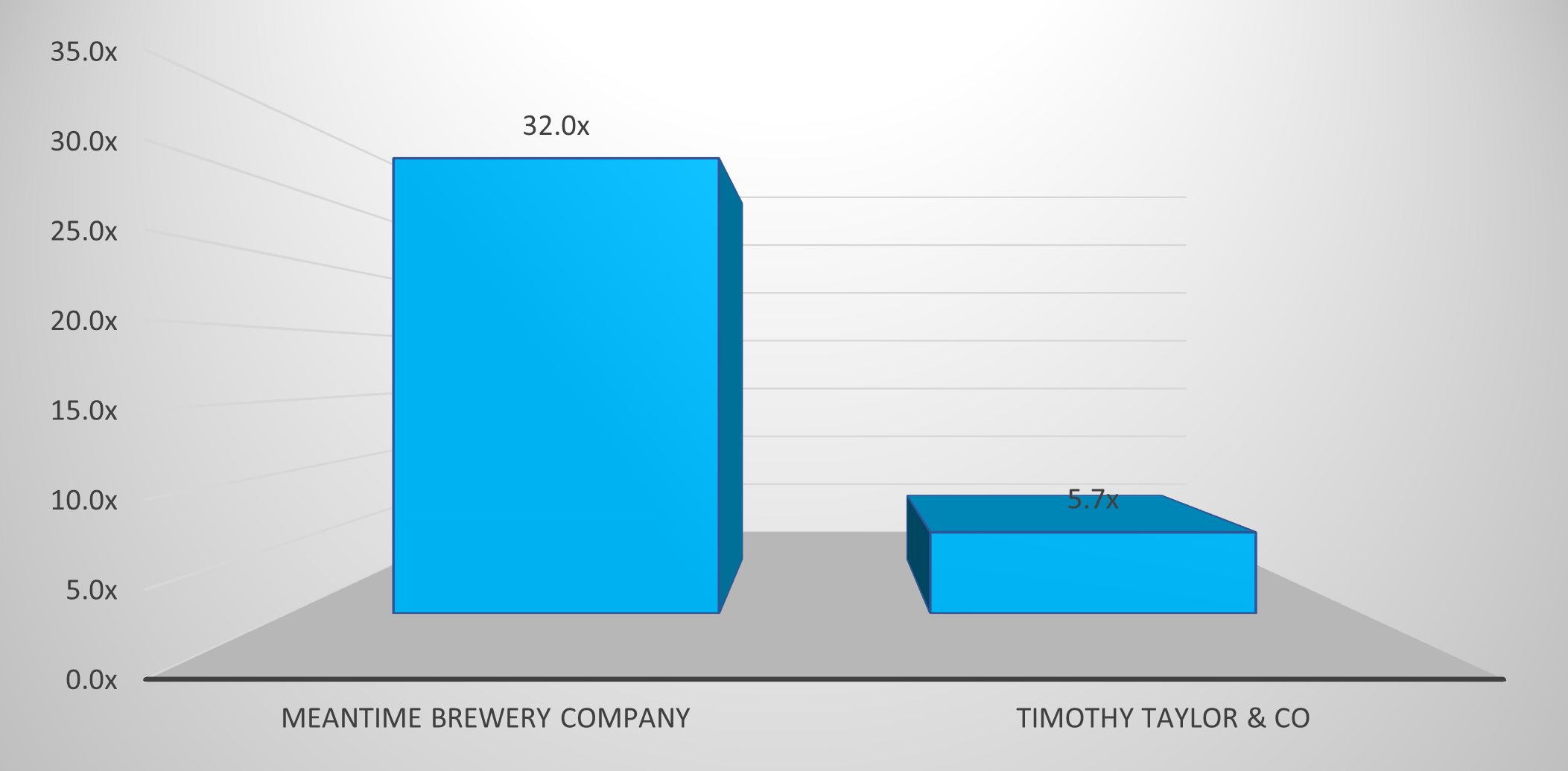 MARKTOMARKET
MarktoMarket collects data on both M&A and minority deals in the UK.  Most of these minority transactions go unannounced.
For more details on these deals and MarktoMarket's broader datasets please contact doug@marktomarket.io.