Insights
Subscribe Now
Weekly updates from our team, straight to your inbox
New Product Release - Deal Origination and Market Mapping Module
We're delighted to announce the launch of our newest Origination and Market Mapping Module onto the MarktoMarket platform.
Our origination function aggregates data from hundreds of sources to create detailed profiles on high-growth UK businesses. These profiles are stored on one easily searchable dashboard, making it simple for customers to map niche markets and identify prospects at speed. It was created in collaboration with industry experts to help streamline research and deal origination workflows within corporate advisory firms.
The module was designed to be used for a variety of purposes, including:
Identifying top-tier prospects: The module enables you to analyse vast datasets quickly to find 'hidden' companies that are ideally matched to your business development or deal strategy. Source UK-based businesses likely to go through an acquisition or financing event in the next 12 – 24 months, and build relationships with them before your competitors know they exist.
Executing sector-specific origination campaigns: Our best-in-class search tool helps you to landscape sectors in seconds. Choose from hundreds of financial and non-financial filters to segment over four million UK businesses and build a deep understanding of niche markets. Track sectors over time by setting alerts so that you are instantly notified when a new company meets your target criteria.
Building pipeline and augmenting outreach: The platform aggregates data from a broad array of sources onto one dashboard, so conducting research for outreach campaigns is simple. Whether you're engaging via email or pitching face-to-face, demonstrate relevant sector expertise by providing an analysis of recent deal activity, key competitors, strategic buyers and more.
Maximising conference ROI: We tracks hundreds of UK conferences every year and provide profiles for over 100,000 high-growth delegates. Leverage our smart search functionality to evaluate which events are most relevant to your deal strategy, and reach out in well in advance to book face-to-face meetings with prospects.
______
If you're a current customer, your Customer Success representative would be happy to schedule time with you to demo the new module.
If you're not a current customer, but would like to learn more about MarktoMarket and the origination module, get in touch using the form below to arrange time with one of our sales team.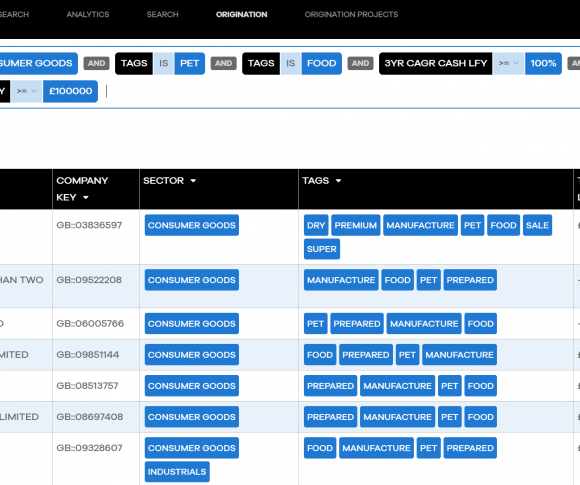 Request A Demo
Book a demo and learn more about how our origination module can help you grow your business.